How did eat! BRUSSELS, drink! BORDEAUX match expectations?
Since last July I've been excited to attend the 4th annual foodie event eat! BRUSSELS, drink! BORDEAUX in Brussels. Even more so when my post on this event won a free night at The Hotel in Brussels for the opening night of eat! BRUSSELS, drink! BORDEAUX, on Thursday 10 September 2015. This special prize package was organized by VisitBrussels and The Hotel.
How was The Hotel in Brussels?
Checking into The Hotel a few hours before attending the eat! BRUSSELS, drink! BORDEAUX was a wonderful way to get into mood. I had not been to The Hotel since it had taken over The Hilton and had undergone complete renovations.
Entering the lobby I was astonished by the The Hotel's extraordinary renovations. Where a gigantic open lobby used to stand, a more modern and design lobby now stood with lots of more private comfortable spaces arranged along the entire left side of the ground floor. I could definitely meet someone in one of these spaces to discuss business or relax before heading out for the evening.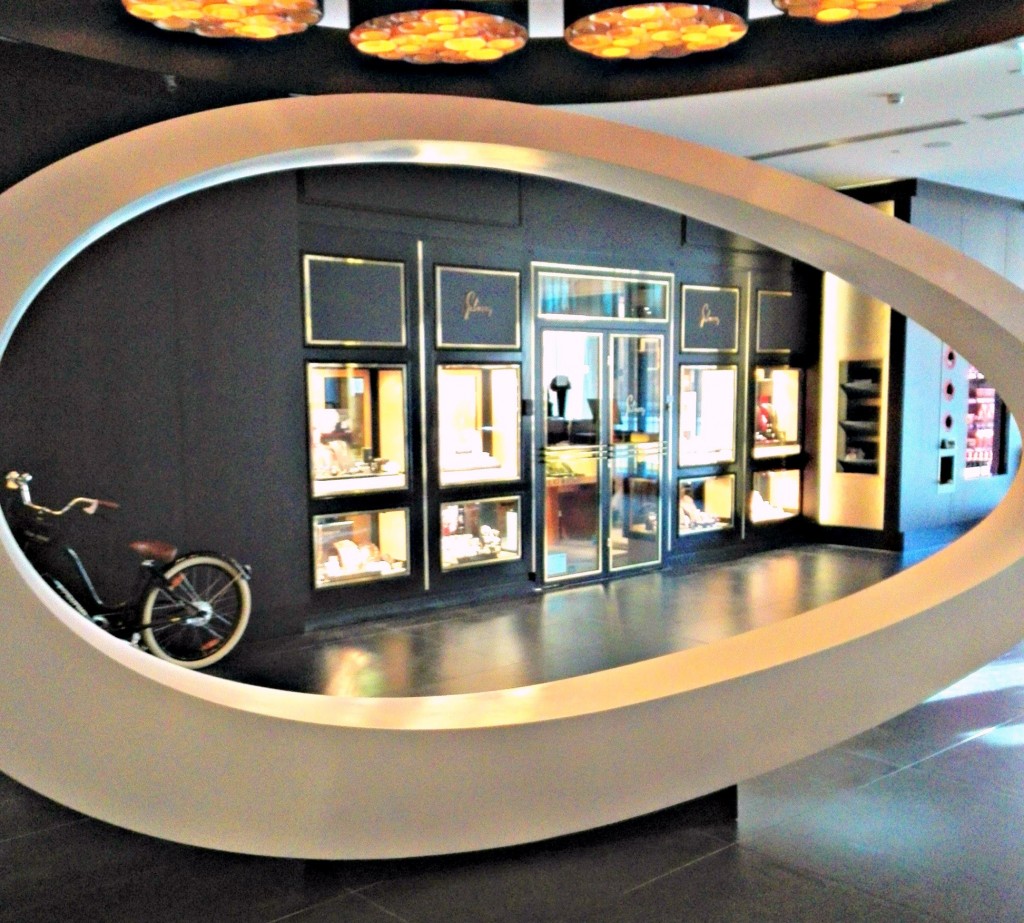 My room at The Hotel
My Delux Panorama room on the 20th floor had a captivating view of the Palais de Justice (the Brussels courthouse) and the south side of Brussels. The room featured a Queen-size bed (not King-size as advertized), a couch set along the whole wall beneath the windows, a table and an open bathroom. The room was decorated simply with clean lines and good taste. For one person this room was perfect. I do not think however I would have appreciated as much having an open bathroom format if I were sharing the room with someone else, unless we were fairly intimate.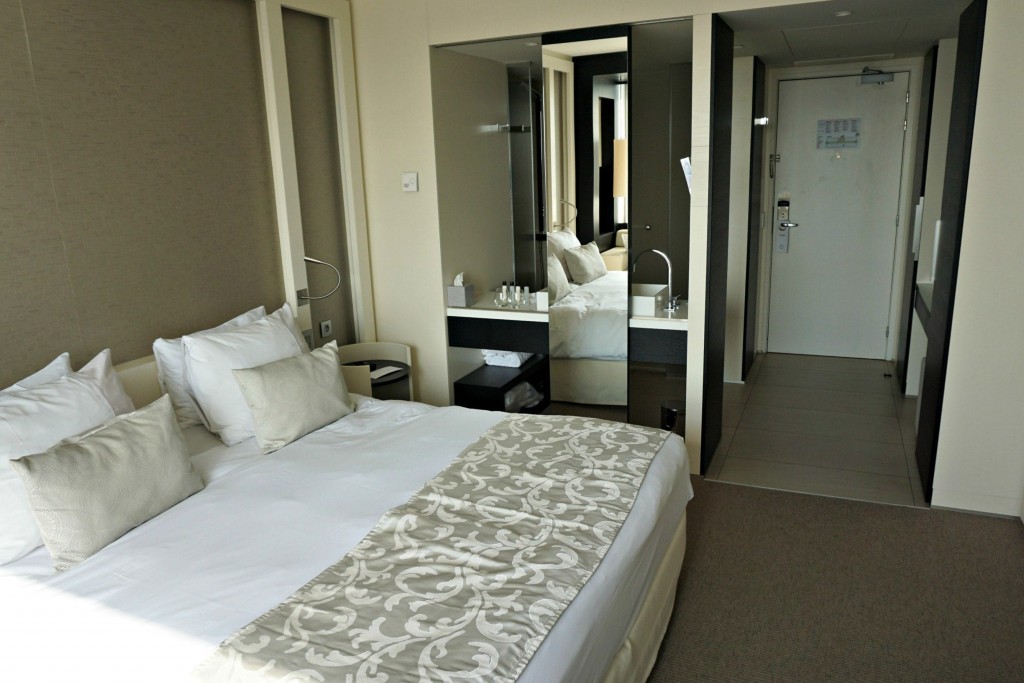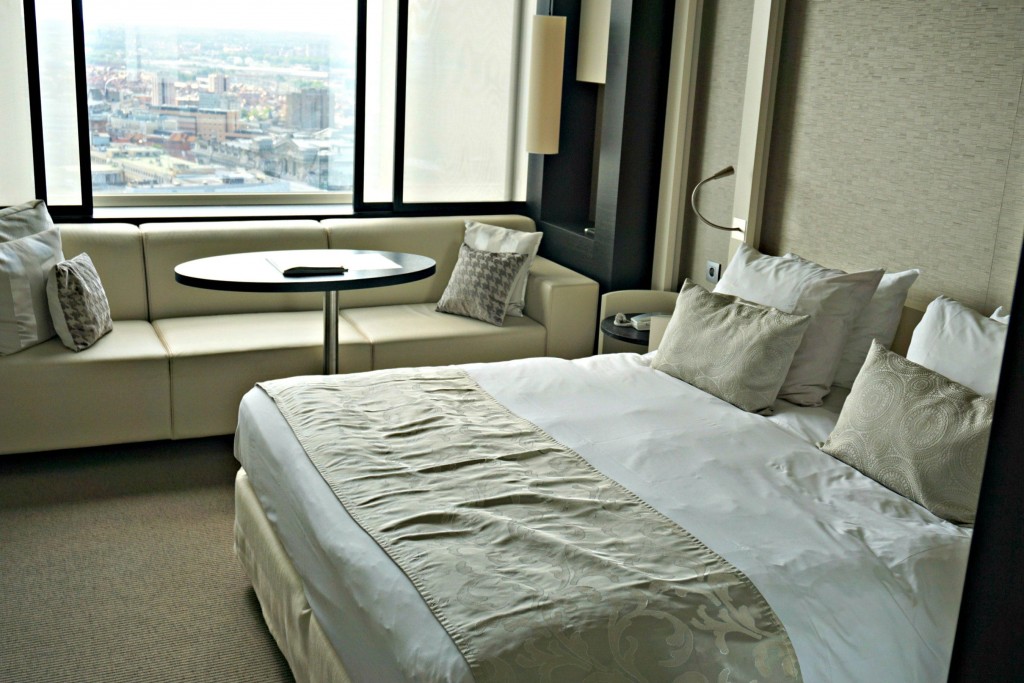 After unpacking I toured the spa and fitness facilities. Both facilities possessed magnificent views of the city. The fitness center has a variety of up-to-date equipment so that any guest can stay fit while travelling.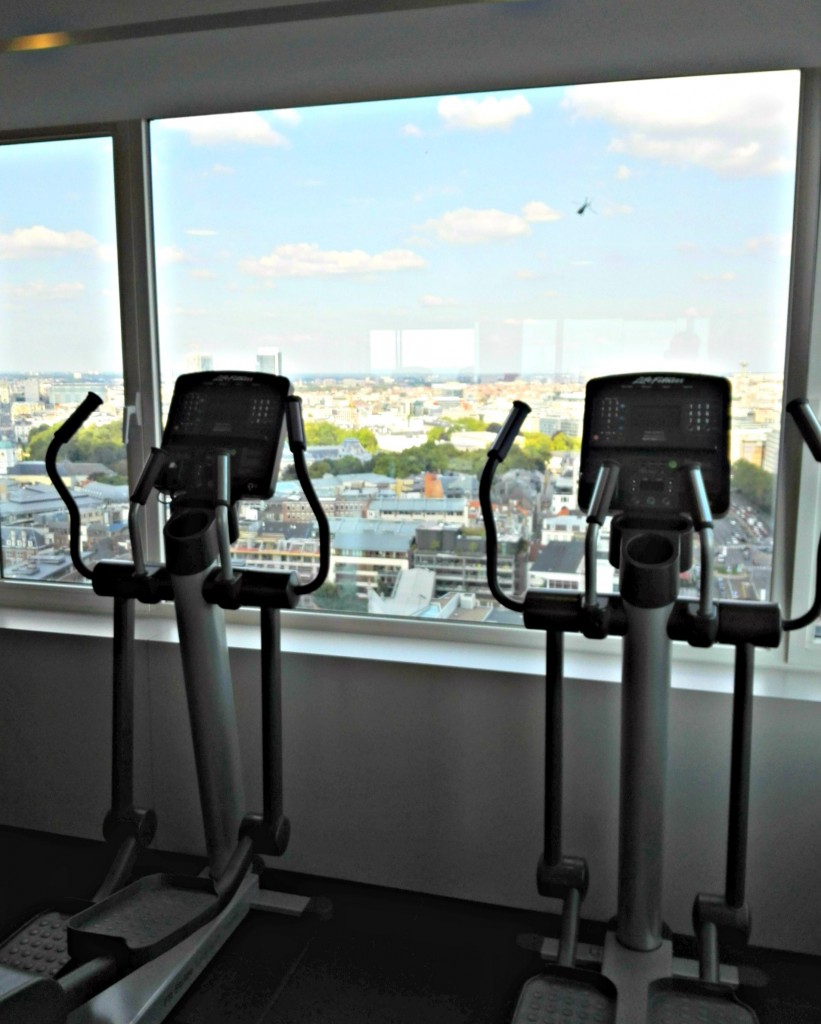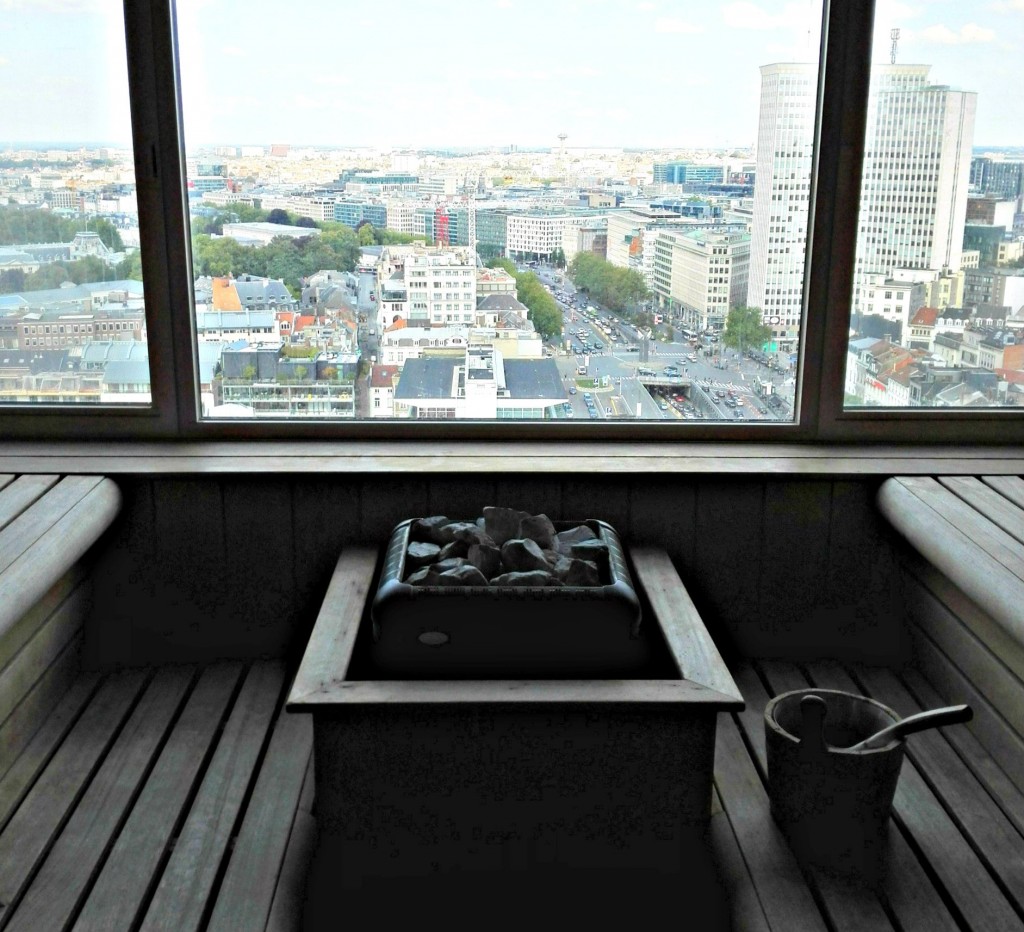 My daughter then joined me in the Panorama Lounge on the 24th floor, which features one of the best views of Brussels. The Panorama Lounge reminded me of an airport business lounge for privileged travelers, except with even better food and drinks offered. People worked at tables on their laptops as others relaxed over shrimp sandwiches, small cups of mousse, fresh fruit, champagne, juices or harder drinks, and other special treats.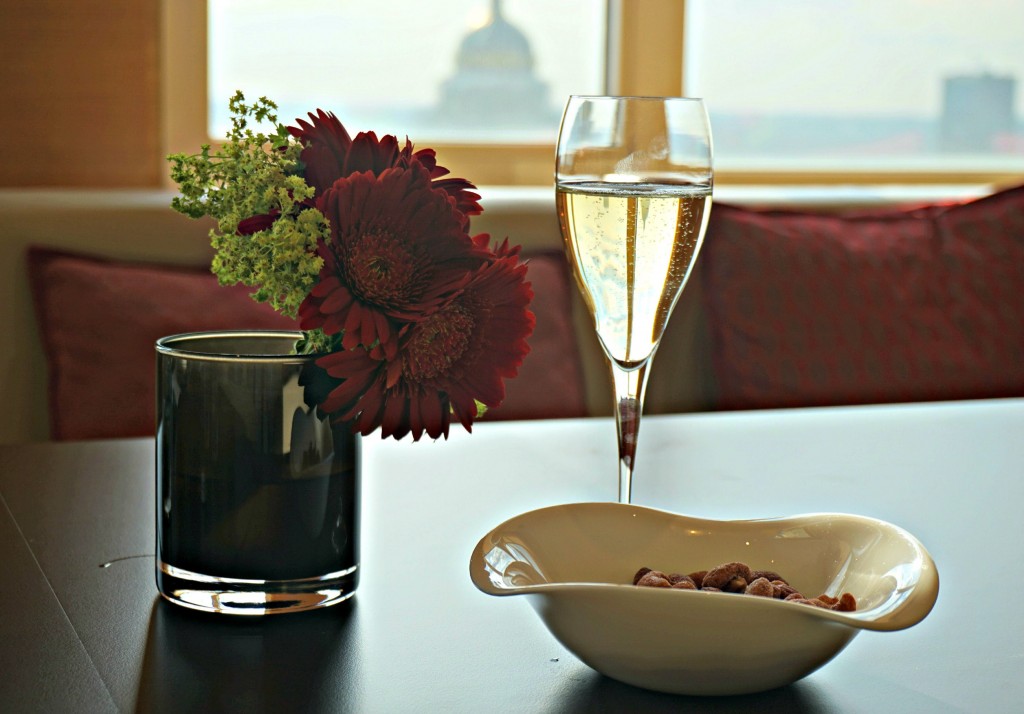 Buffet Breakfast at The Restaurant
The next morning my daughter and I enjoyed a buffet breakfast served in the ground-floor The Restaurant by Pierre Balthazar. The Restaurant looks out on the secluded and tranquil Parc d'Egmont located directly behind The Hotel.
The buffet featured many items you would expect at breakfast in a hotel of this quality, without any surprises: scrambled eggs, sausages, potatoes, fresh fruit, slices of cheese, smoked salmon and Prosciutto ham, bread, croissants and other rolls, muesli, etc. After hearing so many raving reviews of The Restaurant, I was a bit disappointed the breakfast buffet was not extraordinary.
Additional items could have wooed the guests to show that The Restaurant went the extra mile. For instance, some hotels offer an omelet bar full of special ingredients. Or a pancake grill making dishes to order, or some other feature that shows thought and care. Breakfast is a keen opportunity for Pierre Balthazar and The Restaurant to showcase their talents.
Overall The Hotel, with its location near businesses and shops, is ideal for a business traveler or for a couple. It's comfortable, has professional and courteous staff, provides all the amenities you would expect from such a hotel, and has beautiful views, especially from the higher levels. After a day of meetings or sightseeing, you'd be pleased to come back to your room at The Hotel, sit in the sauna or enjoy a drink in the bar lounge next to The Restaurant.
How was the food at the eat! BRUSSELS event?
I was expecting to be surrounded at this event by tempting tasting samples prepared by quality restaurants, not knowing which sample to choose next. Each dish more intriguing and original than the last dish sampled.
The quality of the food tasted
The reality of eat! BRUSSELS, drink! BORDEAUX, however, was a bit disappointing. Instead of these select restaurants presenting their own unique creations, they presented their version of street food (fast food). With few exceptions, the food served was not the same as what would actually be served in these restaurants. Several restaurants, for example, offered hamburgers prepared one way or another. I certainly did not go to eat! BRUSSELS, drink! BORDEAUX to taste hamburgers prepared by Aux Pavés de Bruxelles, Big Boss Restaurant, Hard Rock Café or Guignol, or to taste the Américain (raw ground meat) from the Brasserie Rose or La Truffe Noire.
Ok, I would expect to taste a hamburger from the Hard Rock Café since this is the dish that has made them internationally famous. However, not from the other restaurants. Why didn't the restaurants confer with each other in advance to ensure a better range of choices for the participants and prevent 6 out of 17 Brussels restaurants present from offering the same dish?
On our way to the event my friend and I planned where we would eat. We had each looked briefly at the menus on line to start planning for this event. I wanted to try restaurants where I had not yet visited and whose normal menu prices are far higher than average. For example, I had selected La Truffe Noire and The Restaurant on the top of my list. My friend also wanted to try La Truffe Noire as well as food from other parts of the world, such as from Bulgaria, Hungary and Poland.
However, when we arrived at the event neither of us was tempted to select the dishes offered by La Truffe Noire (essentially a sandwich, scrambled eggs or pasta). Neither the description of these dishes on the menu nor their samples at the counter appealed to us. Unfortunately since La Truffe Noire was the place we both put at the top of our list of restaurants to visit.
Food portions at eat! BRUSSELS
Overall the food portions were small relative to the price paid, except perhaps in the Global Village where the international partners served food from other regions of the world. In other words the dishes were generally overpriced.
For the opening night I had purchased a Duo Pass which gave 46 tokens (equivalent to EUR 46) for food as well as 2 wine passes, each for 10 tastes of wine (plus 1 water/coffee). My friend and I ended up using 42 tokens for 2 taste samplings each! Not even a full meal; more like half a meal at home or in a restaurant.
We each started with a marinated octopus salad (EUR 7 each) from Tiago's, a Portuguese restaurant located near the European Commission's headquarters near Schuman metro. Later we shared the marinated tuna with quinoa with tomatoes and grated lemons and a gazpacho sauce (EUR 14) from The Restaurant located at The Hotel in Brussels. Last we shared a Bulgarian dish featuring stewed lamb served on top of a wedge of cooked pumpkin (EUR 14).
We enjoyed each dish very much. The octopus salad was fresh, full of flavor and perfect as a starter. The marinated tuna melted in our mouths, with hints of the blended flavors from the marinade which apparently cured the tuna slices so delicately to perfection. The stewed lamb on the pumpkin was perhaps the most satisfying, partly because of the larger size of its serving portion, yet also for its welcome mix of tastes that accorded so well together.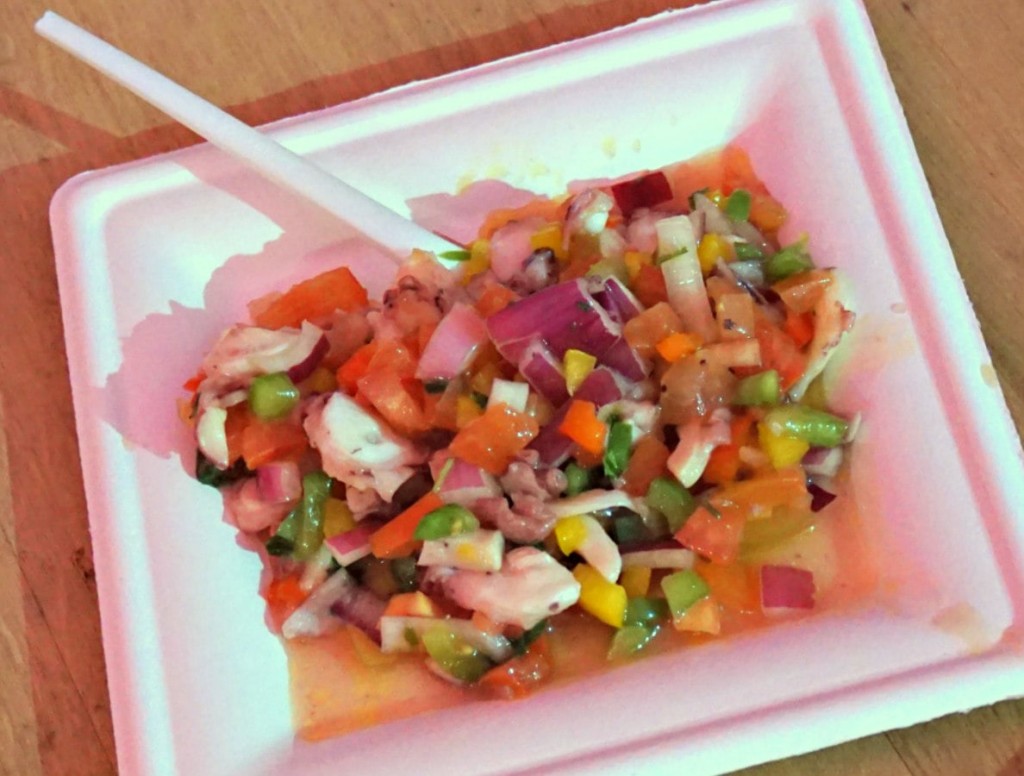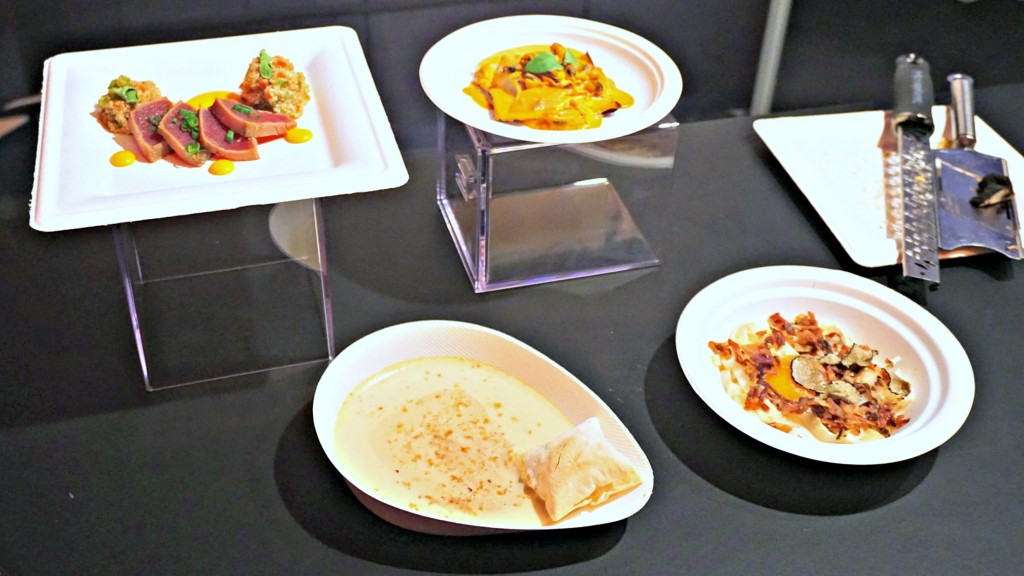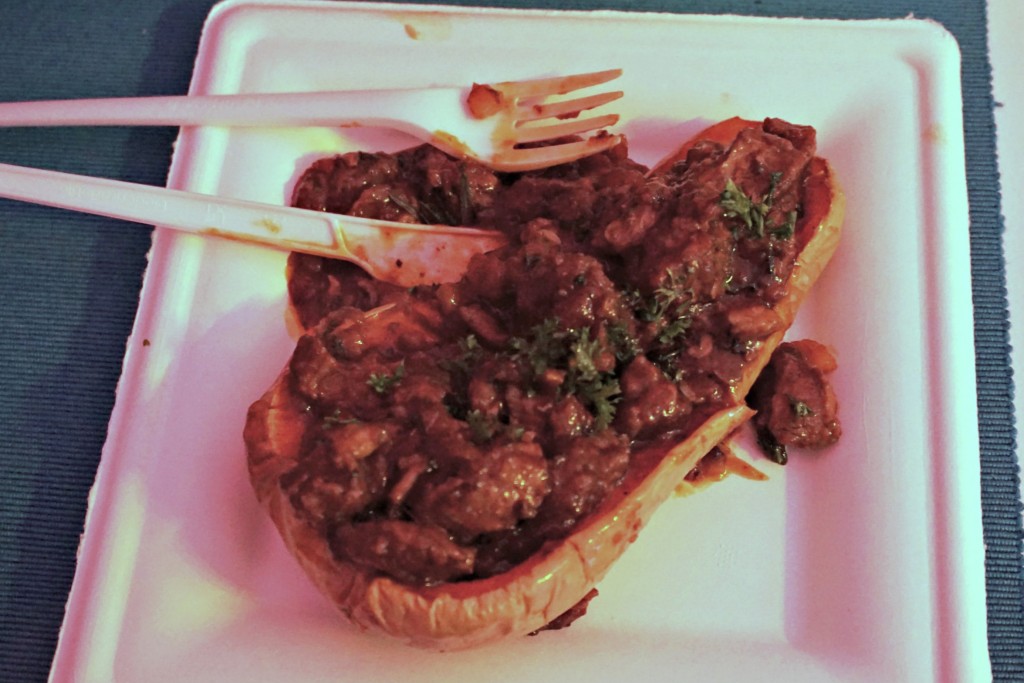 I was astonished to eat so little as I was expecting to gorge myself at this event. Fortunately we had eaten some appetizers beforehand in the Panorama Lounge at The Hotel in Brussels. Otherwise, we would have been hungry at the end of our evening.
Second tour at eat! BRUSSELS
I went back on Saturday 12 September 2015 to see if my first impressions were accurate and fair. I ended up meeting some new people while tasting the wine, which helped me to see the event through their eyes. They had also been to eat! BRUSSELS, drink! BORDEAUX the night before and were coming back to enjoy the wine. They seemed more interested in the wine than the food.
Having used the first night all my tokens for food, I decided to purchase only the amount of tokens I needed for the dishes I wanted to eat. There were fewer people in line to get food. It was thus a bit easier to see the samples at each restaurant's stand and to choose a dish. For lunch I chose a double plate (2 meat items, 2 vegetable items, 2 salads and 2 side dishes) from the Ethiopian restaurant Toukoul for EUR 10. It was delicious and well worth the price. For a light dinner I just ordered a salmon ceviche from Kwint for EUR 5 and then tasted some other dishes selected by my new friends. The salmon ceviche was yummy and also ok value for the price paid.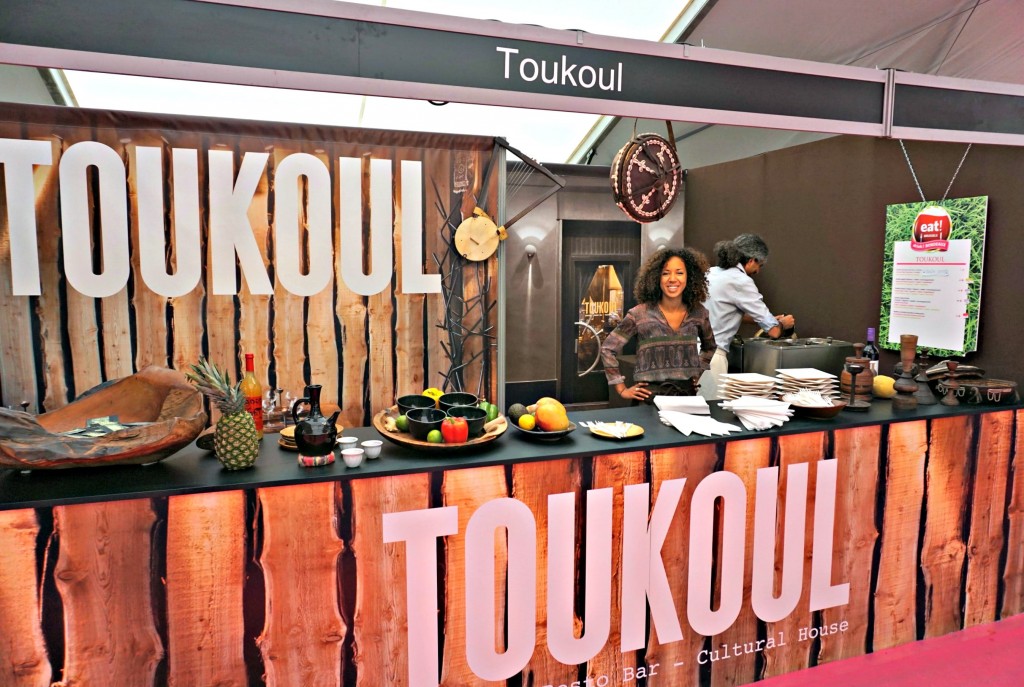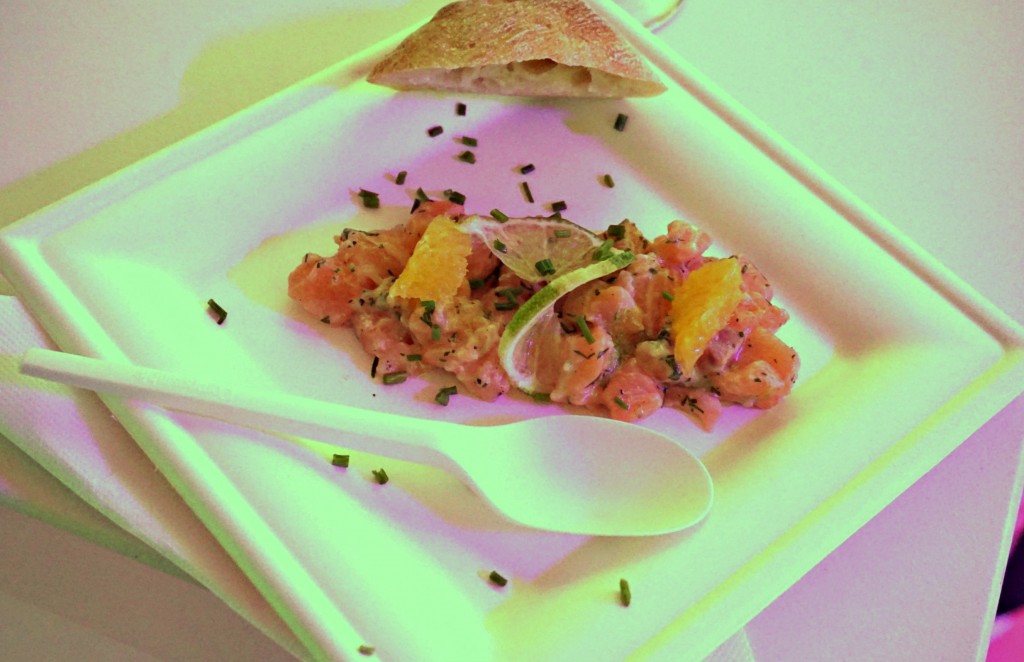 How was the wine?
The wine pass was deceiving. The information describing this event suggested that the wine pass would give you 10 tastes of wine. What was not said, however, was that you get 1 taste of 7 different appellations of wine: 4 red, 1 dessert white white, and 1 white and 1 rose wines. A couple wild cards allowed you to have extra tastes of whichever wine you wanted. This means if you were interested only in red wines, you could merely use a little more than half the coupons. The remaining coupons for the white and rose wine would go to waste.
Wine on opening night
I would have preferred having 10 tastes of red wine from a couple appellations so that I could really compare them. It's easier to compare wines that are more similar. I don't understand why the organizers simply didn't give coupons for 10 tastes and let us choose how to use them. The formula for the pass did not encourage me to try wine (namely white wine that often gives me a headache) that I would not normally taste. With the lines on the opening night for food and wine, we ended up only using 3 out of the 10 coupons. So for the 3 tastes of red wine (5 cl each) that I did enjoy, I paid a fairly high price.
Wine on the second tour at eat! BRUSSELS
When I returned on Saturday 12 September 2015 my new friends exchanged among themselves unwanted coupons for white wine for coupons for red wine. They even tried to make deals with the people serving red wine to accept a coupon for white wine, dessert wine or beer as payment for red wine. A few servers were accommodating while others were definitely not.
Since it was raining most of the day, there were fewer people attending the event on 12 September. It was a lot easier therefore to talk to the wine servers, ask them for advice and take our time to enjoy the event and learn more about wine. This was not possible at all on the opening night as each person only had a minute or so to ask questions to the servers. Basically, we were not even sure sometimes from which actual wine bottle we were tasting.
Bordeaux Wine School
We also attended the Bordeaux Wine School to learn more about the characteristics of each appellation in this region. My new friends particularly wanted to attend the school because they could get a few more samplings of red wine. We therefore enjoyed the extra red wine while learning a little more about the region.
Despite my comments on how the wine coupons were distributed, I really enjoyed the wine that I tasted. At the end I appreciated much more Bordeaux wines.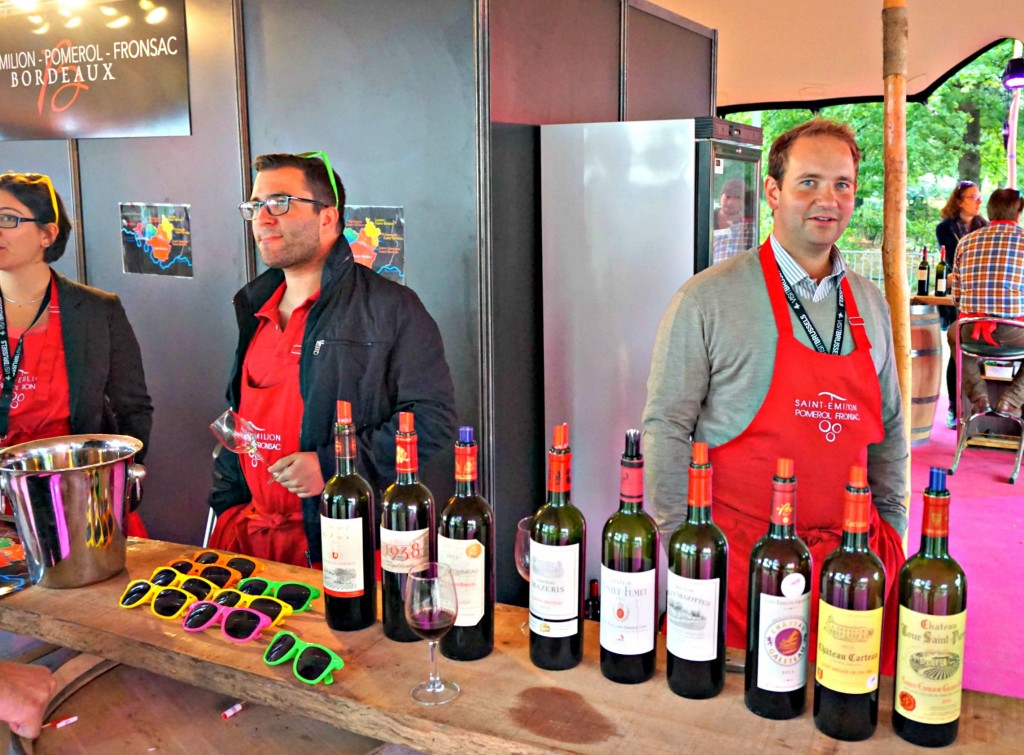 How was the setting?
The Brussels Royal Park was beautifully illuminated in the evening making the atmosphere of this event enchanting. Candles floating on water and lights hanging in the trees and in the fountain switching colors.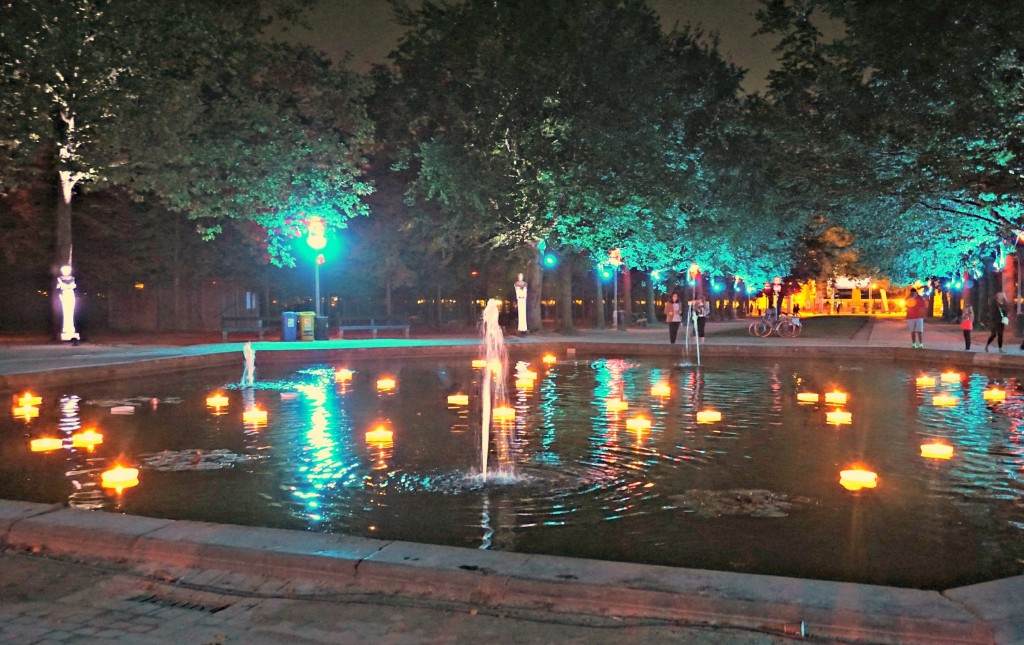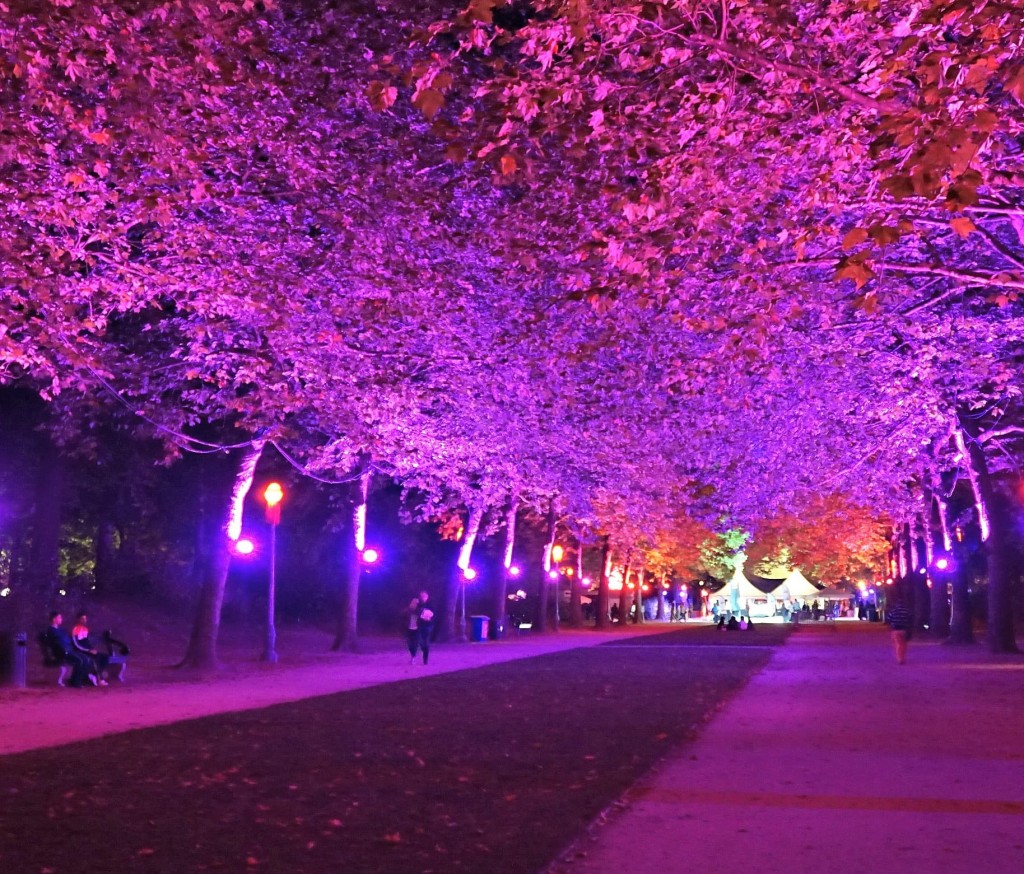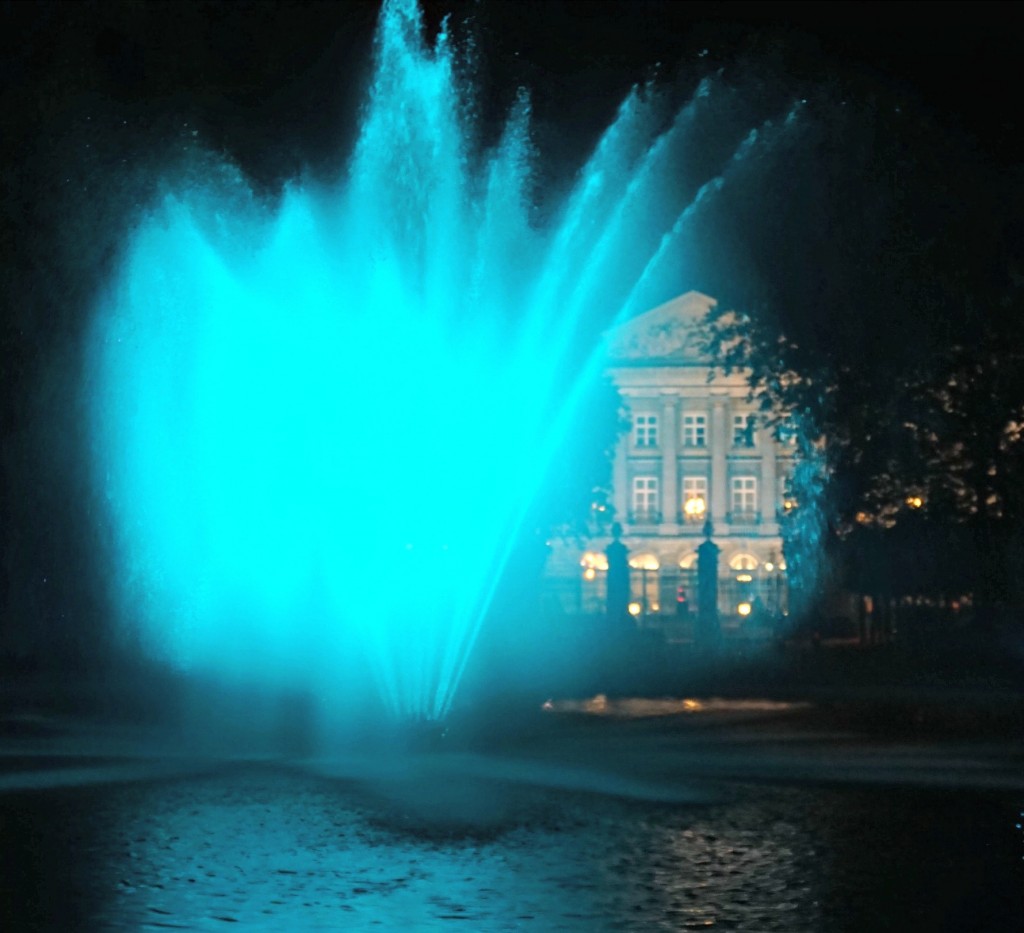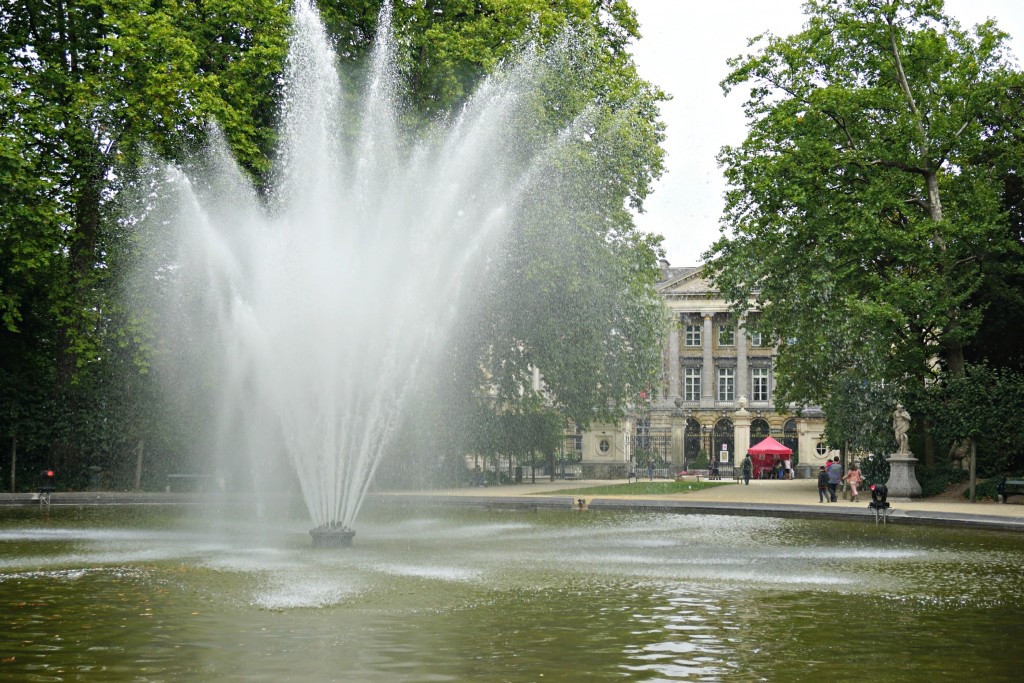 I thought it was a good choice for the organizers to move this event from the Bois de la Cambre to the Royal Park. Being centrally located, the Royal Park is an easier venue for more people to access by public transportation or by foot. Given that many people come to this event to drink a lot of wine, it is smart to choose a location that people can access without a car.
At night though it was a bit hard to see if you were outside of one of the lit pavilions. It was a little confusing finding the different restaurants you wanted to visit. No way to read the guide we received with the lighting outside. A workable phone app for this event would have made it easier to navigate in the dark. When I returned during the day on 12 September 2015 finding my way around the park was much easier.
A couple of my friends, however, attended the eat! BRUSSELS, drink! BORDEAUX event in past years and said they preferred the Bois de la Cambre, as the food and wine were organized in an easier format around a circle: drinks on the inside, food on the outside. Not having attended this event in past years, I cannot really comment. Meanwhile, I would have preferred the pavilions and shacks to be closer together with a more natural flow.
How were the homemade food products offered by smaller artisans?
The event materials described an area where artisans would present their food for tasting and sale. In the same area the Brussels Urban Food Creativity Call Finalists would display their projects and offer tastes of their food. This area of the event was both the most interesting and the most disappointing part, I felt.
On the opening night we tried to find this artisan area but in the dark it was quite hard to find since it was away from the rest of the pavilions. When we finally arrived around 9:30 pm (more than an hour before the closing) many of the stands in this artisan area had already closed because of lack of traffic.
When I returned on Saturday 12 September 2015 half of the stands had been moved into the food pavilions, while the remaining half were abandoned in the same isolated area away from most of the traffic. It made complete sense to integrate these artisans into the food pavilions so participants could taste their goods and make purchases. These artisans also offered tastes of their food products, something the restaurants did not. It was this tasting aspect that I was expecting to experience throughout the event grounds. I do not understand why some of the stands remained set up in an area where so few people passed, especially when it was raining. If the organizers invite people to set up stands to present their goods, they should make sure the artisans have a proper place to show their samples to the crowds.
I loved stopping at the stand of Little Food where you could taste food made with crickets raised in Brussels. Little Food shared loads of information on the cultivation and consumption of crickets and how they can benefit us nutritionally. Chocolate with crickets on top and a cracker spread made from crickets were among the choices to sample. I had to forget for a moment about what I was tasting and just enjoy it without any preconceptions. Everything was tasty and extremely interesting. Cultivating insects for our use in the kitchen is definitely a way for the future, unless of course you are vegan.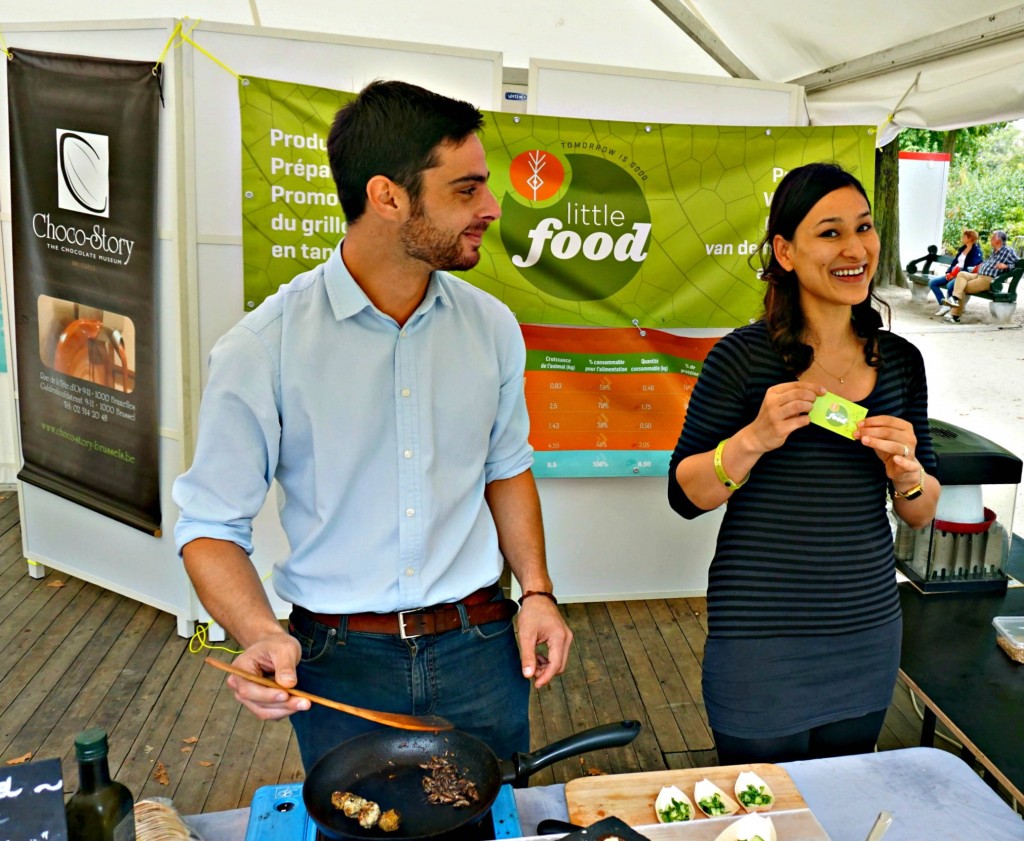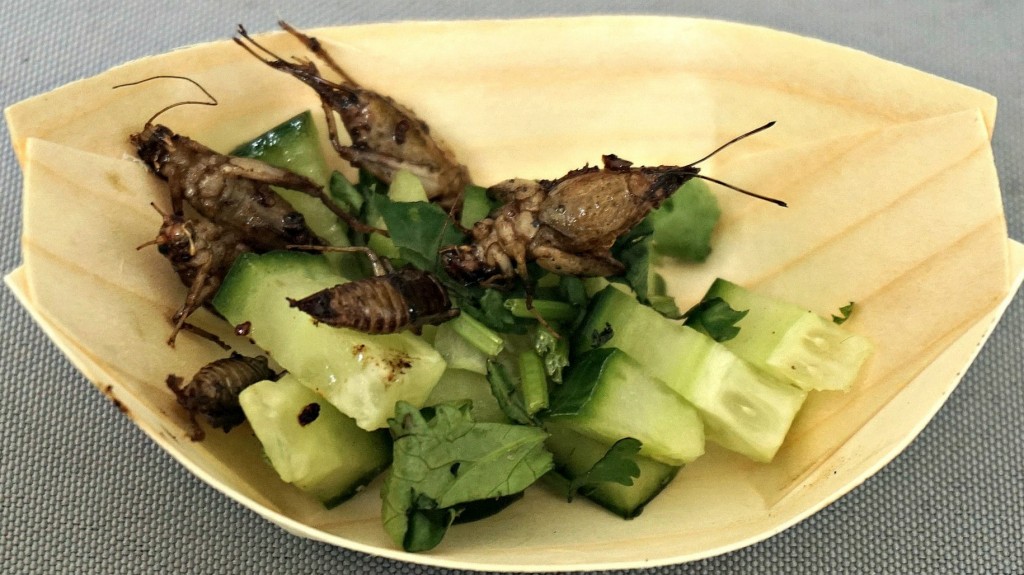 I also enjoyed visiting the stand of the finalists of the Brussels Urban Food Creativity Call, in particular the Kiosque à Graines, La Fourna (winner announced on 21 September 2015), Co-oking and Marie-Angie Confitures (for more information on Marie-Angie Confitures see her Facebook page or click here for my post from 13 July 2015).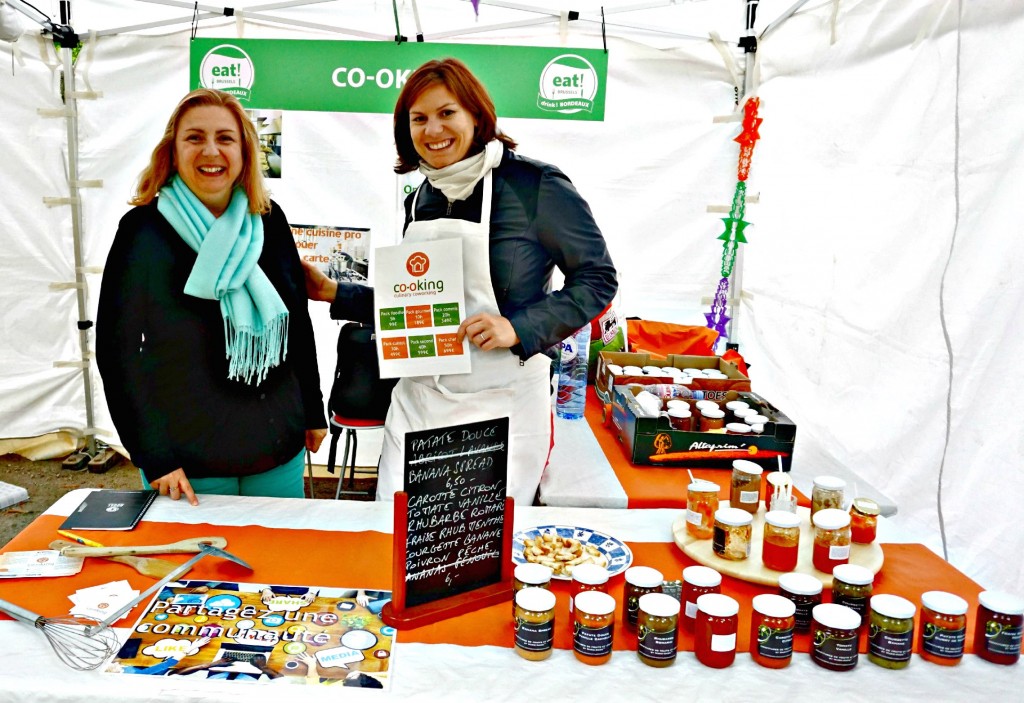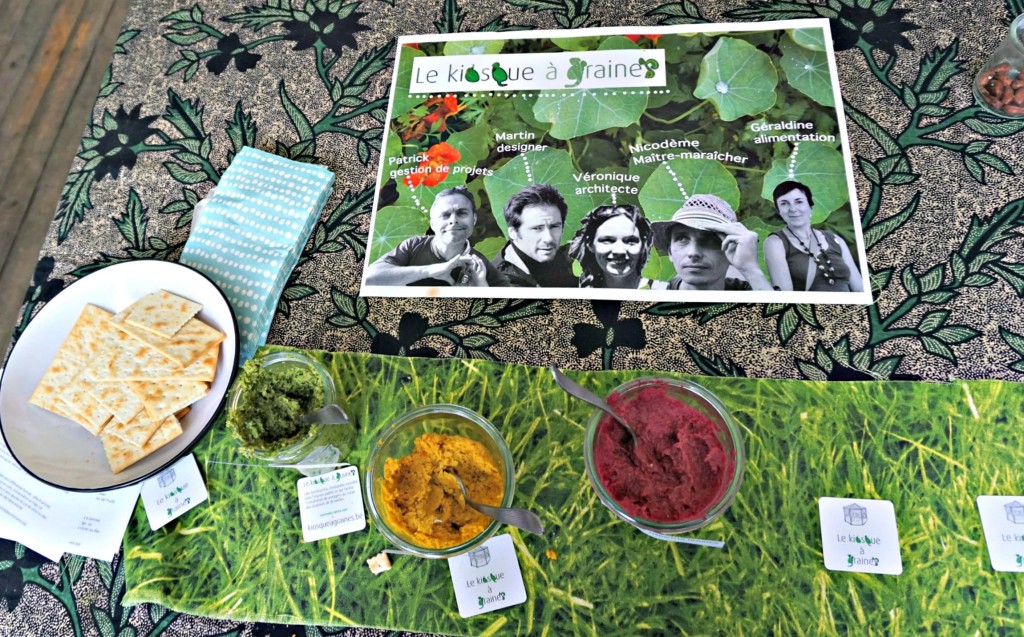 What are some recommendations for next year?
I would definitely recommend attending eat! BRUSSELS, drink! BORDEAUX next year as overall it is a fun event. I'd recommend, however, a few areas of improvement, such as:
Organizing the pavilions and the shacks in a way that people could naturally flow from food to drink. A circle makes more sense so that everyone can easily choose the wine and food they want and then meet up afterwards to eat together.
Encouraging the participating restaurants to be innovative and original; they should offer food that reflects the food actually served in their restaurants.
Creating a better payment system to avoid coupons and tokens. I found it difficult juggling between tokens, coupons, event guide, food, drinks, etc. Coming up with an electronic or smart payment system would be wonderful.
Allowing all the drink coupons to be used at all the wine pavilions so that people can taste the wine they want.
Developing an app that is available in advance to make it easier for participants to plan ahead of the event the restaurants they'd like to visit and the dishes to taste.
If you attended eat! BRUSSELS, drink! BORDEAUX this year, I'd love to read your comments and your suggestions for a better event.