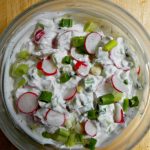 (Skip to Recipe)
Spring was in the air on my lunch table
A couple days ago I was home for lunch on my own and wanted to make something special yet easy. I had a few eggplants, carrots, red peppers, cucumbers, green onions, and much more.
I was really in the mood to make a typical Belgian spread made principally with fromage blanc, green onions and radishes.  You add a little salt and pepper to these ingredients and you basically have your spread.  I also wanted to make baba ganoush with the eggplants. So what did I do?
I made both! Here I share the recipe for the Yogurt Spread with Rad…
Read More