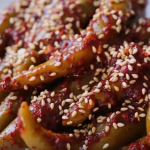 (Skip to Recipe)
Why I love Korean Food Best
If there's one Asian cuisine I love, it would have to be Korean food.  Korean dishes have a distinct flavor and spice.
The variety of their side dishes is also great!  So many to choose from! Not only can you use the side dishes as appetizers, but you can also eat them alone or with a little rice.

One Exceptional Side Dish
My favorite side dish is probably Korean Style Green Chili Pepper Pickles, also known as Gochu Jangaiji. They are fermented and seasoned with vinegar and soy sauce.  After about a week of fermentation, they make…
Read More