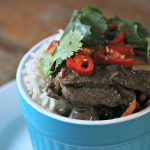 (Skip to Recipe)
What makes this Beef Stir Fry Quick and Vibrant?
This Beef Stir Fry is easy to make, is full of flavour and features so many beautiful colours and contrasts.
I have done my research and had my own experiences with stir frying. This is what I have learned. A stir fry is quick and easy to make IF you are organised and have everything chopped and ready to go.  Preparing the ingredients takes a bit of time but the moment you start cooking you won't believe how quickly it's ready to serve.
Cooking a stir fry is a great way to boost your confidence in the kitchen, especially…
Read More