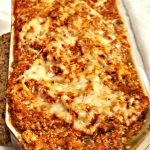 (Skip to Recipe)
How Do You Make a Vegetarian Eggplant Lasagna?
Differences Between Vegan and Vegetarian Eggplant Lasagnas
Recently I prepared two eggplant lasagnas side by side. A Vegan Eggplant Lasagna and a Vegetarian Eggplant Lasagna, as I wanted to compare their tastes.
In both eggplant lasagnas I used my Vegan Tomato Sauce for All Occasions as well as a single large eggplant sliced thinly. You can, of course, use your own tomato sauce if you prefer. The only difference between the two lasagnas was the type of cheese used.
In order to avoid duplication,…
Read More