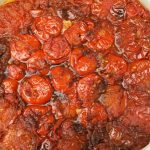 (Skip to Recipe)
Tomato Tarte Tatin is Simply Elegant

What is a Tarte Tatin?
You have probably heard of Apple Tarte Tatin (tarte tatin aux pommes), the French version of hot apple pie.  Slices of apple caramelized in a pan on the stove or in the oven before placing puff pastry dough on top and baking it further.  Before serving the pan is turned over so the pastry is on the bottom and the hot caramelized fruit on top.
Although tarte tatin is often made with fruit, a savory version made with vegetables can be just as delicious.  A few months ago I shared on this site my recipe f…
Read More