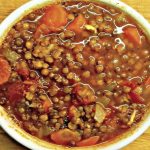 (Skip to Recipe)
A Vegan Lentil Tomato Soup sure to please the whole family!
Lentils are Inexpensive and Nutritious!
Lentils are considered to be one of the healthiest foods available.  They are also one of the least expensive sources of protein and other nutrients vegans need in their diet.  Adding lentils to soup is a simple way to get the nutrition you need.   Preparing this Lentil Tomato Soup will therefore be a tasty way to get the protein you need.
I enjoy all kinds of lentils: brown, green, yellow, and red.   Brown lentils tend to hold their shape better in soups.  Yet, adding a h…
Read More