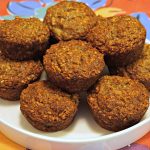 (Skip to Recipe)
How to Turn Banana Muffins Vegan?
I have made banana muffins many times and many ways.  Often, the recipes included some kind of dairy products, such as butter, milk, buttermilk, yogurt or sour cream.
Several months ago I shared my recipe for Banana Muffin Bliss which included a single egg.  In my post I suggested how to make the muffins vegan by replacing the egg.
Yesterday I was in the mood for banana muffins and decided to make a vegan version.  Of course, it was easy and quick.  In less than an hour I had a dozen yummy Vegan Banana Oat Muffins.
Although the reci…
Read More