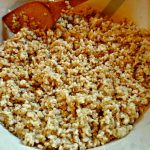 Is Brown Sushi Rice Better for You?
In addition to providing greater nutritional value compared to white sushi rice, brown sushi rice has a slightly nutty flavor. I love the extra taste of brown rice.

Is Brown Sushi Rice a Whole Grain?
Brown sushi rice (brown short grain rice) is a whole grain containing natural bran, which provides dietary fiber. Meanwhile, white sushi rice does not contain dietary fiber. For 100 grams of cooked brown short grain rice, there is about 1.8 grams of dietary fiber.

How Many Carbohydrates Are in Brown Sushi Rice?
There are a…
Read More