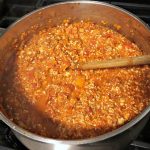 (Skip to Recipe)
A Versatile Vegan Tomato Sauce
I usually try to feature here recipes for tasty healthy versions of otherwise ordinary dishes.  Or recipes for extraordinary dishes that will wow your family and guests.
Most people already know how to make an Italian-style tomato sauce to use on pasta.  However, here is a tasty healthy version of a tomato sauce that can be used in many of your favorite dishes.  Several friends have asked me to share this recipe for Vegan Tomato Sauce, as it is as yummy as it is nourishing.
I often use this Vegan Tomato Sauce in my vegetarian lasagna as…
Read More