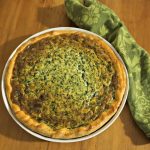 (Skip to Recipe)
A Quiche Recipe for all Occasions
Quiche is sometimes overlooked as a dish to serve guests.  I don't understand why.  I love quiche for informal gatherings, especially accompanied by soup or salad.  It's an easy weeknight supper with my kids.  Leftover quiche is also super easy and yummy the next day, warm or cold.
Since I started this blog, I've made quiche more than a dozen times.  Yet, I have shared only one quiche recipe.  It was a recipe for a Leek Quiche with Wild Garlic, a perfect springtime dish.
What can I possibly add to the numerous quiche recipes already availab…
Read More