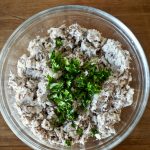 (Skip to Recipe)
Try serving Sardine Dip to your guests as a new appetizer
This Sardine Dip is extremely easy to make.  My kids and I often make this dip when we are in a hurry.  It's a lovely and yummy impromptu light lunch or supper, served with some bread and a side salad or soup.
We also prepare this Sardine Dip as an appetizer when we entertain guests.  Our friends enjoy this dip, even those who don't like sardines.  Every time our guests are surprised how much they love this dip once they discover it contains sardines.  The fish flavor is rather subdued.
If you serve this Sardine…
Read More