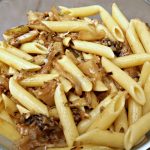 (Skip to Recipe)
Pasta with Fennel and Fresh Garlic Makes a Quick Yummy Meal
Is Fennel an Acquired Taste?
Not everyone enjoys the strong-licorice flavor of fresh fennel.  It can be a bit overwhelming if you eat a lot of it in one sitting.
However, when it's cooked, fennel's pronounced taste becomes more subdued and quite yummy.  Cooked fennel is a good substitute for celery in many recipes.  In Belgium, some people replace fennel for Belgian endives (chicons / witloof) in the traditional dish of Chicons au gratin.

Recipes with Fennel
Full of good intentions, I often buy fen…
Read More