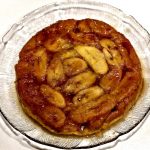 Banana Pie or Banana Tarte Tatin?
(Skip to Recipe)
What is a tarte tatin?
A tarte tatin is a pie that is made upside down. Most people think the term tarte tatin refers only to a French apple pie, as this is the most famous version of a tarte tatin. However, you can make a tarte tatin with any fruit. You can even make a savory version with vegetables. See for instance my recipes for a Belgian Endive Pie and a Tomato Tarte Tatin.
A tarte tatin usually starts by caramelizing your featured fruit or vegetable in a little butter and sugar in a pan. Next you roll out dough on to…
Read More