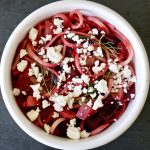 (Skip to Recipe)
How an Accident Became a Favorite Dish
Sometimes it's hard to find inspiration for meals when you're cooking for yourself.  Why spend a lot of time to prepare a dish that you're probably going to eat quickly?
Well, this past year I've made Roasted Beets and Fennel on Pasta several times.  It started off as an accident.  One day I wanted to make a meal that required little effort with the ingredients in my refrigerator.  And this dish was the happy result.

Red Beets
I usually have red beets in my refrigerator, as I love them prepared so many ways.  I'll throw…
Read More