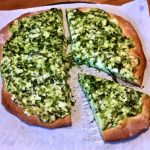 What is a Swiss Chard Pie?
(Skip to Recipe)
It's a pie in the same sense that pizzas, quiches and other similar savory dishes can be considered a pie. It starts with a layer of dough on the bottom, then is topped with a mixture of Swiss chard, parsley, onions and cheese, and finally is baked in the oven until golden brown.
What Inspired this Unique Dish?
I have Georgian and Belgian cuisines to thank for inspiring me to make this super delicious combination. When I say Georgia, I mean the Causcasus country, not the US state.
Georgian inspiration
Last spring I had th…
Read More