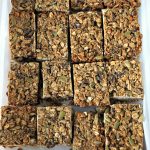 (Skip to Recipe)
Why Should You Make Granola Bars?
Choices on the Market
It's amazing how large the choice is for nutritious food bars in the United States. Almost any grocery store, drugstore, hotel lobby, fitness center, or other establishment selling snacks will have a variety of food bars for sale. For instance, there are fruit bars, nut bars, protein bars, granola bars, fitness bars, and many other types of bars carrying different names available to purchase.
Well-known and newer brands compete strongly for this high-end market dedicated to people active in sports, craving a…
Read More