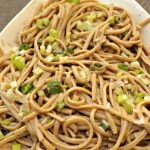 (Skip to Recipe)
What makes these Sesame Noodles my go-to dish for lunch?

The Ease of Making Sesame Noodles
Working at home has several benefits, including an easy commute to work and dressing sporty casual every day of the week.  My favorite benefit, however, remains being able to prepare tasty healthy lunches in less than 30 minutes.
Over the years I've tried many variations of salads, soups and pasta dishes.   They make wonderful one-course meals that fill me up enough to hold until dinner time, with only a few apples in between.   If I am in a super hurry, I'll make a sandwic…
Read More