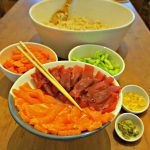 Why is making your own pickled ginger more healthy?
Everyone has seen the thin pink ginger slices at a sushi restaurant. Bright glow-in-the-dark pink? This pickled ginger is called gari in Japanese and is usually eaten after sushi or sashimi to enhance the flavor and cleanse the palette. Ginger generally aids digestion, eases nausea and reduces inflammation.
What makes pickled ginger so pink? Most likely it's artificial coloring (E124) added to the gari to make it look more attractive. Beet juice is more rarely also used to make the pickled ginger more pink.
Why bother making the ginger…
Read More