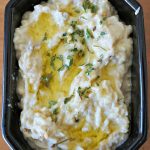 With So Many Variations of Baba Ganoush, What Makes My Recipe Different?
What's in a Name?
There are almost as many ways to write baba ganoush (baba ghanoush, baba ghanouj, baba ghannouj or baba gannouj) as there are to make it. This famous dish is also known as Moutabal and Eggplant (or Aubergine) Caviar.
This recipe for baba ganoush has to be among the easiest way to make it.  Yet, it preserves the smoked flavor of the eggplant and all the other qualities we love in our baba ganoush.

What Ingredients Make Baba Ganoush?
Baba ganoush comes from the Levantine region yet is reno…
Read More