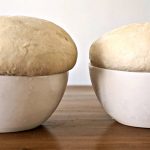 Who Doesn't Love Pizza?
Pizza can be found all over the world.  Thin crust pizza, deep dish pizza, round pizza, square pizza, all kinds of pizza.
What distinguishes a good pizza is its crust, sauce and choice of toppings.  The way the pizza is baked also influences its flavor and texture.
I will write more about each of these components in a separate post about pizza making.  Here I will focus on pizza crust, and more specifically on sourdough pizza crust, and the way it acts as the foundation for your pizza.

Selecting Your Pizza Crust
Yeast Pizza Crust
For years I've made …
Read More