What makes this Beef Stir Fry Quick and Vibrant?
This Beef Stir Fry is easy to make, is full of flavour and features so many beautiful colours and contrasts.
I have done my research and had my own experiences with stir frying. This is what I have learned. A stir fry is quick and easy to make IF you are organised and have everything chopped and ready to go. Preparing the ingredients takes a bit of time but the moment you start cooking you won't believe how quickly it's ready to serve.
Cooking a stir fry is a great way to boost your confidence in the kitchen, especially when cooking with very high heat. Be careful to make sure the wok and oil are hot and ready for frying. The wok must be piping hot so that you hear a loud sizzle in the pan when you add your meat. That way you will give the meat the colour and flavour that you want. Use a light cooking oil, such as vegetable oil or rice bran oil, when stir frying as olive oil can burn, and butter will definitely burn at such high temperatures.
So there you go, that's my take on stir frying. Now you just need to get cooking and I guarantee your confidence in the kitchen will grow. Good luck.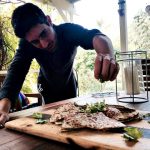 This recipe has been kindly contributed by Nicolas Hortense, the author of Blogtastic Food. Check out other recipes and articles by Nicolas on Blogtastic Food.



| | | |
| --- | --- | --- |
| Servings | Prep Time | Cook Time |
| 6people | 15 minutes | 10minutes |
| | |
| --- | --- |
| Servings | Prep Time |
| 6people | 15 minutes |
Ingredients

Servings: people

Units:
Ingredients

Servings: people

Units:
Instructions
Prepare the rice according to instructions. Make sure to use running water to remove the extra starch from the rice either before or after cooking the rice.
Strain the rice and then set aside until later (see below instructions)
Slice the beef into thin strips, place in a bowl, marinade with half of the soy sauce and a dash of sesame oil. Use your hands to make sure every slice of beef is coated with the soy sauce.
While the beef marinades, prepare the garlic, ginger, fresh coriander, bean sprouts and carrots.
Put a wok (or a frying pan if you don't have a wok) on the stove over a high heat. Add a 1 tablespoon of vegetable oil and then add the beef strips. Make sure you hear the sizzle. Stir or toss the beef for about 1 minute.
Add the garlic, ginger, chopped coriander sprigs, chile, bean spouts and carrots. Stir about another minute.
Season with the other half of the soy sauce. Quickly stir the corn flour and water together then add this mixture to the stir fry. Transfer the stir fry to a bowl and set aside.
Put your wok back on the heat, add a dash of vegetable oil and start frying your green onions for about a minute. Add your rice to fry for another minute.
Serve the rice and the beef stir fry together and enjoy.
Recipe Notes

Remember, get all you ingredients prepared before frying and make sure your wok is very hot before frying.
| | |
| --- | --- |
| Written by:ContributorNicolas Hortense | See other recipes at:http://www.blogtasticfood.com/ |