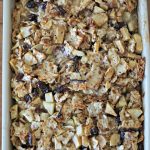 (Skip to Recipe)
What is Matzo Kugel?
Matzo Kugel is a pudding made often during the Passover holiday.  Although most people eat a sweet version of Matzo Kugel, prepared with fruit, eggs and nuts, they can also eat a savory version featuring vegetables.

Why do we eat Matzo during Passover?
During the eight days of Passover, observers should avoid eating five types of grains which rise:  wheat, rye, spelt, barley and oat.  The only exception allowed during Passover is eating one of these grains in the form of an unleavened flatbread, today known as matzo, matza or matzah.
Ok,…
Read More