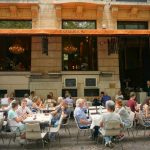 What makes Bourla Café Restaurant an institution in Antwerp?
To celebrate my son's 21st birthday we wanted a special restaurant in Antwerp, where we had chosen to enjoy this sunny day. I had been to the Bourla Café Restaurant several times over my 25 years in Belgium, yet it had been a while since my last visit.
Bourla Café Restaurant
Location

Atmosphere

Food

Service

Price/Quality Ratio
Summary
Bourla Café Restaurant, located on a charming square very close to the shopping district, is an Antwerp institution. The food, atmosphere, prices and service all make this restaurant a smart choice in Antwerp.
My first time in this restaurant was with a friend during the winter in my early years here. I cannot even remember the friend, yet can still taste the tomato soup and the delicious bread that accompanied it. The dark grain bread is so basic, yet evokes decades of ar…
Read More