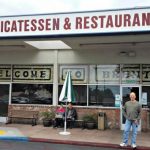 Is Brent's Deli any Different on the Vegan Front?
In yesterday's post "Scrambled Tofu Eggs", I reviewed the vegan menu choices at two delis in Los Angeles (Lenny's Deli and Factor's Famous Deli). At the same time I also surveyed their rugelach offering for a post soon to be written.
Today my brothers and I took my dad out for his 85th birthday lunch. He picked the place: Brent's Deli in Northridge (Los Angeles), California. It was my first time at Brent's Deli, which many consider to be the best deli in Los Angeles, so I was excited.
Brent's Deli
Location

Atmosphere

Food

Service

Price/Quality Ratio
Summary
Brent's Deli is one of the kings of LA delicatessens. Brent's has a gigantic menu with almost everything on it, except vegan choices. The atmosphere needs to be considered in the context of Jewish delis, which are not known for their elegant atmosphere. Booths and tables are spread out to fit in as many people as possible. Servers bustle around taking excellent care of their customers. Brent's is also available for take-out, but don't go there if you are looking for Jewish baked goods like rugelach, babkas, and other freshly made goodies.
On arrival at Brent's Deli at 11:15 …
Read More