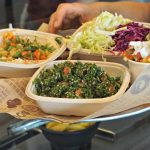 Why is Soom Soom one of my New Favorite Restaurants in Los Angeles?

Kismet led me to Soom Soom
A few weeks ago my son and I dined at Kismet, a new Middle Eastern / Mediterranean restaurant in Los Feliz that received raving reviews in Los Angeles Magazine.
Kismet did not live up to my expectations.  Like many trendy restaurants for the moment, Kismet offers small plates intended to be shared.  The food was tasty and presented in an attractive way. Yet, nothing wowed me, except their tahini sauce.
My son and I enjoyed our meal, even if we were somewhat disappointed.  The prices, …
Read More