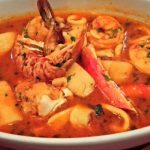 Why Matteo's is a family favorite?
For my dad's 85th birthday celebration with close family he chose a private dining room at Matteo's in Westwood (Los Angeles). Matteo's has been a family favorite for about 40 years. Before us Matteo's was a favorite hangout for Frank Sinatra and his Rat Pack group.
Matteo's
Location

Atmosphere

Food

Service

Price/Quality Ratio
Summary
Matteo's has a comfortable atmosphere, wonderful service, and delicious food. Matteo's is a West Los Angeles institution with lots of hints of the Hollywood A-listers, like the Rat Pack, who used to dine there. You will be extremely satisfied dining at Matteo's!

Cocktails
The celebration started in the bar area where we each chose a drink. Many of us had one (or 2 or 3) Moscow Mules: a delicious mix of ginger beer (which is actually not beer at all but rather a ginger syrup), vodka and lime. Moscow Mules are simply too easy to …
Read More