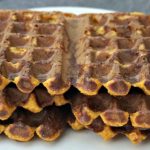 Why make Pumpkin Latke Waffles?
This Hanukkah season I wanted to create a new kind of latke (potato pancake) with some leftover boiled potatoes and a wedge of fresh pumpkin.  As many of you know, I love using pumpkin, especially in savory dishes.  For more pumpkin recipes follow this link or this other link.
Autumn is also my favorite season of the year.  I adore the various hues of yellow, red, orange and brown everywhere as well as the abundance of harvested vegetables and fruit.  All kinds of squash, nuts, apples, and pears are among my top choices during autumn.  
Adding pumpkin to …
Read More