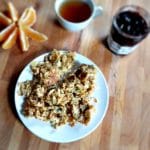 Why not make Matzo Brei for breakfast all year round?
It's the first morning of Passover so of course I made a simple version of Matzo Brei.  As Matzo Brei is made by mixing eggs with matzo, much in the same way as you mix eggs with bread to make French Toast, it is a simple dish to prepare for breakfast or brunch.
The number of possible additions and variations for this otherwise very straightforward dish is endless.  I opted, however, to start off with a basic recipe with a small addition of wild garlic, which is in season and in abundance in my local area at this time of year.
Feel f…
Read More