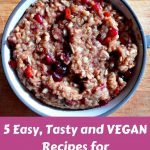 Looking for ideas for a vegan breakfast for Mother's Day?
Here are 5 Easy, Tasty and Vegan Recipes for Mother's Day that you and/or your kids can make without needing to know how to cook. The recipes have been selected to provide a variety of traditional breakfasts with vegans in mind. Your mom will love any of these breakfasts, and especially the thought that goes into it.
Each of these recipes can be adapted to suit the tastes your mother or wife. So feel free to be creative and make substitutions (especially of fruit) as you like.
These 5 recipes are not presented in any special orde…
Read More