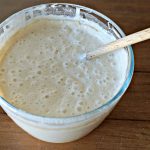 How Much Commitment Do You Need to Create and Maintain Your Own Sourdough Starter?
You've probably heard it takes a lot of work and care to maintain a sourdough starter.
You have to feed your sourdough starter at least once daily.  Some bakers feed it two to three times per day.  Ok, a baby or a dog requires about the same amount of care and attention, you might think.  Are you ready for such a life-changing commitment?
Remember all this effort is only to maintain your sourdough starter.  Afterwards, you will  have to make your bread, which can take between 18 and 36 hours for a traditi…
Read More