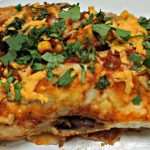 How do you turn Vegetarian Enchiladas into an evening?
Why Vegetarian Enchiladas?
A few days ago I prepared dinner for a friend on her way to Cuba.  Although she will certainly have fabulous and authentic Cuban food while she's there, I wanted to make a Latin American dish to celebrate her upcoming trip.  I decided to make Vegetarian Enchiladas since they are tasty, healthy and comforting.
As Vegetarian Enchiladas may be prepared in advance, reducing the effort needed when company arrives, they are ideal for a mid-week supper. Weeknight suppers should require less preparation, even if you…
Read More