What are some ways to use pumpkin?
During the autumn months I tend to buy and use a lot of pumpkin. Although a wide range of squash is available at the grocers and the farmers markets in Belgium, muscat pumpkins are my favorite. Muscat pumpkins are different from the pumpkins generally sold in the US. I now prefer their texture and taste over the US variety. They also seem to have more flesh, making them a wonderful source for many recipes.
Once I start using a pumpkin, I try to find other ways to use the rest of the pumpkin during the week. Chopped raw pumpkin added to my morning oatmeal or smoothie, pasta with pumpkin-ricotta sauce, roasted vegetables with pumpkin, a myriad of pumpkin soups, pumpkin bread, pumpkin pie and now this week pumpkin risotto, to name a few examples. Of course, there is also pumpkin cheesecake, pumpkin muffins, pumpkin ice cream, and the list goes on.
Last week I was preparing an intimate family dinner for 5 (my two children, two of my Belgian sisters and myself). My son had been asking me for a couple weeks to make a lentil soup so I prepared a Pumpkin Tomato Lentil Soup as our starter. I planned to follow with pappardelle pasta with pumpkin-ricotta sauce as our main course. Then my younger sister asked if we could make a pumpkin pie together since she never had made one. Only the pumpkin pasta dish was planned, the other dishes were added on the spot. Everyone helped in some way to make the dinner. We enjoy cooking together and showing each other how to make new dishes. Fortunately I had all the ingredients in the house to make all these dishes.
How can you make a rustic winter soup using pumpkin?
Every time I make a pumpkin soup it is a new creation, depending on the ingredients I have in stock and my mood. When making soup (like with bread) I prefer letting my creativity lead the cooking process.
Pumpkin goes well with a variety of spices and flavors, such as ginger, cinnamon, nutmeg, cloves, allspice, cumin, red chili peppers, garam masala curry, paprika, coriander, sage, thyme, rosemary and garlic. Coconut or tomatoes are also delicious with pumpkin. Of course, not all of these spices and flavors should be added together in one dish, but definitely a few of them at a time. In Belgium people tend to prefer a creamy pumpkin soup without a lot of flavor. I however prefer adding some spices to my pumpkin soup and even adding a couple of apples sometimes to help bring the flavors together.
Over the next month or so I will be sharing other recipes for pumpkin soup with you. I hope that you will let these recipes inspire you to create your own unique soups.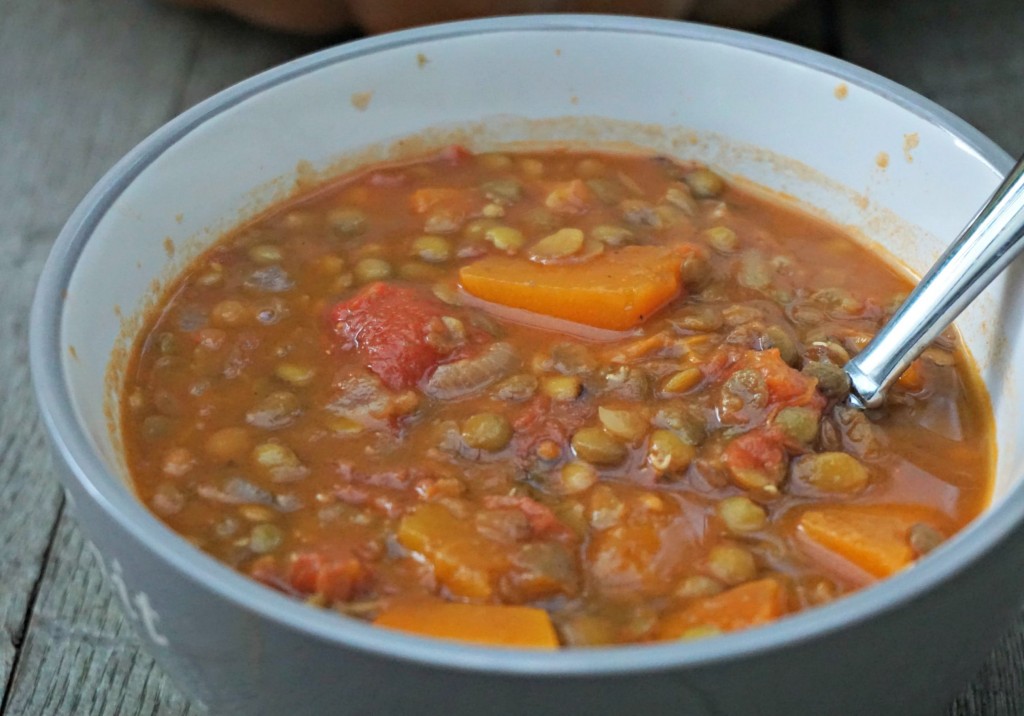 This Pumpkin Tomato and Lentil Soup is easy to make, economical, tasty, and healthy. What more could you ask for? Please try it and share your feedback in the comments below. Remember to pass this recipe on to your friends using social media. They will thank you for sending it!
If you would like to try other savory pumpkin recipes, check out my recipes for Pumpkin Risotto (vegetarian), Pumpkin Soup with Roasted Garlic (vegan) and Pumpkin Sage Pasta (vegetarian). Enjoy!
Servings

Prep Time

Cook Time

16

cups

15

minutes

25

minutes
Servings

Prep Time

16

cups

15

minutes
Dice the onions into small pieces

Pour the olive oil in a large pot over a medium heat. When the oil's hot, add the onions. Continue to cook the onions for a few minutes until the onions become translucent.

Add the chopped pumpkin and continue to cook for a few minutes.

Rinse the dry lentils and add them to the pot. Stir and cook for about 1 minute.

Add all the spices you decide to use (except salt) and stir for about 1 minute longer.

Add the tomatoes and vegetable broth. Stir and continue to cook until the lentils are tender yet still a bit firm (about 25 minutes).

In last few minutes, add the salt and adjust the flavors. For lentils and beans, it's best to add the salt in the last minutes of cooking for best results.

Serve the soup and enjoy!
Depending on how spicy you like your soup, you can add cayenne or replace it with some chili flakes or chopped chili pepper.  Be careful however not to substitute 1:1 as chili flakes and chili peppers give more heat than ground cayenne pepper.  Chili pepper should be added early enough so it gives full flavor to the soup.
If you replace the vegetable broth with vegetable bouillon, add the bouillon cubes at the same time as the spices before adding the same amount of water.
You can also replace half the lentils with the same quantity of grains, such as kasha (roasted buckwheat groats), bulgur wheat, brown rice or pearl barley.
Nutrition Facts
Pumpkin Tomato Lentil Soup
Amount Per Serving (240g)
Calories 119
Calories from Fat 18
% Daily Value*
Total Fat 2g 3%
Sodium 488mg 20%
Potassium 252mg 7%
Total Carbohydrates 26g 9%
Protein 9g 18%
* Percent Daily Values are based on a 2000 calorie diet.