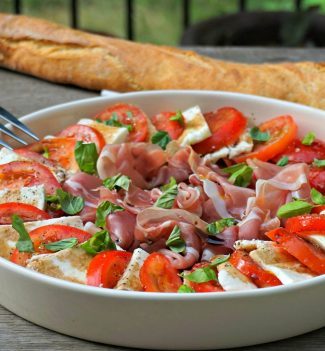 Sometimes simple dishes are the best!
Tonight I really did not feel like preparing anything complicated. It's warm outside and I've been moving around all day long sorting through things in my home as I'm doing a major summer cleaning.
Preparing a Caprese Salad with Parma Ham
So I prepared a dish with mozzarella, tomatoes, Prosciutto di Parma ham, basil, olive oil and balsamic vinegar with a little salt and pepper. This dish always looks nicer when you lay a slice of mozzarella on a slice of tomato and continue in this fashion until you fill your dish (or have enough for your group). Then drizzle olive oil and balsamic vinegar over all the slices. Tear up some fresh basil leaves and spread them on top of the dish. You can either add slices of Parma ham as you alternate between the mozzarella and tomato or place the Parma ham separately, as I did in the photo. Add some salt and pepper. Now you're done! If you can, leave the dish sit for about 15 minutes before serving so the flavors have a chance to mix together.
Variations of Caprese Salad
A more common variation of this dish is a Caprese Salad, which is basically the same dish without the Parma ham. Caprese salads are served throughout Europe as a starter, especially during the summer months when the tomatoes are freshest. Both variations are also popular on brunch tables or buffets.
This summer we have an Indian student staying with us. I was pleased to learn that tonight was his first time trying this combination. And he loved it!
Dare to create your own version of a Caprese Salad. For instance, add some pomegranate seeds on top to add color as well as a bit of sourness to offset the other flavors.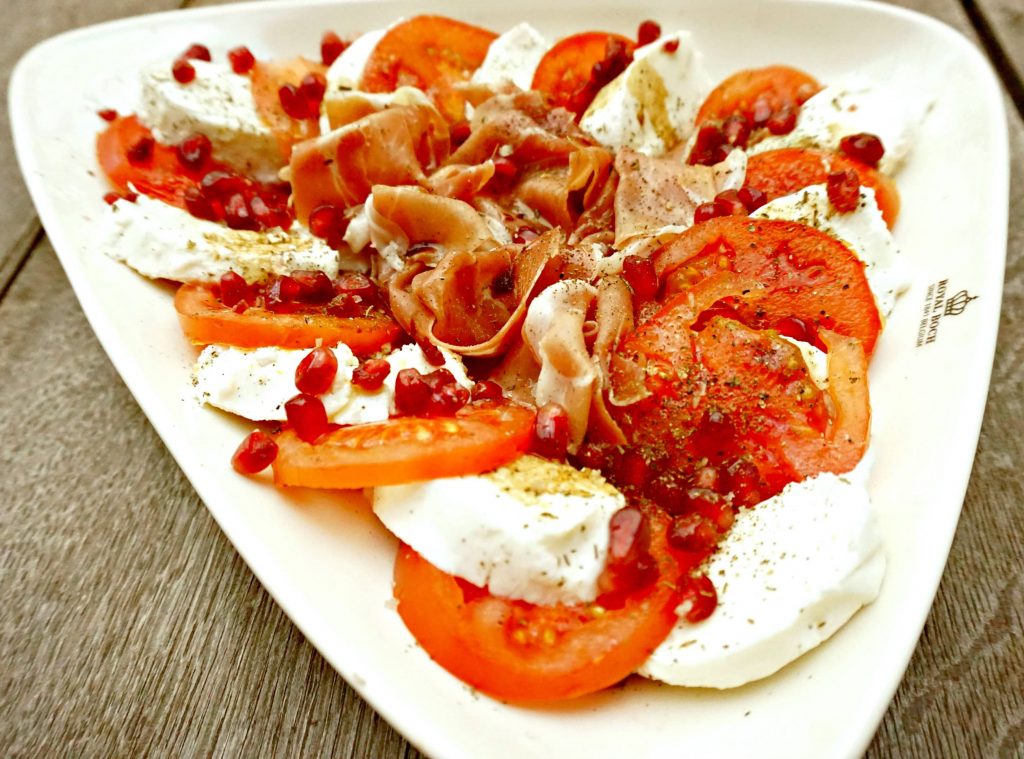 Using Fresh Ingredients of Top Quality
Use the best and freshest ingredients to make this dish truly a delight. In my salad I added basil from my own plant. (I'd suggest you add more basil than what is featured in the photo.)
Traditionalists prefer mozzarella di bufala (buffalo mozzarella) which is made from milk from the Italian water buffalo. However, some lovers of a Caprese salad prefer mozzarella made from cow milk as the taste is not as strong. Mozzarella cheese comes in various qualities and levels of softness. For this salad a medium softness is desired so the mozzarella is firm enough to be sliced yet kind of falls soothingly on your tongue.
Serving our Caprese Salad with Parma Ham
Tonight we ate our dish made of mozzarella, tomato and Prosciutto di Parma ham with two baguette-style breads (à l'ancienne and a whole grain). Each person was able to choose how to eat the salad: on the bread, in a sandwich or with the bread on the side. The best part is at the end when we soaked up the remaining olive oil, balsamic vinegar and basil with the last pieces of bread.
If you prefer a vegetarian version, leave out the Parma ham from the Caprese Salad.
Feel free to prepare the dish as you like. You can make an individual plate for each guest. Or choose the more convivial way of creating a platter to share among your friends.
Please share below in the comments your favorite way to prepare this dish. Enjoy it!
A Caprese Salad with Parma Ham
This Caprese Salad with Parma Ham is so simple yet such a delight with fresh ingredients and herbs. It's easy to make in minutes for friends as part of a casual meal. This recipe is for 6 as an appetizer or side dish or for 4 as main dish.
Ingredients
500

g

Mozzarella cheese

either with water buffalo or cow milk (see notes)

3

tomatoes

large, fresh and firm

200

g

Parma ham

thinly sliced

3

tbsp

olive oil

1

handful

basil

fresh - See notes

1/4

tsp

salt

1/8

tsp

black pepper
Instructions
Wash the tomatoes and slice them in thick slices. They are best at least 0.5 cm (1/4 inch) thick. You can remove some of the extra seeds to avoid the salad being extra liquidy.

Drain the mozzarella cheese. Slice the mozzarella cheese into round discs with the same thickness (approximately) as the tomatoes.

Alternate between the tomatoes and mozzarella cheese as you lay them on a dish or platter. If you prefer you can also add slices of Parma ham as you alternate. Otherwise, place the Parma ham in an attractive manner on the dish or platter. I like to keep the Parma ham separate in case some guests do not want to eat it.

Drizzle the olive oil over the tomatoes, mozzarella cheese and Parma ham. Tear the fresh basil leaves on top and spread around dish or platter. If you are using dried basil, make sure to sprinkle it all over. Add salt and pepper to taste.

Let the dish or platter sit for about 15 minutes before you serve it. The salt and herbs will help bring out the flavors of the other ingredients before the salad is served. Enjoy!
Notes
 There are many kinds of mozzarella cheese.  There is the fresh soft type, the medium firm type, and the firmest type often used for baking lasagna and similar dishes.  Choose the medium firm type as it will holds its shape the best.  The mozzarella cheese made from water buffalo milk has a stronger taste than the cheese made with cow milk.  For some, the water buffalo version is an acquired taste.
In the summer it's best to use fresh basil leaves.  At other times of year I've used dried basil instead and this salad has been almost the same.  Remember to use about 1/3 the amount of dried basil as you would fresh basil.