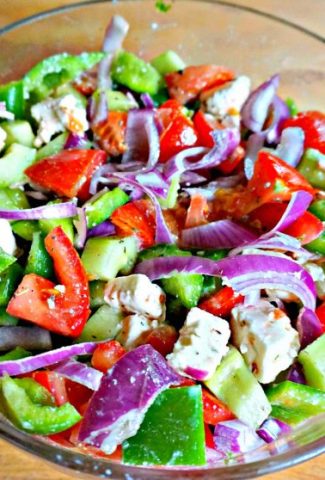 What makes a Greek Salad Greek?
Greek salads are served and enjoyed all over the world as people try to capture the magic of Greece. In Greece, however, this salad is known simply as horiatiki, translated as a peasant's salad or a country salad.
Traditional Greek Salad
Although there does not seem to be a definitive way to make a Greek salad, most can agree that the essential ingredients salad are tomatoes, cucumbers, feta cheese, red onion, Kalamata olives, and olive oil. At least this is how the Greeks make their horiatiki.
Additional Ingredients
Common ingredients added to a Greek salad include: green wax peppers, pickled peppers (peperoncini), anchovies or sardines, dolmas (stuffed grape leaves), capers, green lettuce, and/or chopped cabbage. Please note that the green wax peppers that Greeks traditionally use are more mild than the green bell peppers featured in my photo. If you can find the wax peppers, choose these instead of the bell peppers unless you prefer the stronger flavor.
Seasoning
Many just drizzle olive oil on top of a Greek salad. Good Greek olive oil. Others mix this olive oil with a little fresh lemon juice or red wine vinegar. In general, the ratio of olive oil to lemon juice / vinegar is about 3: 1, but I personally prefer about 1:1 even if this may not be the Mediterranean tradition.
For seasoning, keep it simple with some dried oregano sprinkled on top, salt and pepper. Add some fresh mint for a special touch if you like.
Simple and Fresh
To make a Greek Salad for the Gods, keep it simple and make sure the ingredients are fresh. Feel free to vary the ingredients according to your own taste and availability of ingredients. I usually opt for red wine vinegar because I have my own homemade supply always fermenting in my vinegar jar. If I make a Greek salad for myself, I'll leave out the olives (as I did for the featured photo) since I have a hard time eating them whole. (I love olive oil, tapenade, and sliced olives, just not whole olives). Of course, if I'm preparing a Greek salad for friends I will add in some Kalamata olives.
During my Journey to Greece this summer, I've seen that in Greece, a large slice of feta cheese is usually placed on top of the salad instead of cut into cubes.
How to Share a Greek Salad
Families share a salad placed in the middle of table. Each person picks at the salad with a fork, breaking up the cheese and taking some with the other ingredients as they go. Many use a cube of bread at the end of their fork to soak up the flavors at the bottom of the bowl. With each forkful, they use the bread to gather up other ingredients. To make sure the juices at the bottom of the bowl are ripe, let the salad sit about fifteen minutes before serving.
Enjoy this recipe for Greek salad and please share your comments below.
A Greek Salad for the Gods
A salad with cucumbers, tomatoes, feta cheese, red onion and green bell pepper
Ingredients
3

tomato

1

cucumber

1

red onion

1

green bell pepper

200

g

feta cheese

2

tbsp

olive oil

extra virgin

2

tbsp

red wine vinegar or lemon juice

1/4

tsp

oregano

plus some fresh mint if you like

salt and pepper
Instructions
Chop the tomatoes, cucumber and green pepper. Slice the red onion and cut the slices in half. Put all the vegetables in a bowl.

Cut the feta cheese in cubes or if you prefer break it into crumbs. Add the feta cheese to the vegetables in the bowl.

Drizzle the olive oil and vinegar (or lemon juice) over the salad. Add the oregano (plus the mint) and the salt and pepper.

Mix the salad together and serve!
Notes
If you prefer to reduce the strength of the flavor of the red onion and green pepper, mix them with the olive oil, the vinegar or lemon juice, and the oregano for up to 2 hours in advance. Marinating them in the vinegar or lemon juice will help soften them up as well as take the edge off of their taste. This salad is for 4 people as a side dish or starter or for 1 person as a main dish.
Nutrition
Nutrition Facts
A Greek Salad for the Gods
Amount Per Serving
Calories 248
Calories from Fat 162
% Daily Value*
Fat 18g28%
Cholesterol 45mg15%
Sodium 742mg32%
Potassium 180mg5%
Carbohydrates 12g4%
Protein 9g18%
Vitamin A 0IU0%
Vitamin C 0mg0%
Calcium 0mg0%
Iron 0mg0%
* Percent Daily Values are based on a 2000 calorie diet.