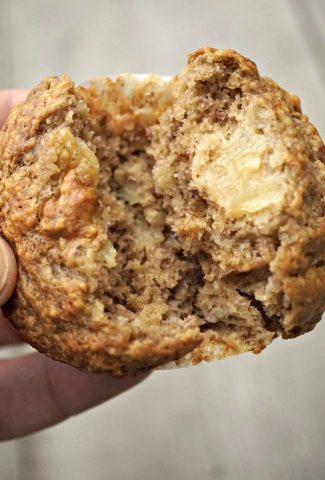 Why will each Banana Muffin bring you bliss?
We all have had bananas become overly ripe on our watch. No one can blame us for letting their peel become covered in brown or even spots. Having overly ripe bananas is, however, a test of character or resourcefulness. It's what we do with these golden brown gems that truly count.
In my household, we usually make banana bread, often with chocolate chips, because that is what my kids want. We have several banana bread recipes that we follow. There's one with sour cream which has always been a family favorite and then another with buttermilk which is the one I prefer because it's less rich. Then, some days I need to make something more healthy that is so yummy to eat yet is nutritious as well so it can be eaten for breakfast or an on-the-go snack. It's on these days when I make banana muffins with very little fat and added whole grains.
For some reason I don't always share the everyday recipes I follow. It's not because I am selfish and want to keep these recipes for myself. Or that I am afraid the result is not worth passing on. I just feel a bit shy since so many similar recipes can certainly be found on the Internet. On this blog I want to feature tasty and healthy recipes or at least more nutritious versions of common recipes.
Yesterday morning I noticed a few ripe bananas in my fruit bowl. As I'm moving out of my house in a few weeks I'm trying to use up the remaining food in my pantry. These banana muffins seemed to be an ideal way to meet my needs while creating a treat that would be tasty and fulfilling.
I just threw some ingredients together using the rough proportions from other recipes. The result was so delightful that I had to write down the recipe and share it with all of you. Each banana muffin was pure bliss.
If you do not have all the ingredients in your home, improvise, for example, by using a different combination of flours and grains while generally following the proportions indicated. Chopped walnuts or pecans would also be scrumptious in these muffins. If you are looking for a sweet treat, throw in a generous handful of bittersweet chocolate chips.
For a vegan version of muffins, check out my recipe for Vegan Banana Oat Muffins.
I hope you will enjoy these banana muffins as much as I did and that they bring you as much bliss in the morning!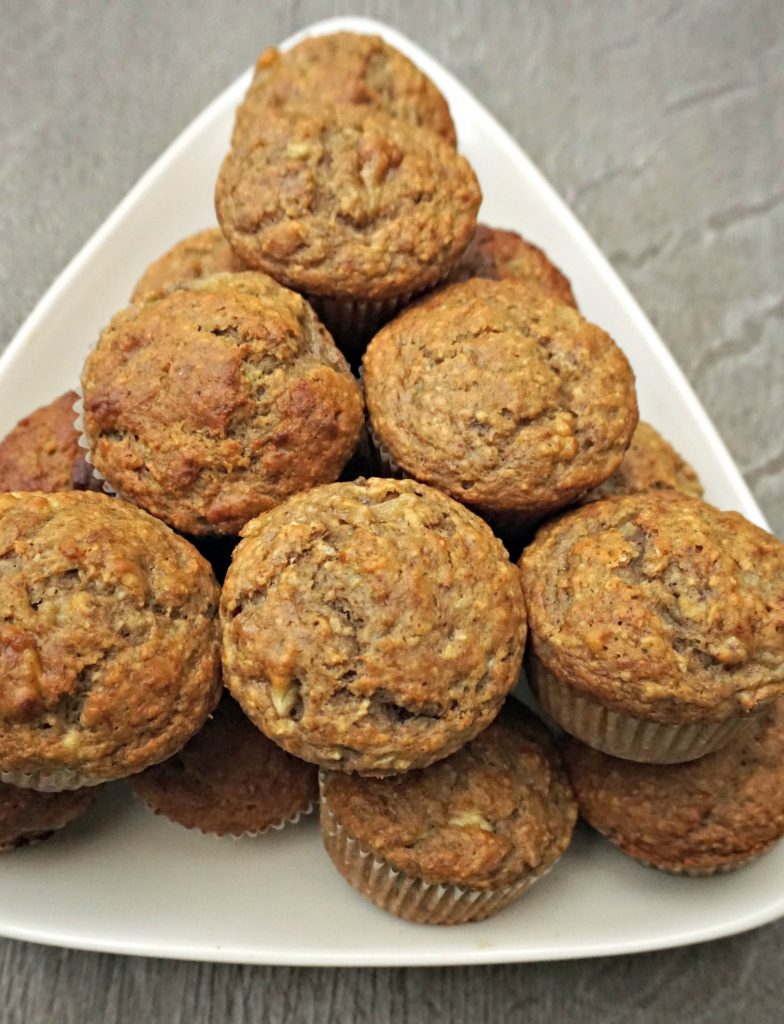 Please share this recipe with your friends using the social media buttons below. And remember to share your feedback with us in the comments below.
Banana Muffin Bliss
These Banana Muffins are moist, healthy and delicious! They also only take a few minutes to prepare before popping in the oven.
Ingredients
1

egg

4

tbsp

vegetable oil

2/3

cup

brown sugar

packed

1 1/2

cup

bananas

mashed

1/2

cup

applesauce

chunky

1

tsp

vanilla extract

1

cup

whole wheat flour

1/2

cup

oat bran

1

tsp

cinnamon

1/2

tsp

salt

3/4

tsp

baking soda

1 1/2

tsp

baking powder

2

oz

walnuts

crushed (optional)

2

oz

dark chocolate chips

(optional) - See notes
Instructions
Preheat the oven to 180°C / 350°F.

Lightly beat the egg in a mixing bowl. Add the vegetable oil and mix a bit more.

Add the brown sugar, bananas, applesauce, and vanilla extract. Mix lightly together until all ingredients are blended together.

In another mixing bowl, add the whole wheat flour, oat bran, cinnamon, salt, baking soda and baking powder. Mix together.

Fold gently the dry mixture into the wet mixture. Be careful not to overmix. Add the crushed walnuts if you are adding them.

Either put a paper liner in each muffin cup or lightly oil each muffin cup.

Fill 2/3 of each muffin cup with the muffin batter. Put the muffin tin in the oven. Bake about 20 to 25 minutes or until the muffins are golden brown on top. Remove the muffin tin and let cool about 10 minutes before removing the muffins from the baking tin.
Notes
You may substitute white all-purpose flour for the whole wheat flour.  You may also substitute oat flakes or wheat bran for the oat bran.  Feel free to mix other grains and flours, while maintaining the same total volume.
This recipe suggests two optional ingredients:  walnuts and chocolate chips.  You may make the muffins without these additional ingredients, with only one of these ingredients, or with both of them.  Walnuts and chocolate chips both mix so well with bananas!
Nutrition
Nutrition Facts
Banana Muffin Bliss
Amount Per Serving
Calories 160
Calories from Fat 36
% Daily Value*
Fat 4g6%
Cholesterol 12mg4%
Sodium 161mg7%
Potassium 111mg3%
Carbohydrates 28g9%
Protein 3g6%
Vitamin A 0IU0%
Vitamin C 0mg0%
Calcium 0mg0%
Iron 0mg0%
* Percent Daily Values are based on a 2000 calorie diet.