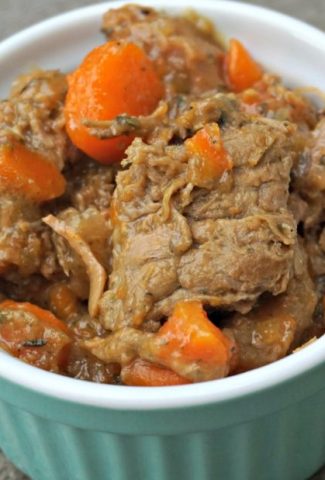 Belgian Beef Carbonnade Made Easy
Belgian Beef Carbonnade is known by many names: Flemish Carbonnade, Belgian Beef Stew, Beef and Beer Stew, are among the most common.
How to Make Beef Carbonnade
Although recipes for Belgian Beef Carbonnade generally include beef and beer, there are many variations. Some families spread mustard on bread and add it to the pot for thickness and to reduce the sweetness of this dish.
Many use dark abbey beer to give a deeper flavor. Depending on the beer used it may also add sweetness. I prefer a blond Abbey (light ale) beer instead since it lends a more subtle flavor that blends perfectly with the other ingredients. For this recipe I used St Feuillien and found it to be perfect!
I have also made this recipe a lot of times without beer, simply using beef or vegetable broth as a substitute. Try it with or without beer and see what you and your family prefer.
How to Serve Beef Carbonnade
Belgian Beef Carbonnade is a wonderful dish to make for Sunday supper or another special occasion. It takes only a little preparation before letting it cook slowly for a couple hours. Belgian Beef Carbonnade can also be made in advance (leaving the meat still a little firm) and then heated up before serving. It's lovely comfort food.
The best advice I can give for making Belgian Beef Carbonnade is to keep it simple. You can add different vegetables, thicken it up at the end with a roux, try it with the beer of your choice, but keep it simple. Don't add many types of vegetables or vary this recipe too much. Belgian Beef Carbonnade is best the traditional way.
Serve the Belgian Beef Carbonnade with boiled potatoes, mashed potatoes, potato fries, or rice. I prefer rice or boiled potatoes as they help soak up the delicious sauce from the stew. Belgians however often serve this stew with potato fries.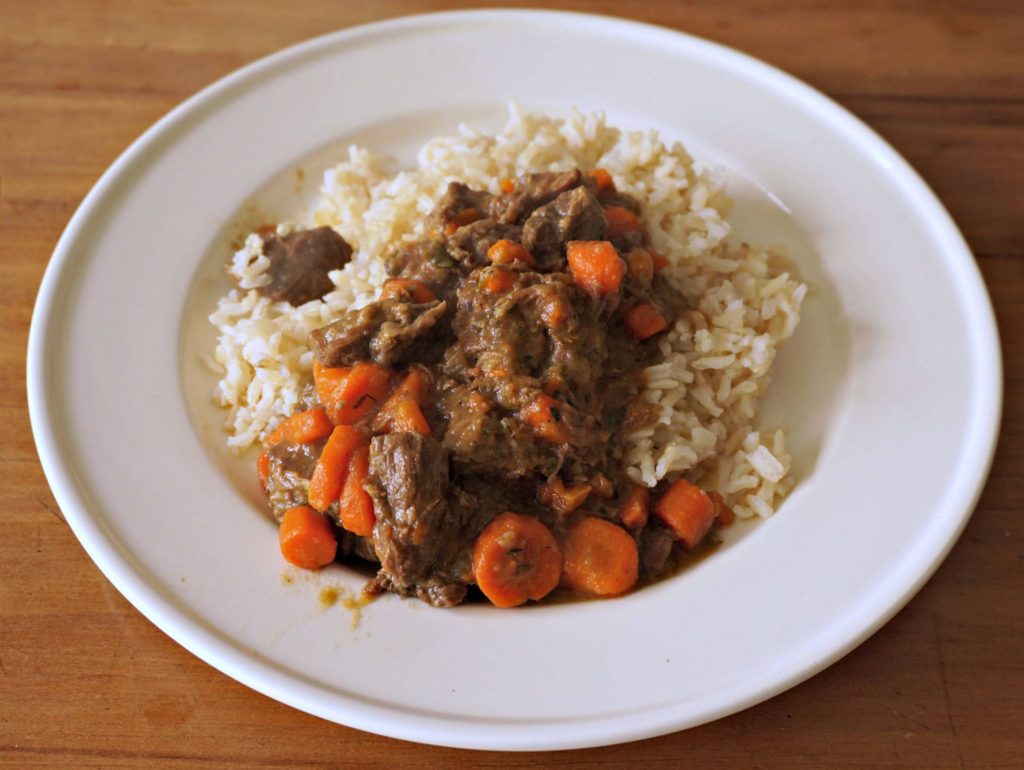 This winter try my version of Belgian Beef Carbonnade and then let me know in the comments below how you like it. I'd love to read about your experiences. Please share this recipe with your friends so they can also enjoy it.
Belgian Beef Carbonnade
Here's an authentic Belgian Beef Carbonnade (Beef Stew) recipe. These tender pieces of meat cooked slowly in beer with carrots is the ideal comfort food for cold weather.
Ingredients
2

tbsp

olive oil

extra virgin

5

onion

1800

g

beef roast

(shoulder, bottom round or arm) cubed

2

tbsp

brown sugar

2

cloves

garlic

1000

g

carrots

750

ml

beer

blond (light ale) (see notes)

1

tbsp

red wine vinegar

1

handful

parsley

fresh chopped

1

tsp

thyme

2

bay leaves

1

tbsp

Dijon mustard

1/2

tsp

salt

1/4

tsp

black pepper

30

g

butter

(optional) (see notes)

30

g

flour

(optional) (see notes)
Instructions
Preparation: Remove any excess fat from the beef and cut it in large cubes. Dice onions. Peel carrots and slice into coin shape pieces.

Pour olive oil into a Dutch oven or large stew pot over a medium flame. Add diced onions and cook for about 3 minutes until they begin to sweat.

Add the cubed beef and continue to cook about 5 minutes, making sure all the sides of the beef are brown.

Sprinkle the brown sugar over the beef and onions. Continue to cook a couple minutes to caramelize a bit.

Add the red wine vinegar, the beer, thyme, bay leaves, parsley and carrots. The liquid should cover the meat and carrots with about 1 cm (1/2 inch) on top. Stir. Reduce the flame, cover the pot, and let cook for about 2.5 hours. Be patient and let your stew cook slowly. Do not stir frequently.

After 2 hours of cooking check the liquid level in the pot. If there is not much liquid for a sauce, add some water and continue to cook. Check the meat for its tenderness after 2 hours. The fork should enter the meat easily without the meat falling apart. Once it's tender go to the next step. Don't worry if the meat is ready before the time indicated above. Mine is usually done after 2.5 hours. [If you are making this dish in advance to reheat later, remove from the stove when the meat is still a little firm so that it becomes tender when reheating.]

Add the mustard and stir.

If the sauce is too thin, prepare a roux by mixing the flour and the butter together to make a smooth paste. Add the roux into pot and cook over low heat a few minutes to thicken up the sauce.

Add salt and black pepper and adjust herbs to taste. You should be able to taste the meat.
Notes
Belgian Beef Carbonnade is traditionally made with a dark Abbey beer yet can also be made with a dark bitter ale or stout beer if you prefer.
Nutrition
Nutrition Facts
Belgian Beef Carbonnade
Amount Per Serving
Calories 682
Calories from Fat 198
% Daily Value*
Fat 22g34%
Cholesterol 143mg48%
Sodium 404mg18%
Potassium 1699mg49%
Carbohydrates 39g13%
Protein 70g140%
Vitamin A 0IU0%
Vitamin C 0mg0%
Calcium 0mg0%
Iron 0mg0%
* Percent Daily Values are based on a 2000 calorie diet.