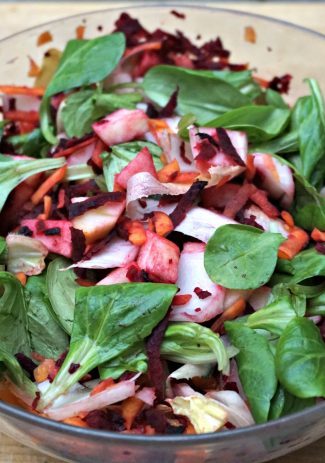 What are Winter Salads?
Winter salads bring color, vitamins and fresh tastes to brighten up your plate and keep your palate alive. In many ways I prefer winter salads to salads at other times of the year because the ingredients are often more crispy and full of flavor.
How can you create a Winter Salad?
Blend colors and tastes
The key to making an exceptional winter salad is to blend colors and tastes. Don't be afraid to use bitter vegetables, such as Belgian endives, radicchio and escarole, all from the chicory family. You may offset the bitter tastes by adding sweet ingredients, such as sliced apples, dried fruit (raisins, cranberries, figs, and dates) or a little bit of honey or sugar in the salad dressing.
If you hesitate to use bitter vegetables, try roasting or braising them to soften their tastes. Fennel, for example, becomes absolutely delicious in salads, pasta or other dishes when you cook it first with a little olive oil. To learn how to braise Belgian endives, see my post from last week by clicking here.
Use vegetables with deep colors
Try to use vegetables with deep colors (green, orange, red and purple) as they often contain the most nutrients. Colors will also help break the monotony of winter and bring a little sunshine to your plate. Adding orange slices or pomegranate seeds can also be a quick way to add some color as well as to enhance some of the flavors.
For winter salads I usually start with vegetables I have at hand in my kitchen. These vegetables can include shredded cabbage, carrots, red beets, golden beets, Belgian endives, lambs lettuce, fennel, Brussels sprouts, celeriac, escarole, onions, as well as many other vegetables. Although the list is fairly long, when making a winter salad it's best to keep it simple by using only 3 to 5 main ingredients.
Add some fruit, protein and even grains
Next I might add some fruit (dried or fresh) to add sweetness and color.
For protein I often add a can of rinsed beans or tuna fish, or some crumbled or grated cheese. Roquefort or blue cheese are my favorites in winter salads. Other cheeses with full flavor, such as feta or goat cheese, are also excellent choices. By adding grilled marinated tofu or a nutseed cheese instead of cheese prepared from animal milk, this salad can be vegan.
If I want to make the salad more substantial, I will add leftover cooked grains (quinoa, bulgur wheat, or couscous) or potatoes.
The salad dressing
The dressing should enhance the flavors and bring them together. Even though there are endless choices of dressings, I often find myself using the same ingredients: chopped shallots, red wine vinegar, a little nutseed oil (walnut, hazelnut, pumpkin seed, sesame seed or pistachio) along with a little more olive oil.
Depending on my mood and the ingredients used, I'll add a little honey, grain mustard and/or garlic. If I'm making an Asian salad with chopped cabbage and other vegetables, the dressing will consist of grated fresh ginger, red chili flakes, sesame oil, rice vinegar, soy sauce or diluted miso paste. I might even add some fresh mint and/or coriander (cilantro).
How do I prepare one of my favorite Winter Salads?
I will share with you photos and recipes of several winter salads to inspire you to create your own favorite.
Last week I prepared a winter salad with Belgian endives, red beets, carrots, lamb's lettuce, and apple to accompany a delicious Irish Soda Bread baked by Philip ÓhArtagáin in Dublin, Ireland. Discover more about Philip ÓhArtagáin's Irish Soda Bread and by clicking here. Find out about the man behind this yummy Irish Soda Bread by reading my Interview with Baker Philip ÓhArtagáin.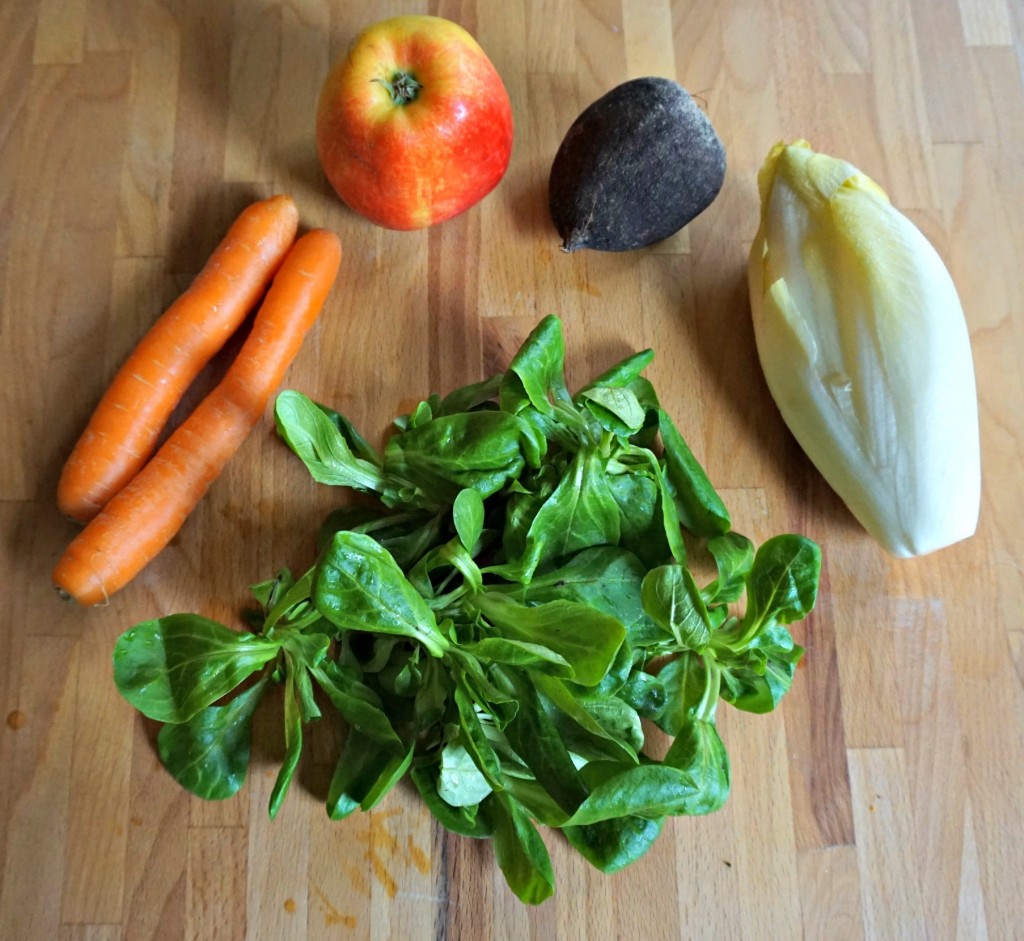 To make it simple to find this winter salad again, I'll call it the Belgian Foodie® Winter Salad. This salad takes only a few minutes to prepare, combines bitter with sweet, tastes wonderful and is full of nutritional value.
Try making the Belgian Foodie® Winter Salad and tell me if you agree how tasty it is. Pass on the recipe to your friends to share the joy.
Belgian Foodie Winter Salad
A quick, tasty and healthy winter salad to serve either as a main course or a side dish accompanying a sandwich, slice of pizza or your favorite lunchtime dish.
Ingredients
Salad
2

Belgian endive

sliced

3

carrots

2

red beets

medium

2

apple

125

g

lamb's lettuce

also known as corn lettuce or mâche
Dressing
1

shallot

large

2

tbsp

red wine vinegar

or sherry vinegar

1

pinch

salt

black pepper

1

tbsp

walnut oil

or hazelnut oil, pumpkin seed oil or other nut seed oil

1

tbsp

olive oil

1

tsp

honey

or agave syrup (optional)

50

g

Roquefort cheese

or other blue cheese crumbled (optional)

30

g

walnuts

chopped (optional)

30

g

dried fruit (raisins or cranberries)

(optional)
Instructions
Dressing
Chop the shallot and place in a small bowl. Add the vinegar and salt. The salt dissolves better when added first to the vinegar. Letting the shallot sit in the vinegar a few minutes helps soften their taste. I'd therefore advise to make the dressing first and let it sit as you prepare the salad.

Add the oil and black pepper and mix. If you are adding honey, add it now.
Salad
Wash and peel carrots, red beets and apples. Wash Belgian endives and lamb's lettuce and pat dry with paper towels.

Grate the carrots and red beets with a grater with medium or large holes. Slice the apples and then cut slices in half. Cut off the bottom of the Belgian endive, then slice the Belgian endive in half lengthwise, and finally slice the Belgian endive horizontally into medium thick slices. Remove the bottom of each cluster of lamb's lettuce so the leaves flow freely. Put all the vegetables and fruit in a salad bowl.

If you are adding cheese, walnuts, or dried fruit, put them in the salad bowl with the vegetables and fruit.
Nutrition
Nutrition Facts
Belgian Foodie Winter Salad
Amount Per Serving
Calories 152
Calories from Fat 72
% Daily Value*
Fat 8g12%
Sodium 158mg7%
Potassium 379mg11%
Carbohydrates 21g7%
Protein 3g6%
Vitamin A 0IU0%
Vitamin C 0mg0%
Calcium 0mg0%
Iron 0mg0%
* Percent Daily Values are based on a 2000 calorie diet.