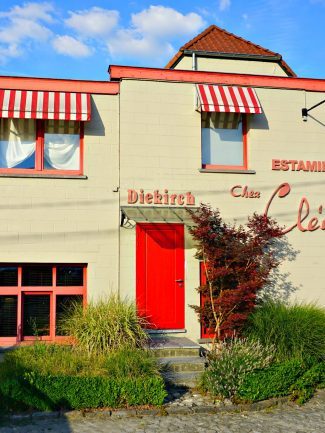 Why pick the Brasserie Chez Clément for a birthday celebration?
Brasserie Chez Clément is located in Genval, about 10 kilometers south of Brussels, yet is definitely out of the city and in a country setting. If you're travelling to the restaurant from Brussels you will pass the Forêt de Soignes and enjoy splendid views of the woods, helping you to unwind and get in the mood for what's coming.
Brasserie Chez Clément
Location

Atmosphere

Food

Service

Price/Quality Ratio
Summary
Chez Clément is located in the countryside outside Brussels. It's a wonderful setting in the summer, especially when you can go for a walk nearby and enjoy eating outdoors. The location and the atmosphere are the strongest features of this institution. The food is good, yet uninspired and the service merely average unless you are a local regular.
I had been to Brasserie Chez Clément only once, two years ago with a couple of good friends for my birthday. I really enjoyed the setting and wanted to return there with my (adult) kids. So when I was asked this year where I wanted to go for my birthday, Brasserie Chez Clément was the first place that popped in my mind. I wanted to get out of the city and enjoy outdoor seating in the summer.
Probably my favorite thing about Brussels is its size. It's big enough to have cultural activities and a good mix of people, yet within minutes by car you can be out of the city and in the countryside, passing through villages.
Brasserie Chez Clément is definitely an institution in this area outside Brussels, located near a junction between several surrounding towns. It is open 365 days a year from noon to 10:00 pm and seems to get very busy.

How was dinner at Brasserie Chez Clément?
In the summer there is absolutely no traffic in or out of the city. We arrived a bit early so decided to have a drink at the bar. The bar was how I remembered it: a small outside side area with two pétanque lanes and a covered three-wall shack (for when it starts raining, which unfortunately happens a lot in Belgium) as well as a cozy and hustling inside bar area.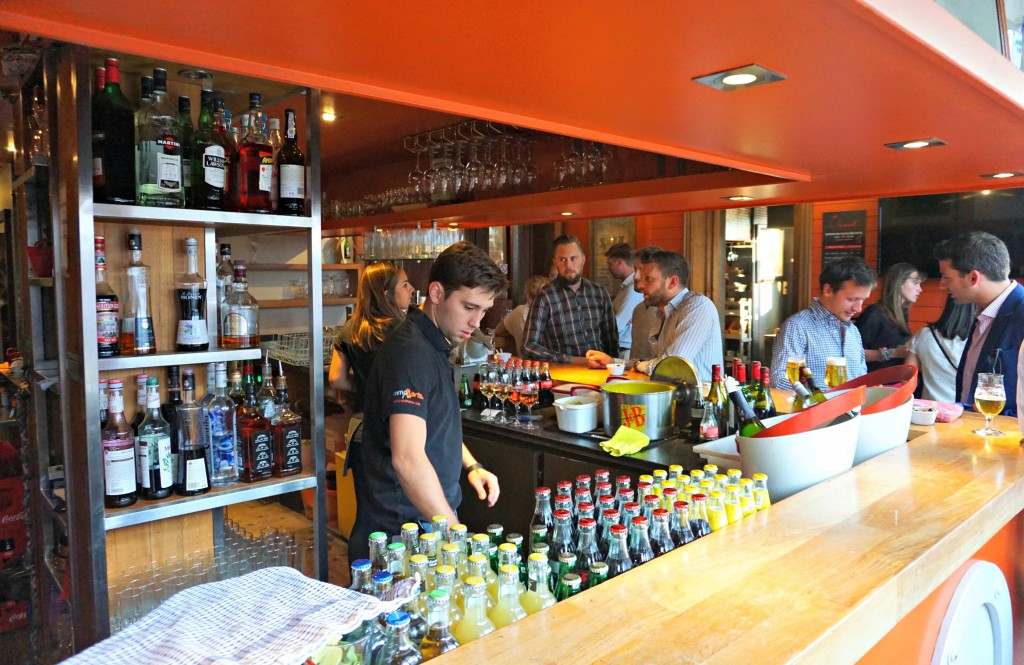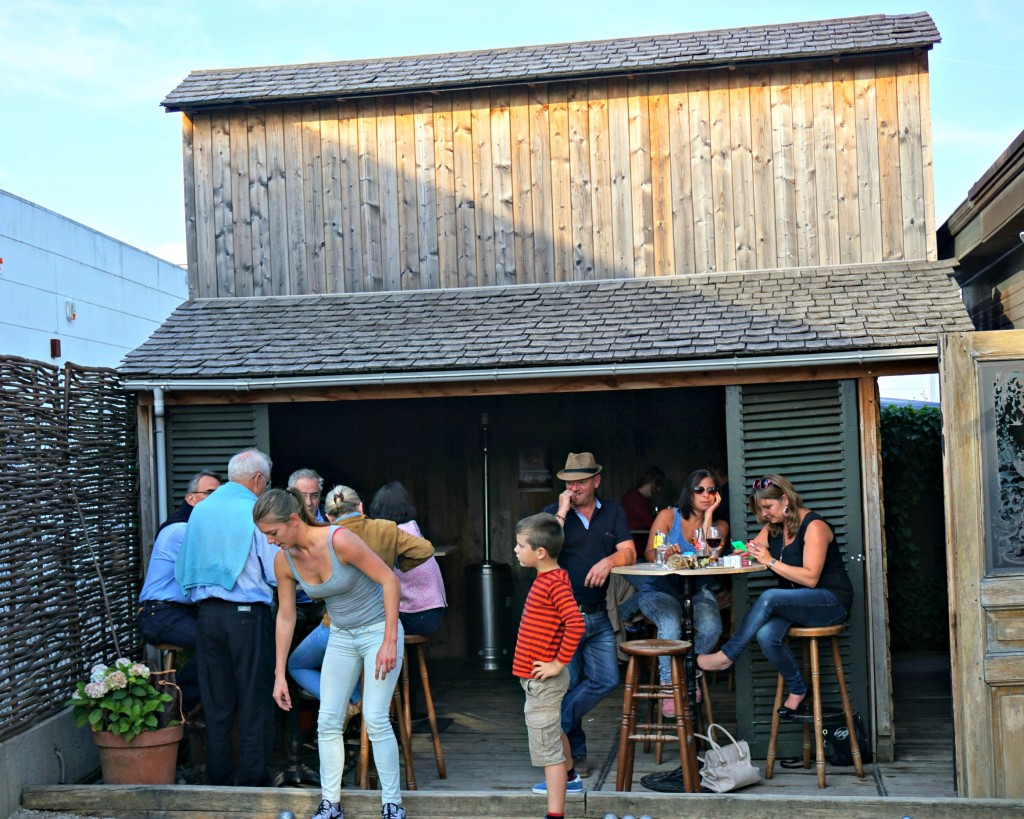 I was looking forward to sitting with a beer in the outside area of the bar before being seated at our table. The welcome (or should I say lack of welcome?) we received in the bar area was disappointing. Even though there was no one else in the bar area when we arrived, the bartender did not respond to our greetings as we walked in or even look up to make eye contact. He was busy arranging glasses and drinks to be used later in the evening and apparently could not be bothered to acknowledge our presence. As we waited at the bar for him to help us another bartender arrived and asked for our order. He too was a man of few words but at least he spoke to us.
As the bar area is cash only (no credit cards accepted), we paid for our drinks and took them (a Leffe blond beer for me) to a high table with stools in the outside shack area. Afterwards we asked to be seated at our reserved table in the covered courtyard.
The Brasserie Chez Clément has several seating options indoor and outside. Rooms seem to have been added or converted into dining areas as the restaurant's success grew. When the weather is nice, meaning not cold or wet, the courtyard is the ideal place to dine. A row of trees grows along the width of the courtyard, making this area fairly green and charming.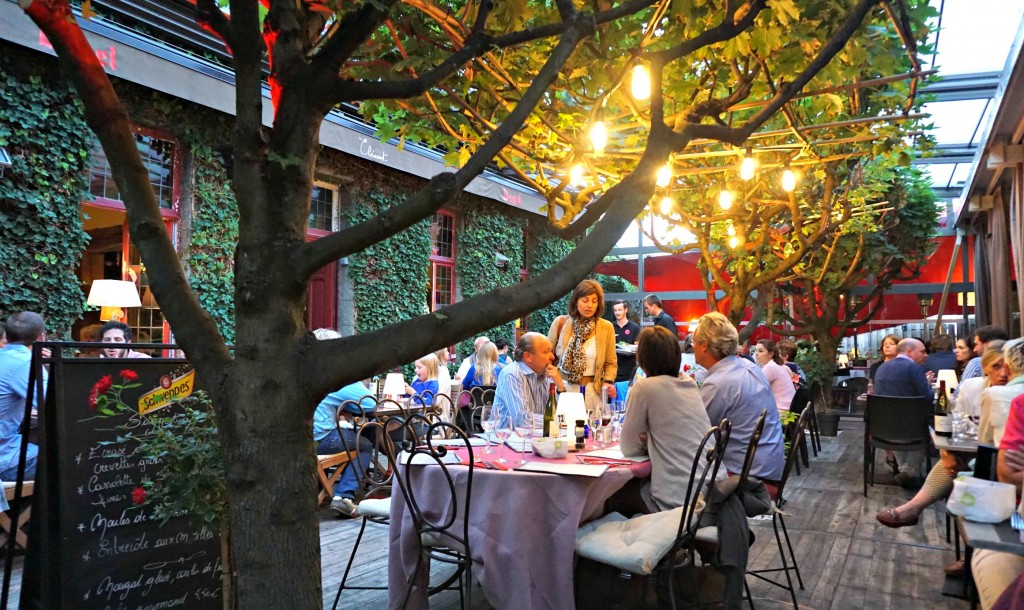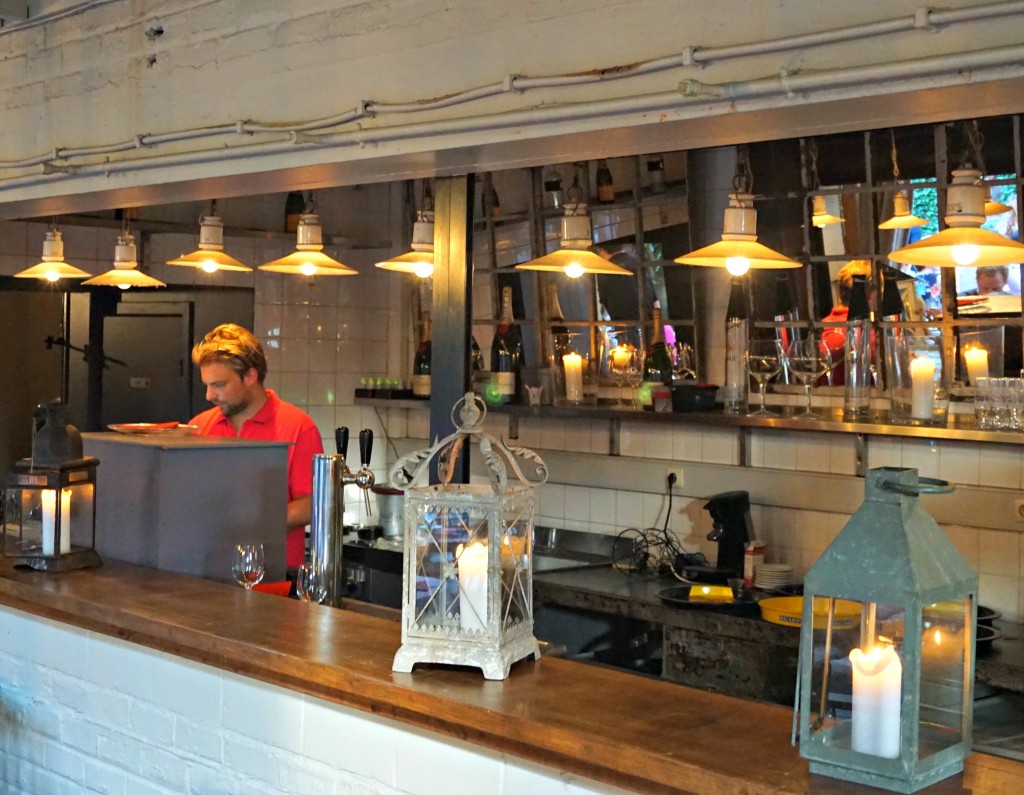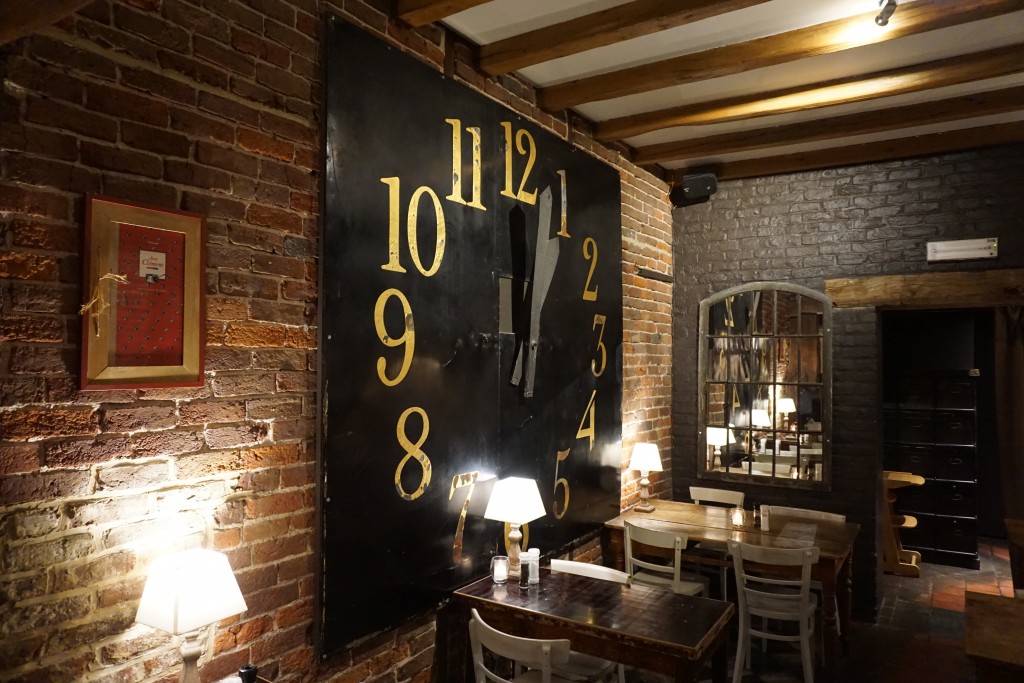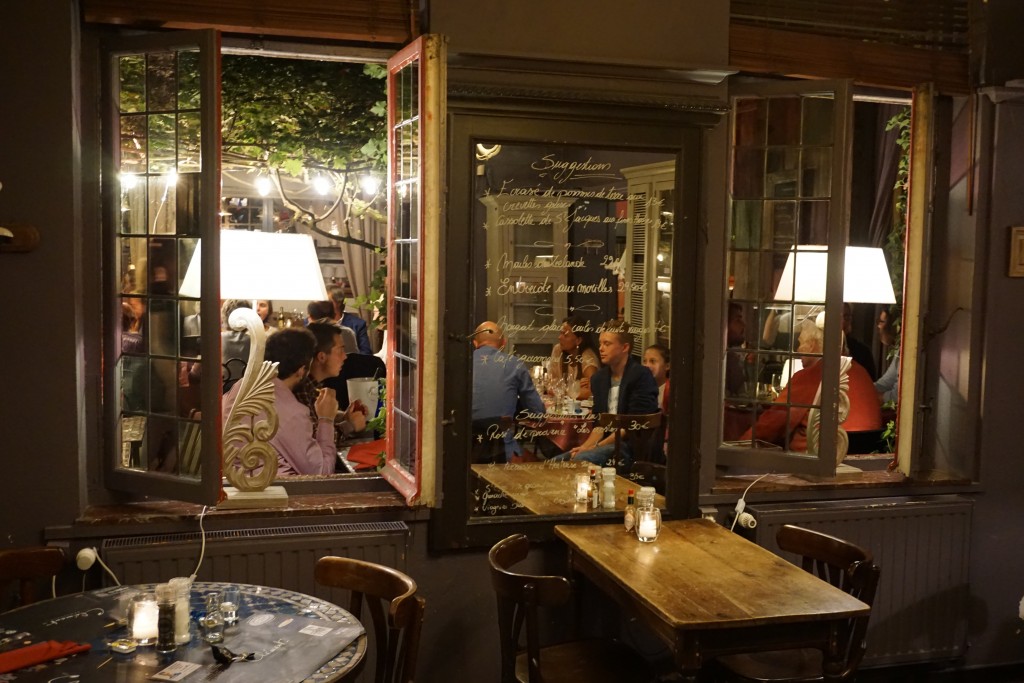 The menu at Brasserie Chez Clément features traditional Belgian brasserie-style dishes, without any surprises. Despite loving Belgian cuisine, I appreciate seeing some interesting seasonal options included on a menu. Otherwise we could be anywhere.
We decided to share 2 starters for the 3 of us: fried calamari and beef carpaccio with arugula and Parmesan cheese. Neither dish was special or really worth the price charged. They were just average.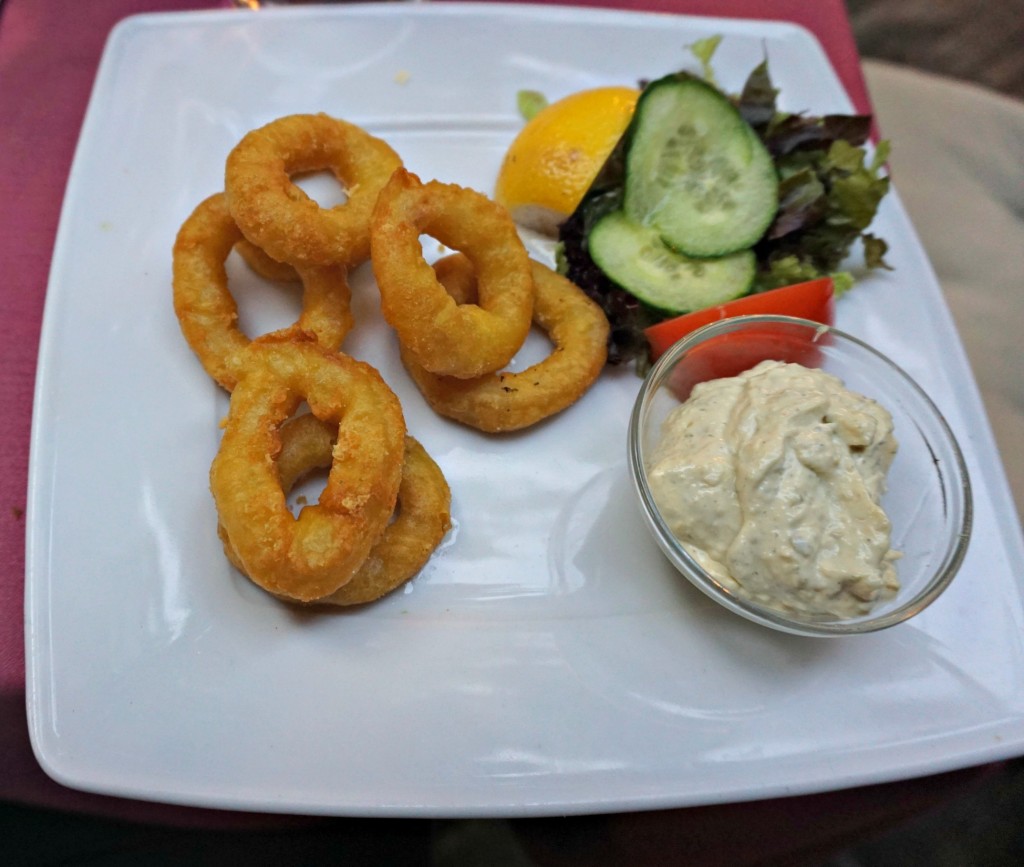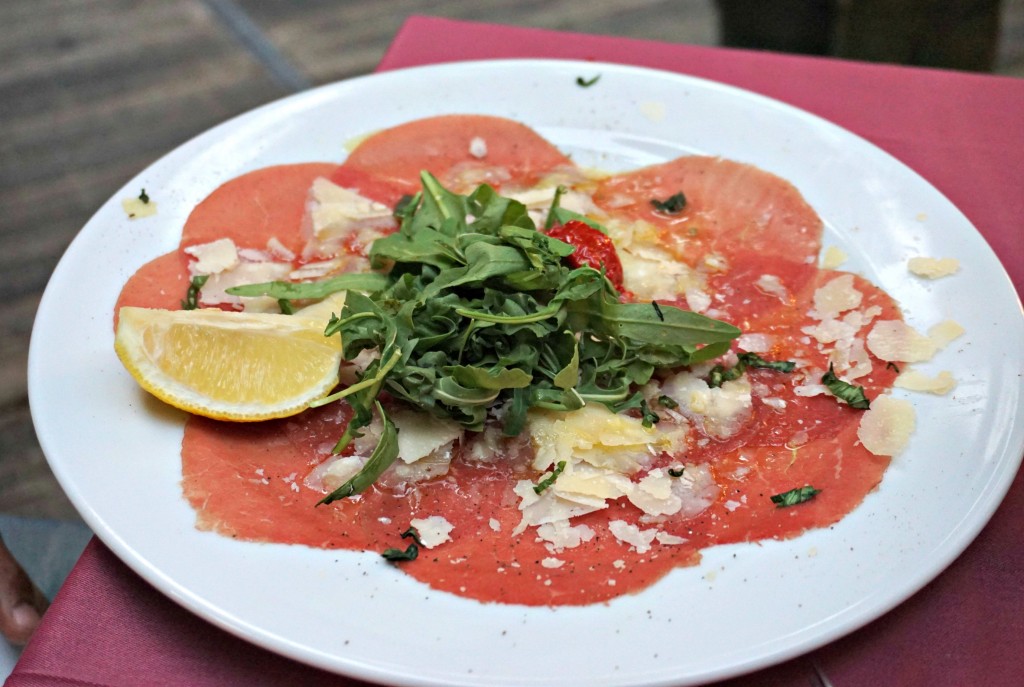 On an evening like last night, I don't want to be rushed through a meal. However, at Brasserie Chez Clément, we felt neglected by everyone. The waiter was very kind, but did not give us any attention the whole evening. The main course was served 2 hours after we sat down at our table, and this with only 2 starters served between us three. No one stopped by to say the food was coming, or to ask if we wanted anything else to drink, or just to make contact with us so we felt taken care of.
Our main courses did not require a lot of time to prepare or cook. I ordered a typical summer dish tomates aux crevettes grises (tomatoes filled with grey shrimp, a Belgian specialty), while one guest ordered a steak with fries and the other meatloaf with mashed potatoes. The tomatoes filled with shrimp is a refreshing and relatively light dish in the summertime. They are usually prepared with beef tomatoes (large tomatoes), making the dish sufficient with a side of French fries. At Brasserie Chez Clément, however, the tomates aux crevettes grises were made with ordinary (smallish) tomatoes. After 2 hours of waiting for the main course, I was completely disappointed and felt a bit cheated. At EUR 19.50 for this dish, I was not pleased.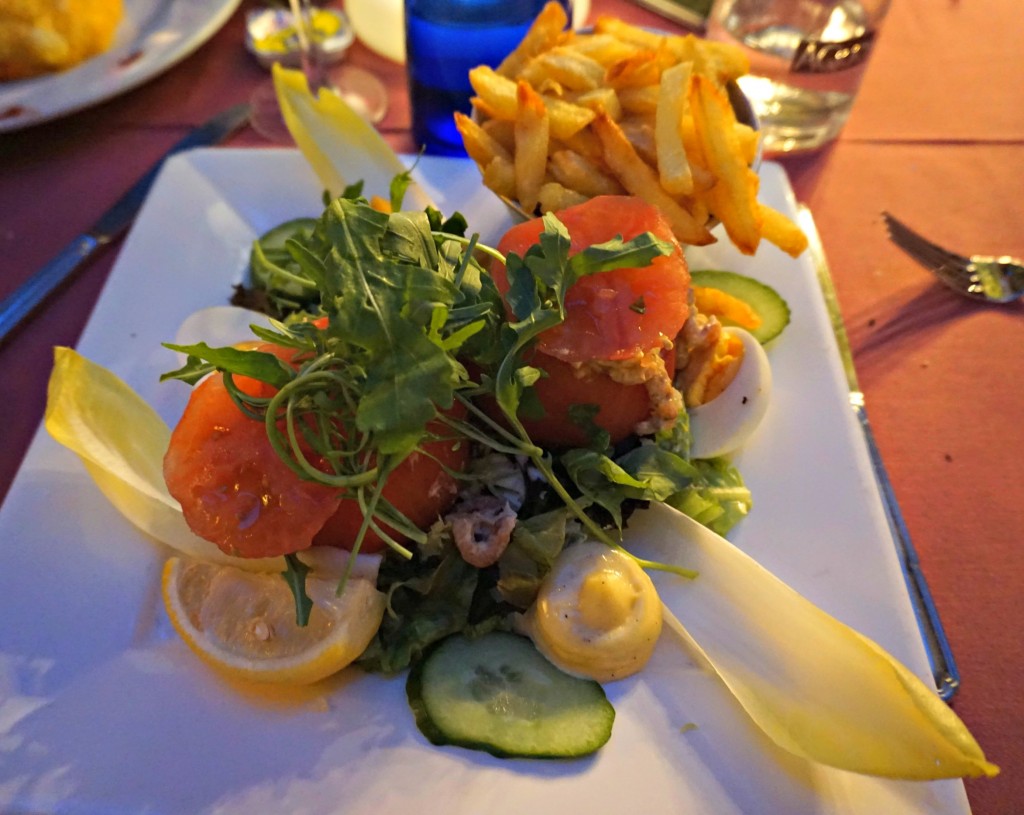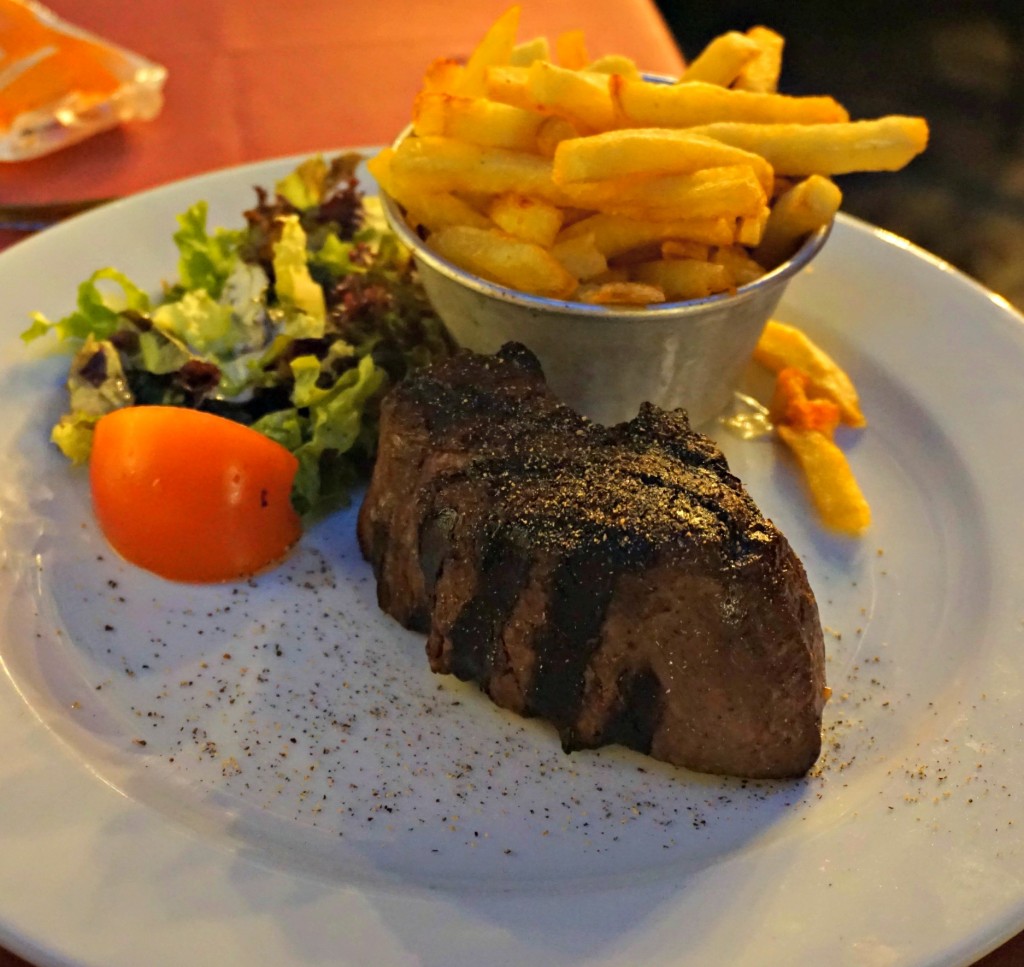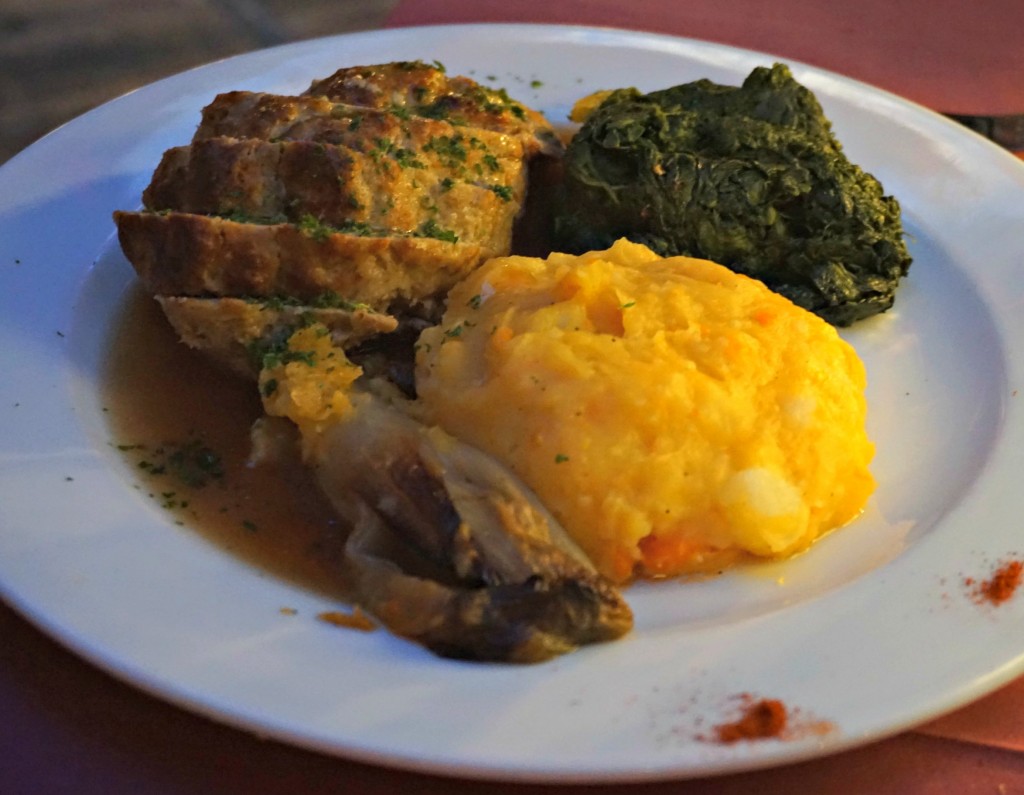 The meatloaf dish was the most appetizing, both in looks and in taste. There was absolutely nothing special about the tomatoes filled with shrimp or the steak. My son's steak by the way was extremely undercooked, this said by my son who likes his steaks fairly rare.
Even though I was a bit annoyed, we ordered a dessert. It was too late to go to another place in the city. The dessert menu was fairly extensive, but like the main menu features all the classics without anything original or apparently homemade.
We left the restaurant after 4 hours of sitting at the table (not including the time beforehand at the bar). We were one of the first to be seated and the last to leave, not necessarily by choice. The restaurant was very busy last night, as they were when I ate there a couple years ago. Yet, after last night's experience, I remembered what I liked about the restaurant: the charming setting in the countryside and the excitement of a busy restaurant. In short, it's the setting, not the service or the food. People living near Brasserie Chez Clément probaby have a different experience because it is the closest thing to a "neighborhood" restaurant for them. They see their friends at other tables and chat with the hostess. But for others not belonging to this crowd, the experience is less fulfilling.
I should note that everyone, except for the first barman, was polite and helpful. They were just not attentive, making us feel neglected. Not a good feeling when you are dining at any establishment, but especially not when you are celebrating your birthday.
Another note to make for non-French-speaking persons, this restaurant presents all information in French only (website included). Given that it is on the linguistic border with Flanders and located in an upscale area with a high percentage of expats and Eurocrats (mostly speaking English as the common language), the Brasserie Chez Clément seems not to cater to anyone outside its core group of customers. This brasserie is apparently very successful and busy so probably has not had to make much effort to attract new customers. Yet, can any business these days take such success for granted?
Customers who care about the restrooms at restaurants should be aware that the men's restroom is minuscule. If a man is at the urinal, another man can not open the stall door without the door pushing the first customer into the urinal. Then when a customer is washing his hands at the sink, another customer cannot pass to go towards the urinal and stall, or to leave that area. The whole space is like a closet. For a restaurant that serves a couple hundred people in an evening, this seems inadequate. Yet, Brasserie Chez Clément seems to prefer to squeeze in more tables for dining than creating space for toilets. A person with reduced physical mobility would not be able to dine here.
If you are in this area, for instance walking in the forest on a sunny afternoon, I would recommend stopping at Brasserie Chez Clément for a drink, enjoying the setting, and then leaving. No need to stay for the meal, unless you don't mind an unoriginal menu, being (slightly) overcharged, and receiving ok service.
Please share your comments below and share this review with your friends.