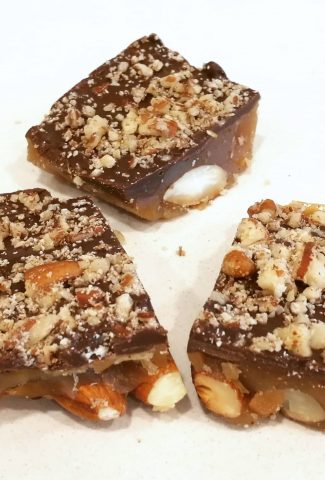 What's the Difference between English Toffee and Almond Roca?
English toffee and Almond Roca are pretty much the same thing. While English toffee describes a hardened caramel topped with chopped nuts and chocolate, Almond Roca refers to a brand name for the same treat.
Brown & Haley Co. from Tacoma, Washington has been making Almond Roca since 1914. In the United States, Almond Roca has become synonymous for English toffee. Almost everyone grew up eating toffee wrapped in gold foil out of their instantly-recognizable pink tins. In our home, we offered either Almond Roca or See's Candy to hosts inviting us over for a special occasion. Once we broke the seal on the Almond Roca, we knew the toffees would not last long.
Making English Toffee at Home
Mother's Day
Last Mother's Day I decided to make a batch of English toffee for my mother, who absolutely loves it. She likes almost anything made with chocolate and almonds together. I knew she would love this treat.
I have made caramels loads of times, yet not in the past few years. It was fun playing around trying to get the right taste and consistency. Although many recipes for English toffee are available, most contain corn syrup, palm oil, or some other ingredient I did not want to use.
In the end, I reached a product that was just perfect. The English toffee created had the right amount of crunch. The caramel, chocolate and nutty flavors blended together in a way that would wow whomever ate it. My mother loved the English toffee. So did the other members of my family. You might think that of course a mother will say her son's candy is wonderful. Well, that's not always true. My mother has told me several times that she does not like something I'm testing out. She'll make a face or just blurt out what she's thinking.
Cooking Event
A couple months later I tried out this English toffee recipe again on a group of guests. Last July I hosted a cooking lesson – dinner for 7 guests, who registered through Meetup. Most of the guests were complete strangers to me. We cooked together my Red Beet Ravioli with Spinach and Goat Cheese. As we were spending our evening preparing this delicious dish together and then eating it, I wanted a simple dessert that could be made in advance and please a general crowd. I decided to make this English toffee, which can be made in about 30 minutes!
My guests reacted the same way as my family. They absolutely loved the English toffee!
Serving Ideas
Try it for yourself to see how good this English toffee really is. You don't have to wait for a special occasion, as it's so easy to make. Your family and friends will surely help you eat it.
In addition, this English toffee will make an ideal holiday gift for someone. Whoever receives this toffee as a gift will appreciate the taste as well as the thought and effort it took to make it. All you need to do is arrange the English toffee in a pretty presentation, using baking paper or foil and ribbon.
When you try it, remember to come back to rate this recipe and to share your experience in the comments below. In the meantime, share this English toffee recipe with your friends via the social media links.



English Toffee Made at Home
You can make this English Toffee at home for friends and family for special occasions or as holiday gifts. In about 30 minutes, you will have a tasty delight that will wow your friends.

Servings: 24 pieces
Ingredients
1 cup sugar white or raw cane sugar
1/2 lb butter
1/4 tsp salt
1/2 tsp vanilla extract
7 oz almonds
2 1/2 oz dark chocolate chips or dark chocolate bar (at least 54% cocoa)
1 oz pecans finely chopped
Instructions
Toast the almonds in a pan over a low heat or in an oven on a baking sheet in medium heat. Stir frequently to avoid the almonds burning. Afterwards, chop the almonds into medium-size pieces. I usually put them in a ziplock bag and roll a rolling pin over it until the pieces look a good size. Put them aside until needed.

Measure the chocolate and chopped pecans before starting to cook the caramel mixture on the stove, as you will need to add these quickly and might not have time later to prepare them.

Put the sugar, butter, salt, and vanilla extract in a heavy saucepan over medium-high heat. The saucepan should be large enough for the ingredients to boil up towards the top without overflowing.

Stir gently and continue over medium-high heat until the mixture starts to boil.

Reduce the heat to medium or medium-low and continue to cook about 12 minutes. (Note the time may vary if you make a smaller or larger quantity of English toffee.) Stir gently but not constantly while it boils until it reaches the "hard crack stage", which is at 300F (150C) if you use a candy thermometer. Otherwise, you will need to determine when it's done by observation and testing. (See notes). When it reaches the hard crack stage, turn off the heat and remove the saucepan.

Line a 7 x 11 inch (18 cm x 28 cm) shallow pan with baking paper. Spread the toasted chopped almonds on the surface.

Stir the boiling mixture one more time. Do this only if it's immediately after removing the boiling mixture from the stovetop. If it's minutes later, skip it, or else the sugar can start to crystalize. Pour the caramel mixture over the chopped almonds. Using a wooden spoon or silicone spatula spread out the caramel evenly over the almonds.

Distribute the chocolate chips or chocolate bar all over the top of the hot caramel-almond mixture. Using a knife or spatula, spread the chocolate as it melts over the top. Then sprinkle the chopped pecans on top of the chocolate.

Let the English toffee cool off completely. I usually put it in the refrigerator for at least an hour to speed up the cooling process. If I make it at night, I'll leave it in the refrigerator overnight. Once it's cool, take a sharp knife and cut the English toffee into pieces. If you don't care if the pieces are uniform, you can merely break the English toffee into different-sized pieces.

You can leave the English toffee in the refrigerator for a long time. Believe me, it will not last long enough to test how long it can last there. Otherwise, you can wrap the pieces in baking paper or thin foil and put them in a tin or plastic container. Serve and enjoy!
Notes
Don't be intimidated if you make this English toffee without a candy thermometer.  You will develop an instinct to know by observation when it's reached the right temperature.  The bubbles will become smaller and the mixture will thicken and darken as it cooks.  When the mixture is the color of a deep caramel and the bubbles thicken, your caramel is probably ready. Testing: You can drop a spoonful of the boiling mixture into a glass with cold water.  If you see pliable threads, it's reached the soft crack stage.  If the threads are brittle, you have reached the hard rock stage.  In the event you remove the caramel too soon (when it's reached the soft crack stage), your English toffee will still be delicious, but will be softer.  It will be hard directly out of the refrigerator but softer if left out.
Nutrition
Nutrition Facts

English Toffee Made at Home

Amount Per Serving

Calories 177 Calories from Fat 126

% Daily Value*

Fat 14g22%

Saturated Fat 6g38%

Polyunsaturated Fat 1g

Monounsaturated Fat 2g

Cholesterol 20mg7%

Sodium 21mg1%

Potassium 66mg2%

Carbohydrates 13g4%

Fiber 1g4%

Sugar 11g12%

Protein 2g4%

Vitamin A 0IU0%

Vitamin C 0mg0%

Calcium 0mg0%

Iron 0mg0%

* Percent Daily Values are based on a 2000 calorie diet.