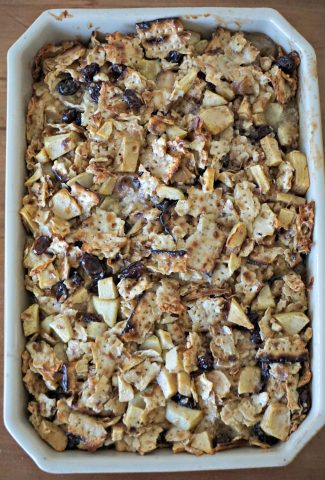 What is Matzo Kugel?
Matzo Kugel is a pudding made often during the Passover holiday. Although most people eat a sweet version of Matzo Kugel, prepared with fruit, eggs and nuts, they can also eat a savory version featuring vegetables.
Why do we eat Matzo during Passover?
During the eight days of Passover, observers should avoid eating five types of grains which rise: wheat, rye, spelt, barley and oat. The only exception allowed during Passover is eating one of these grains in the form of an unleavened flatbread, today known as matzo, matza or matzah.
Ok, this may be an oversimplification of the dietary rules applying during this important holiday. For a user-friendly description of Passover, check out the Joy of Kosher's guide found here.
How to observe Passover
Each Jew chooses how they will observe Passover. It's a personal choice how they will mark this holiday.
The most orthodox will clean their kitchen to rid it of any trace of the five forbidden types of grain. They will also use a separate set of pots, dishes and cutlery saved all year to be used only during Passover. Preparing the home for Passover may have been the original inspiration for spring cleaning that many of us (Jews and non-Jews alike) still observe.
On the other end of the spectrum, people like me celebrate Passover with a family meal. We prepare some traditional dishes, including matzo ball soup, Matzo Kugel, tzimmes (dish of stewed vegetables and/or fruit), haroset (essentially chopped apples, walnuts and red wine) and of course sheets of matzo (also known as matzah or matza). As we eat we pass on to the next generation the story of the Jews' Exodus from Egypt.
During the week of Passover I sometimes prepare dishes with matzo. The most common dishes I make for my family are matzo ball soup, matzo brei and Matzo Kugel. For my easy recipe for matzo brei follow this link.
We also prepare desserts with almond meal (or other ground nuts and seeds) and coconut in order to avoid wheat flour. We also use matzo or ground matzo sheets as a way of avoiding flour.
Nowadays you can purchase matzo year round in supermarkets and specialty stores in the United States. Therefore, you can prepare Matzo Kugel and matzo brei any time you like.
What Makes this Matzo Kugel Recipe Traditional?
This year I made a sweet version of Matzo Kugel with apples (green and Pink Lady), eggs, raisins, walnuts, sugar, matzo and butter. I followed my mother's recipe that she hand wrote for me several years ago when I was living in Belgium.
My mother has not shared many recipes over the years. Yet, she has passed on a few faithful recipes for dishes prepared for holidays. I have her recipe for roasted brisket, tzimmes, stuffed cabbage and Matzo Kugel. She's also inspired other dishes, such as my Sweet Potato Casserole.
This version of Matzo Kugel resembles her noodle kugel, as both recipes share basically the same ingredients except for the matzo replacing the noodles. The combination of apples, raisins, walnuts, and cinnamon makes either the Matzo Kugel or the noodle kugel dish the ultimate comfort food. The addition of butter, sugar and eggs makes these dishes extra yummy.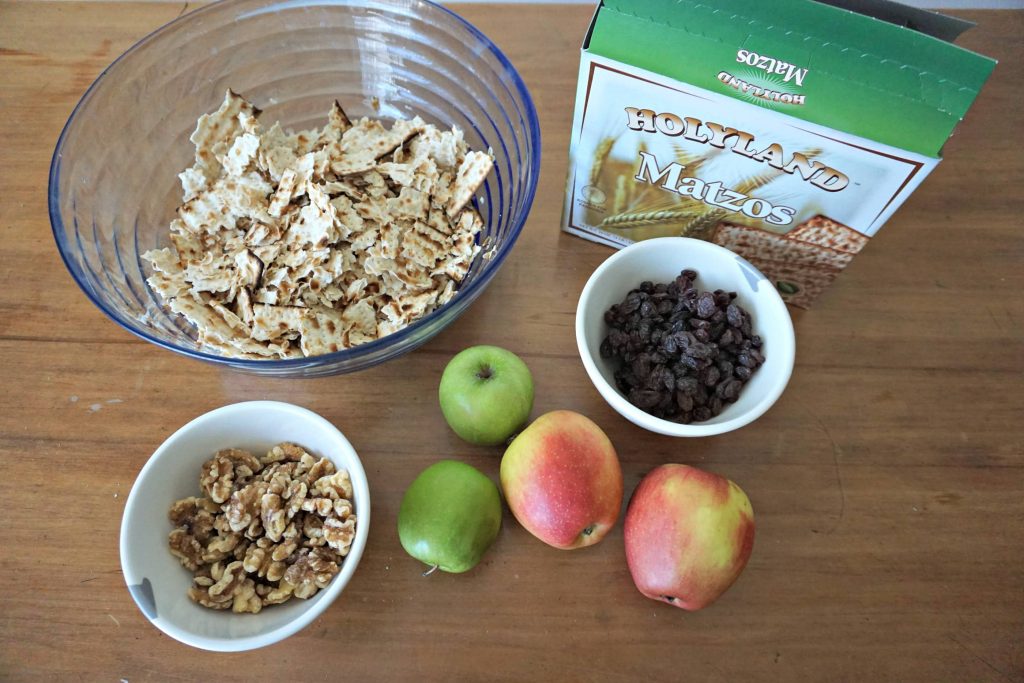 I consider this recipe to be traditional because it's the one my mother used as I was growing up. So to me, it's a tradition to have this Matzo Kugel at Passover.
There is currently a movement to modernize traditional Jewish dishes to make them more contemporary and attractive to a new generation of Jews. One writer I follow closely is Amy Kritzer via her wonderfully funny blog What Jew Wanna Eat. Amy shares creative new dishes to celebrate Jewish holidays and everyday life. Visit her blog to get some new ideas. Compared to Amy's kugel recipes, my recipe for Matzo Kugel seems fairly traditional.
A few years ago I made this Matzo Kugel for friends in Belgium. One of my friends adored this dish and was thrilled to discover something new to her. Everyone will appreciate the simple homey flavors of this dish. In no way is Matzo Kugel an acquired taste. Don't hesitate to introduce this Matzo Kugel dish to your friends.
I hope you will enjoy this traditional Matzo Kugel recipe at Passover and all year long. Please use the social media links to share this recipe with your friends.



Traditional Matzo Kugel for Passover
Traditional Matzo Kugel for Passover is comfort food at its best. Try this yummy dish all year long. No reason to limit yourself to Passover.
Ingredients
4

Matzo sheets

3

eggs

beaten

1/2

tsp

salt

100

g

raw cane sugar

1

tsp

cinnamon

55

g

butter

300

g

apple

peeled, cored and chopped

75

g

raisins

60

g

walnuts

chopped (optional)

10

g

butter

for topping
Instructions
Soak the Matzo sheets in some water until they become slightly soft. You do not want the sheets to be soggy. They should keep their form yet be easy to break into several pieces without causing too many crumbs. I usually run water over my Matzo sheets.

Shake off the excess water without worrying if there remains a little extra water. Gently break the Matzo sheets into pieces in a bowl.

Preheat the oven to 175°C / 350°F. Melt the butter in a casserole over a low heat (or in the microwave).

Beat the eggs well. Add the salt, sugar, cinnamon, and melted butter.

Pour the egg mixture into the bowl with the Matzo pieces. Mix gently until the pieces are covered by egg.

Wash, peel, core and chop the apples. I used a combination of sour and sweet apples. The choice of apples is up to you.

Add the chopped apples, raisins and chopped nuts (if you are using). Mix gently.

Pour the Matzo-egg mixture into a baking dish. Add the remaining butter reserved for the topping by spreading little dots of butter on top of the dish.

Place the baking dish in the oven and bake about 45 minutes or until golden brown on top.

Remove the baking dish from the oven and let it cool about 10 or 15 minutes before serving.
Notes
 You may substitute dried cranberries or other dried fruit for the raisins.
 This dish may be made in advance and then reheated before serving.  If you reheat the dish, be careful that it does not become dry.  I have reheated the dish about 30 minutes without any problems.  If you are worried, add a little milk or water before reheating it. It's also tasty served cold or at room temperature.
Nutrition
Nutrition Facts
Traditional Matzo Kugel for Passover
Amount Per Serving
Calories 379
Calories from Fat 162
% Daily Value*
Fat 18g28%
Cholesterol 116mg39%
Sodium 198mg9%
Potassium 229mg7%
Carbohydrates 51g17%
Protein 7g14%
Vitamin A 0IU0%
Vitamin C 0mg0%
Calcium 0mg0%
Iron 0mg0%
* Percent Daily Values are based on a 2000 calorie diet.