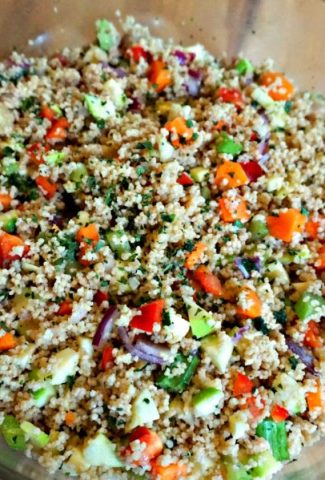 What makes a Couscous Salad with Vegetables such an ideal side dish?
Tonight I grilled a pan sheet of chicken wings. It's an easy weeknight dinner. I just cut off some of the skin from the chicken wings to reduce the amount of fat. I then line up the pan with the chicken wings and sprinkle on some dried thyme, salt and pepper. Sometimes I may add some other herbs, such as basil and oregano, and spread on a few garlic cloves diced finely. I love it when there's lots of garlic on it.
I wanted a quick side dish made of a starch and vegetables to round out the meal. I decided to make a couscous salad with vegetables since it takes about 15 minutes, tastes good, and is healthy. It's also a great opportunity to use some of the vegetables in my refrigerator. Almost any combination of vegetables, a vinaigrette dressing and some herbs and spices is all you really need to make a couscous salad with vegetables.
For a side dish, count on about 1/2 cup of dried couscous per person, and about the same amount or a little more of chopped vegetables. When calculating how much couscous you need, remember that 1 cup of dried couscous will make about 2 1/2 cups of cooked couscous.
A couscous salad with vegetables is an easy vegan dish. For a vegetarian variation, add some chopped feta cheese.
If you have a little time, grill the vegetables with a little olive oil and vinegar (or the vinaigrette) in advance to give the salad more flavor.
I often make more couscous salad with vegetables than needed so leftovers can be used the next day. If I'm planning for leftovers, I will keep out ingredients that can become soggy, such as cucumbers and tomatoes, so the salad stays fresh.
A couscous salad with vegetable accompanies almost any meal, yet is at its best with a grilled main dish, such as grilled meat, chicken or vegetables. If you are looking for a main dish instead of a side dish, add the chopped grilled meat, chicken or vegetables directly into the salad and serve as a one-dish meal.
Let yourself be inspired when you make a couscous salad with vegetables. Mix the flavors that you think will be tasty or that go with your other dishes. Go Mediterranean with olive oil, balsamic or red wine vinegar, dried herbs (thyme, basil, oregano, or parsley). Or North African with olive oil and red wine vinegar, together with a mix of cinnamon, coriander and cumin or instead with a mix of fresh coriander and mint.
Share below the combinations that you've tried and enjoyed. Let us be inspired as well by your choices.
Couscous Salad with Vegetables
Couscous Salad with Vegetables is a quick, tasty and healthy side dish or main course, ideal for a week night meal.
Ingredients
Couscous
250

ml

boiling water

(or bouillon)

360

g

dried couscous

(organic whole wheat preferably)
Vegetables
375

g

chopped vegetables

(carrots, onion, zucchini, bell peppers, tomatoes, cucumbers)

1

tsp

dried herbs and/or spices (or more)

See note below

90

g

dried fruit (raisins, apricots, cranberries)

optional

60

g

nuts (pine nuts, almonds, walnuts)

optional

60

g

sliced or pitted olives

optional

90

g

feta cheese

or other strong-flavored cheese (optional)
Vinaigrette
1

tbsp

Dijon mustard

or more if you like

6

tbsp

vinegar

of your choice, but red wine and balsamic vinegar work well.

6

tbsp

olive oil

or 1/3 nut oil (such as walnut or pistachio) and 2/3 olive oil.

salt and pepper

according to taste
Instructions
Boil the water and pour it into a bowl. Add the dried couscous and mix quickly with a fork. Cover the bowl with a plate or plastic wrap. Let sit for 10 minutes until all the water is absorbed.

During the waiting time, chop the vegetables finely. Add the dried fruit and nuts if you are using them.

Prepare the vinaigrette by mixing the ingredients listed above. This list is a suggestion. Feel free to make your own vinaigrette or use a store-bought one if you prefer.

Uncover the couscous, fluff gently with a fork, almost as if you were adding a whipped egg white to a cake batter. Bring the fork up and bring air into the couscous so that it cools off.

Once the couscous has cooled off a little, add the vegetables, the dried fruit and nuts (if you are using) and the vinaigrette. There's no need to wait until the couscous cools off completely before you mix, however, be more gentle if it is still warm.

Serve and enjoy!
Notes
You can add the salt and herbs along with the couscous when you add the boiling water at the start or when you make the vinaigrette at the end. I usually add it all at the end so I can adjust the flavors easiest. However, when you add the herbs at the start it adheres to the couscous and sometimes changes the color of the dish.
If you use bouillon instead of water, adjust your seasonings accordingly.
The nutritional facts below do not take into account any of the optional items.
Nutrition
Nutrition Facts
Couscous Salad with Vegetables
Amount Per Serving
Calories 647
Calories from Fat 207
% Daily Value*
Fat 23g35%
Sodium 104mg5%
Potassium 206mg6%
Carbohydrates 92g31%
Protein 15g30%
Vitamin A 0IU0%
Vitamin C 0mg0%
Calcium 0mg0%
Iron 0mg0%
* Percent Daily Values are based on a 2000 calorie diet.