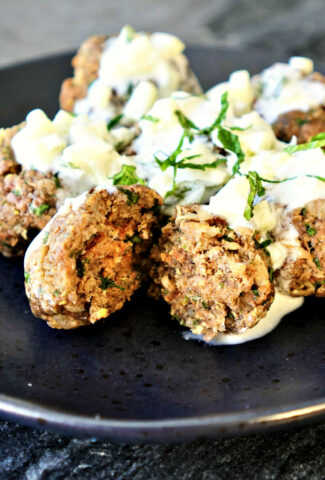 Jump to Recipe
Meatballs or Kebab?
A few years ago, I tasted a delicious lamb kebab dish in a restaurant, called Taverna Pilima, in the Thrace region in northern Greece. The original dish, called Yaourtlou (or Giaourtlou) consisted of kebab, spiced ground lamb, patted around a metal skewer and grilled over an open flame.
In Greece, like in many countries in the Mediterranean and Middle Eastern regions, ground or cubes of meat are often cooked on skewers over a fire. These skewers of cooked meat are generally known as kebab, while in parts of Greece they are called souvlaki.
In my apartment's kitchen, however, I don't have a fire pit or barbecue. I decided therefore to try recreating this Yaourtlou (Giaortlou) ground lamb dish on the stove or in the oven. To make it easier, I made lamb meatballs to avoid using skewers. Trust me, the flavor is as wonderful in a meatball as it is in a kebab!
How should you cook the spiced ground lamb?
When you prepare these Greek Lamb Meatball Kebab, feel free to cook them:
in a little oil on a cast iron pan on a stove
on a lightly greased sheet pan in an oven, or
over a barbecue or open fire. For this last option, you may prefer to use skewers.
If you choose to grill the Greek Lamb Meatball Kebab over a fire, these Non-Stick BBQ Grill Mats will make your task easier. You can place the meatballs directly on these mats to avoid broken bits of meat falling into the flame below.
The easiest way is probably cooking the meatballs in the oven. You might be able to put them all on a single rack, depending on how many you make. Just pop them in the pre-heated oven and go on preparing your dinner. If you want to sear the outside, you can put them under the broiler a couple minutes at the end once the meatballs are cooked through.
How To Serve these Greek Lamb Meatballs
Keep it simple when serving Greek Lamb Meatballs. The spices added to the ground lamb give the meat full flavor. Everything else on the plate should complement or enhance these flavors.
I enjoy them with a homemade tzatziki sauce drizzled on top with a salad on the side. Last night when I had a few extra Greek Lamb Meatballs leftover I added them to on top of a simple salad consisting of tomato, cucumber, Romaine lettuce and red bell peppers, using some tzatziki sauce as dressing.
Pita bread would also be a natural accompaniment for these meatballs. Add the Greek Lamb Meatballs inside the pita bread with some tzatziki sauce and vegetables. Or use the pita bread to mop up the tzatziki sauce on your plate.
As you can see, you have many ways to enjoy these meatballs!
Greek Lamb Meatball Kebab
Greek Lamb Meatball Kebab can be eaten all year long, yet is especially welcome during barbecue season. Serve with a simple side green salad.
Ingredients
Meatballs
500

g

ground lamb meat

150

g

onion

diced finely

2

cloves

garlic

2

tbsp

dried thyme

½

tsp

ground cumin

½

tsp

ground cinnamon

½

tsp

ground allspice

½

tsp

paprika

1

tsp

fenugreek

¾

tsp

salt

¼

tsp

black pepper

ground

½

bunch

parsley leaves

fresh

2

tbsp

bread crumbs

1

tbsp

tomato paste

2

tbsp

vegetable oil

only if you cook them on the stove (see instructions below)
Instructions
Prepare Meatballs
Put the ground lamb meat in a medium mixing bowl.

Chop onions finely and add to the ground lamb. Mince the garlic cloves and add them as well to the mixing bowl.

In a mortar or a spice grinder, add the thyme, cumin, cinnamon, allspice, paprika, fenugreek, salt and pepper. Grind the spices together into a powder. Add the spices to the mixing bowl with the ground lamb.

Remove the parsley leaves from their stems. Chop the parsley leaves finely. Add them to the mixing bowl.

Add bread crumbs and tomato paste to the mixing bowl.

Mix all the meatball ingredients together into a large ball. I use my hands but you can use a wooden spoon or other utensil. Be careful not to pack the meat too tightly. Put plastic wrap on top of the mixing bowl and place it in the refrigerator to marinate 2 to 24 hours.
Cooking Meatballs on Stove
Remove the lamb meat mixture from the refrigerator. Roll the meat mixture into balls about the size of large golf balls, weighing about 30 g / 1 oz each.

Add half of the vegetable oil in a cast iron pan over a medium heat. When the oil starts to glisten, add several meatballs into the pan. Try not to crowd the pan too much so you have space to turn the meatballs around. Turn the meatballs around so all sides become brown and the meat is cooked inside. If you find that the outside of your meatballs are becoming too charred, remove them from the pan and finish the cooking either in a microwave (for about a minute) or in an oven at 375°F / 180°C.

Before continuing to cook the rest of the meatballs, add a little more vegetable oil and proceed as before until all the meatballs are cooked. Remove the cooked meatballs to a plate and cover with foil to keep warm. NOTE: leave the juices from the cooked lamb meat in the pan for the pita bread (see below).
Cooking Meatballs in Oven
Preheat oven to 375°F / 180°C. Remove the lamb meat mixture from the refrigerator. Roll the meat mixture into balls about the size of large golf balls, weighing about 30 g / 1 oz each.

Put the meatballs on a slightly oiled sheet pan or on a rack over a pan (see photo). Leave a little space between the meatballs to allow them to cook properly.

Place the pan with the meatball in the oven and let cook about 20 minutes. They should be done. If not, cook a couple minutes more. If you want a crispier darker outside, put the tray under a low broiler for 1 or 2 minutes, making sure they do not burn.
Nutrition
Nutrition Facts
Greek Lamb Meatball Kebab
Amount Per Serving (150 g)
Calories 434
Calories from Fat 306
% Daily Value*
Fat 34g52%
Cholesterol 91mg30%
Sodium 609mg26%
Potassium 161mg5%
Carbohydrates 11g4%
Protein 24g48%
Vitamin A 860IU17%
Vitamin C 15mg18%
Calcium 79mg8%
Iron 6mg33%
* Percent Daily Values are based on a 2000 calorie diet.