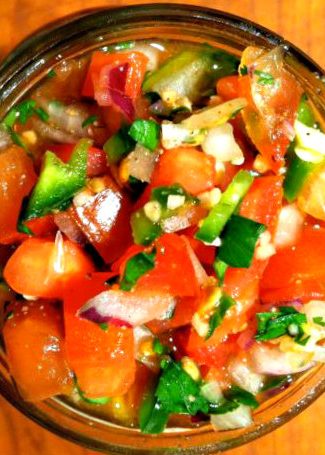 What makes this Salsa Recipe one of my most popular recipes pinned on Pinterest last month?
There are literally hundreds of recipes for salsa on Pinterest (and far more on the Internet). This Homemade Salsa Recipe by Biddy Talk on Tumblr has however attracted hundreds of fellow pinners' attention above the others as they selected it to share with their fellow pinners. The ingredients are fresh, easy to find for most people, and common for a pico de gallo salsa recipe. In fact, this recipe resembles the one I follow from The Dean & DeLuca Cookbook by David Rosengarten, Joel Dean and Giorgio DeLuca (1996), except perhaps the exact proportions.
I'm sharing this recipe so you have it on hand for whenever you want to make fresh salsa. Fresh salsa is so quick and easy to make (even in a food processor if you don't mind it being more chopped and smooth). Anyone who has made fresh salsa like this one will have a hard time going back to the store-bought kind. Homemade salsa will elevate your Mexican food (or any kind of food on which you would add salsa) to a level close to heaven! I love fresh salsa, especially in the summertime when the ingredients are seasonal and bountiful at your local farmers' market.
Enjoy this recipe on Cinco de Mayo and on all other days during the year.
Several thousand recipes await you in my Latin American Recipes board on Pinterest. Check out this board for more ideas!
Share this recipe with a friend and please let me know your comments below. If you have a favorite salsa recipe, please share it.