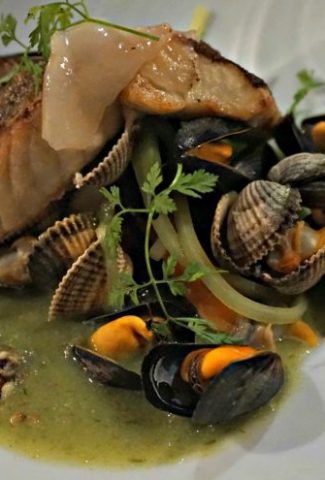 How to Work Up an Appetite near the Belgian Coast?
At the end of October 2015 a friend and I went to the Belgian seaside on the North Sea for the day. We had gone to Bruges, Ghent and Hasselt together over the summer to visit the towns. Now we were heading to Ostend. We planned to visit the James Ensor House, a city museum created in the last house of the renown expressionist – surrealist painter.
A stop at Saint Sixtus Abbey of Westvleteren
As the day approached we added more details to our plan. In the end we agreed to visit the Saint Sixtus Abbey of Westvleteren, Belgium, to taste the "Best Beer in The World". The Saint Sixtus Abbey makes three kinds of beer: The Westvleteren 12 (dark quadrupel Trappist beer), Westvleteren 8 (dark double Trappist beer), and Westvleteren Blond (blond Trappist beer). The Abbey makes all three beers from local hops and Westmalle yeast. To learn more about the history of the Saint Sixtus Abbey and its beer, follow this link to read the information provided by BeerTourism.com.
The Saint Sixtus Abbey does not allow many people inside to see how the beer is made. A visitor center with a store, restaurant and small museum welcomes guests and gives them a quick moment of repast.
The Abbey's limited production cannot satisfy the needs of its high number of visitors each year. It therefore limits each visitor's beer purchases: up to two cases of six beers, as long as daily allocated stock permits. Unless you reserve beer in advance for purchase, you risk not having any beer available when you arrive at the Abbey. We arrived around 11;30 a.m. (in late autumn) and did not have to wait very long to buy our beer.
Afterwards we wanted to visit the museum, but it was soon closing. As we waited, we ate a light soup and sandwich lunch in the restaurant, naturally accompanied by a beer produced at the Abbey. We loved everything! The beer, especially the Westvleteren Blond, was absolutely heavenly. I've lived in Belgium for more than 25 years and the Westvleteren Blond was possibly the best beer I've ever tasted. As we ate, the line at the store for purchasing beer got longer and longer. I'd definitely recommend either ordering your beer in advance or arriving before noon to purchase your beer.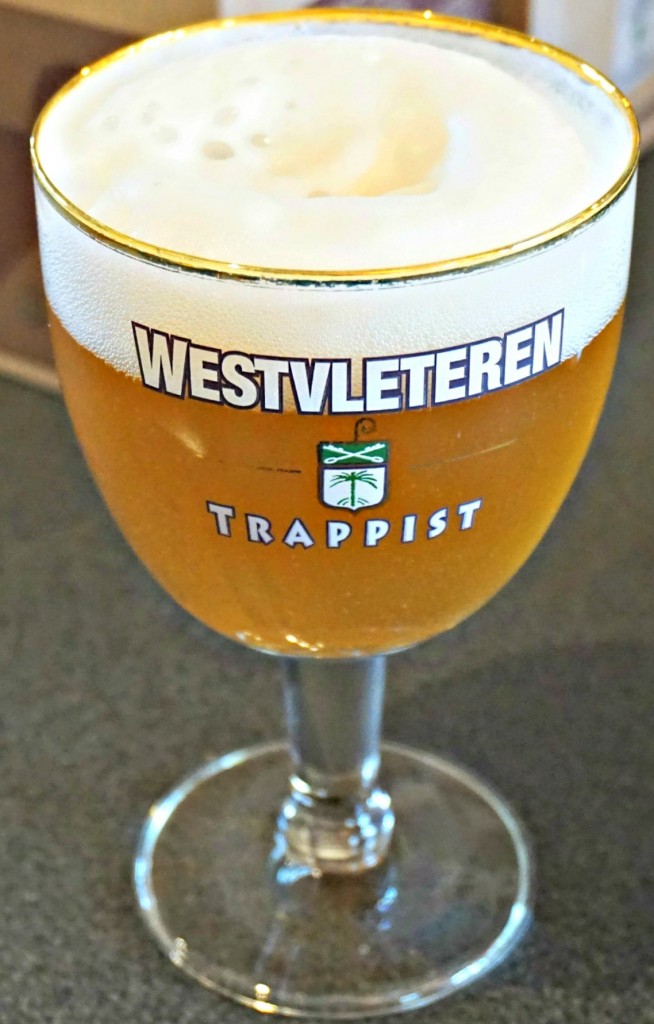 The Abbey's museum turned out to be a bit of a disappointment. It was quite small with very limited interesting information. This museum was not worth the wait. Fortunately my company, the food and the beer made the wait a lot easier.
A Stroll and Museum Visit in Ostend
From the Saint Sixtus Abbey we headed by car towards the North Sea, enjoying the country views and the hint of sea air. In Ostend, the largest city on the Belgian coast, we found the James Ensor House, a couple blocks from the boardwalk. Passing from one room to the next, we became familiar with the life and art of James Ensor. If you are near this seaside town, I would recommend that you also visit this city museum.
We strolled back to the boardwalk and stopped at Beau Site, a cafe-bookstore that has loads of atmosphere. Upstairs and downstairs customers can relax, enjoy food and drinks and read. I had a Matcha tea that was out of this world. It definitely hit the spot.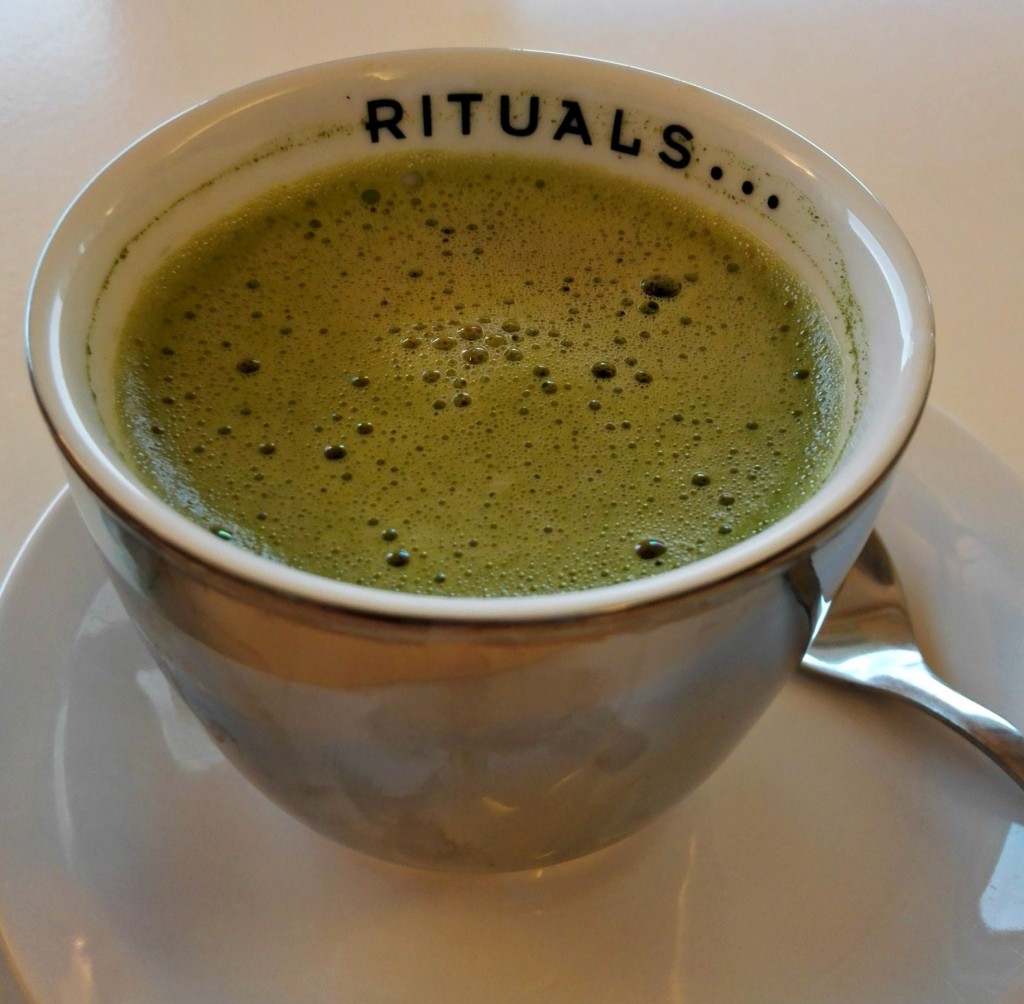 Matcha tea at Beau Site
We then continued on to the pier jutting out from the seashore. Walking with the cold wind blowing on our faces we enjoyed being one with nature. I know this sounds corny, but it felt so refreshing to be away from all the world's cares enjoying the sand, sea and wind with a friend.
Will a Meal at
Le Homard et la Moule
Satisfy Your Hunger? Read the Restaurant Review below.
Le Homard et la Moule (translated as the Lobster and the Mussel) has been a family-run restaurant for 2 generations in Bredene, a small town on the Belgian coast. It's currently being run by a husband – wife team, Donald and Mieke Deschagt – Coussement. Donald's parents ran a popular version of this restaurant for most of their adult lives. His parents served about 300 people each day healthy portions of seafood (lobsters and mussels naturally) in a friendly casual setting. Reliably good food for reasonable prices.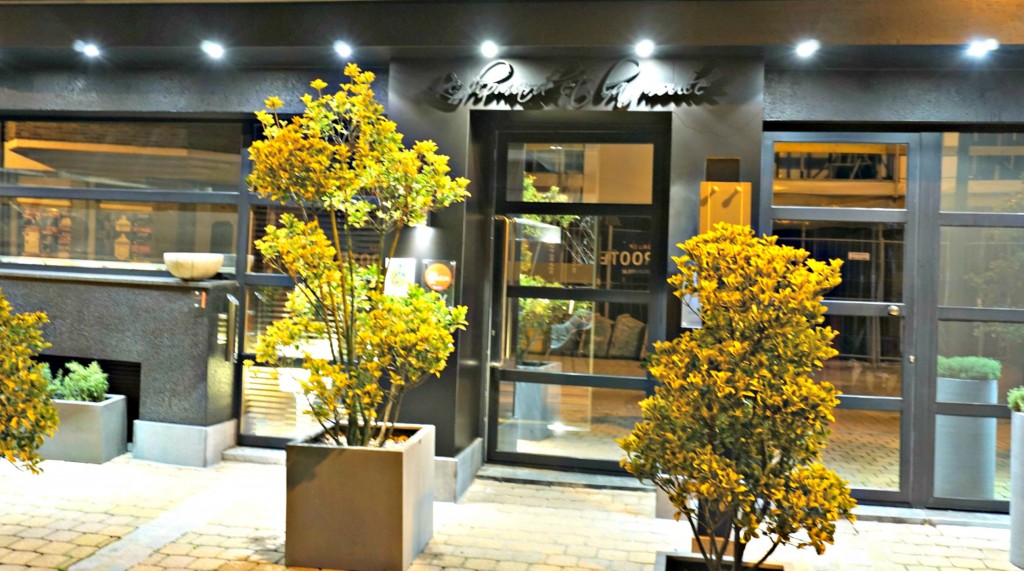 Le Homard et la Moule
Location

Atmosphere

Food

Service

Price/Quality Ratio
Summary
Try Le Homard et la Moule in Bredene for a special occasion with someone who might appreciate Chef Donald Deschagt's creativity and passion in the kitchen.
The History of Le Homard et la Moule
When his parents retired, Donald took over the restaurant. At first he helped his mother. Later he ran it on his own with his wife, Mieke. Before returning home to the family business, Donald had trained and worked as a chef in several fine restaurants in Europe. In 2006, Mieke had the idea to change the atmosphere in the restaurant and redesign the menu to feature daily special menus of a higher caliber. Today's restaurant does not look anything like the former one run by Donald's parents. Yet, Donald built his new dream on his parents' hard work while infusing his own passion and knowledge of food into their new project.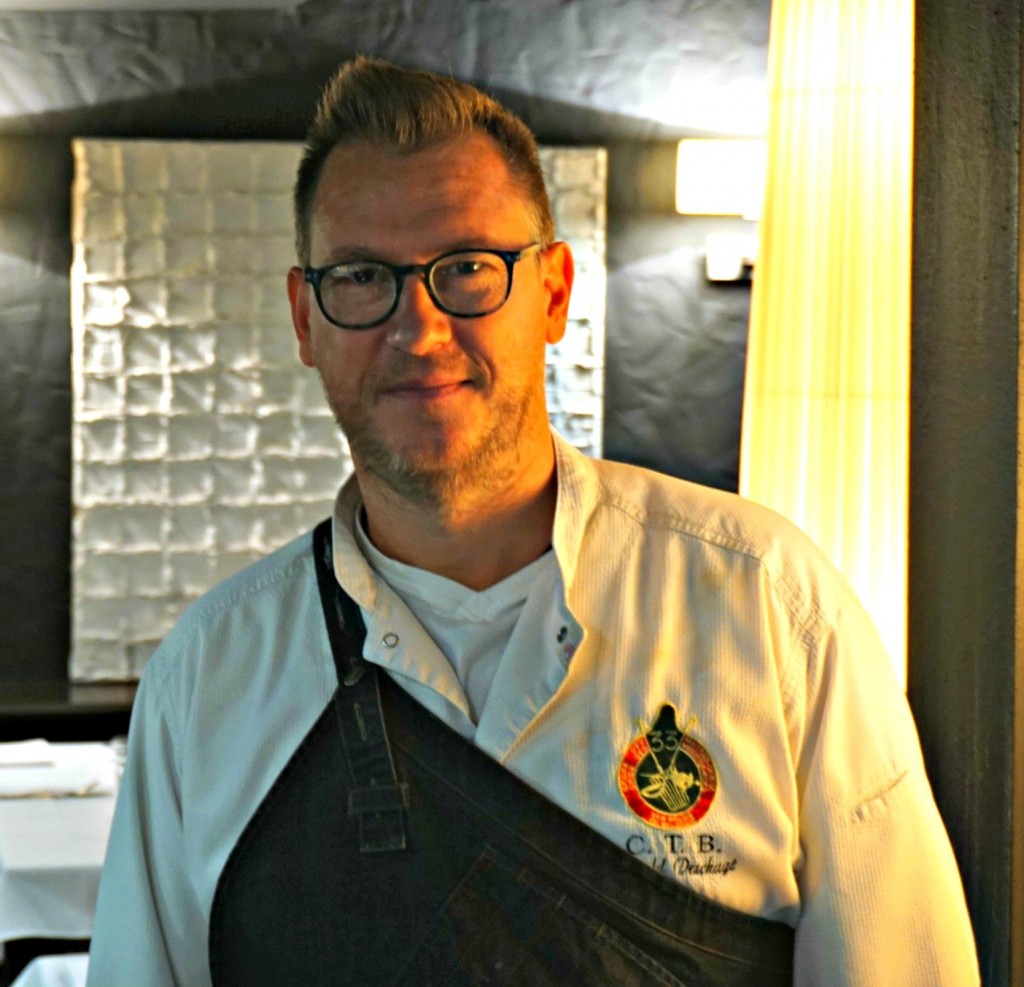 The Atmosphere of Le Homard et la Moule
I was fortunate to be a guest of my friend, who had received a voucher for dinner for 2 at this lovely restaurant. Dark yet warm tones set the restaurant's sophisticated atmosphere reminiscent of a larger metropolitan area. One wall was painted a warm copper-gold color that immediately stood out against the other walls painted black. About 15 tables spread around the restaurant can seat approximately 60 guests for lunch and again for dinner.
The Menu of Le Homard et la Moule
Each day, Donald goes out in search of local produce and seafood to serve in the restaurant during the day and evening. Every week Le Homard et la Moule offers a few fixed-price menus featuring top quality local ingredients, most of which are organic. The fixed-price menu provides a choice for starter and main course dishes.
We started with a selection of amuse-gueule (a more vernacular way of saying amuse-bouche) presented in such a beautiful creative way.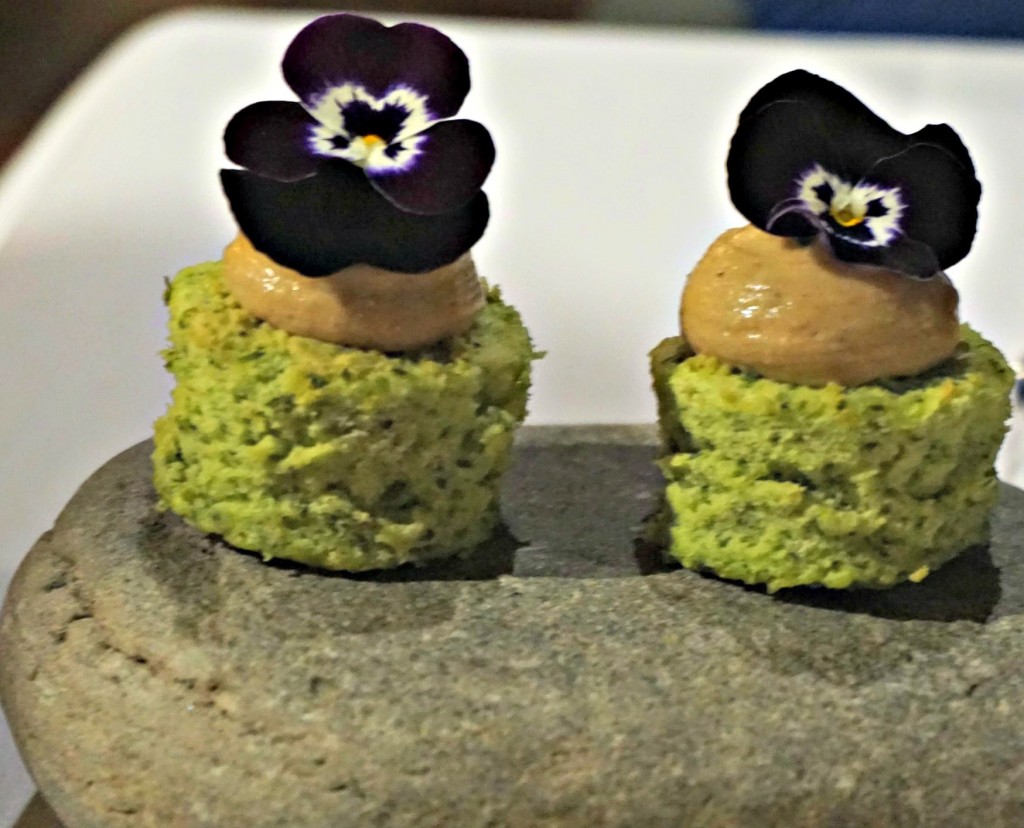 We then enjoyed our starter, also arranged in a stunning and original fashion. We almost hesitated to eat our dish because it was a work of art.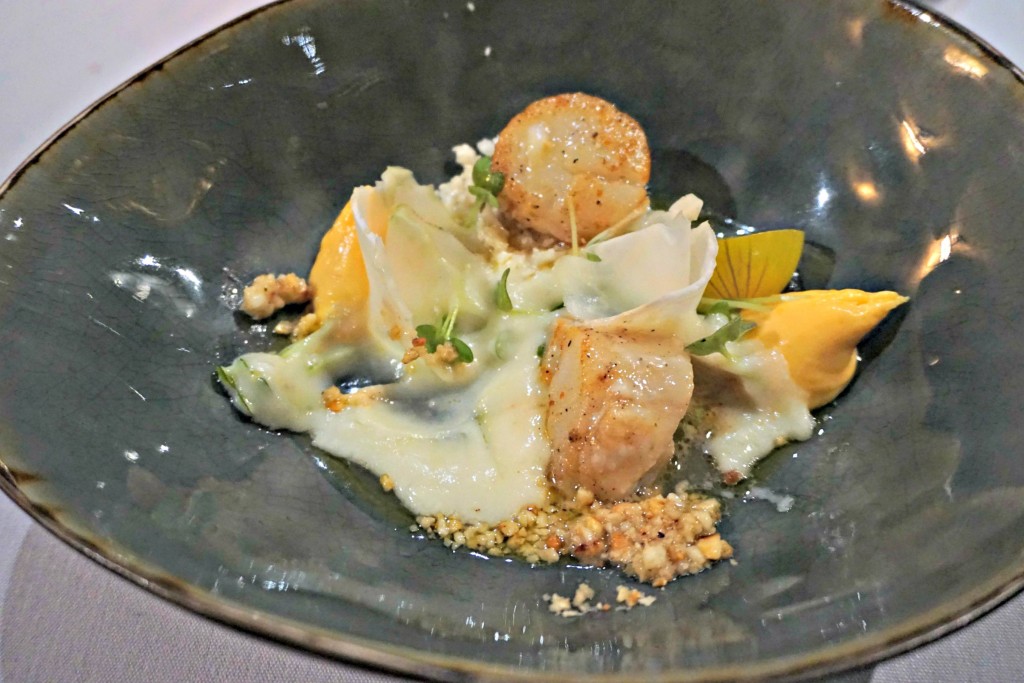 Our main course continued to meet the high standards set by the previous dishes. Again, delicious mostly-molecular cuisine placed on our plate in a true aesthetic manner.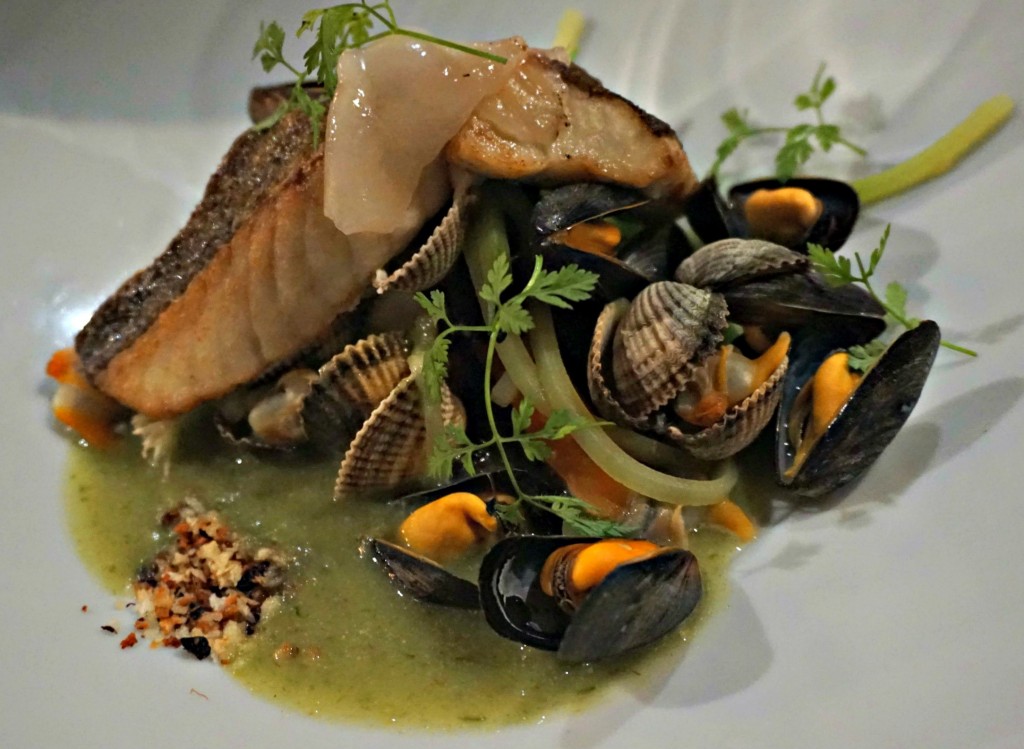 Last a wonderful pear dessert was served to complete our meal.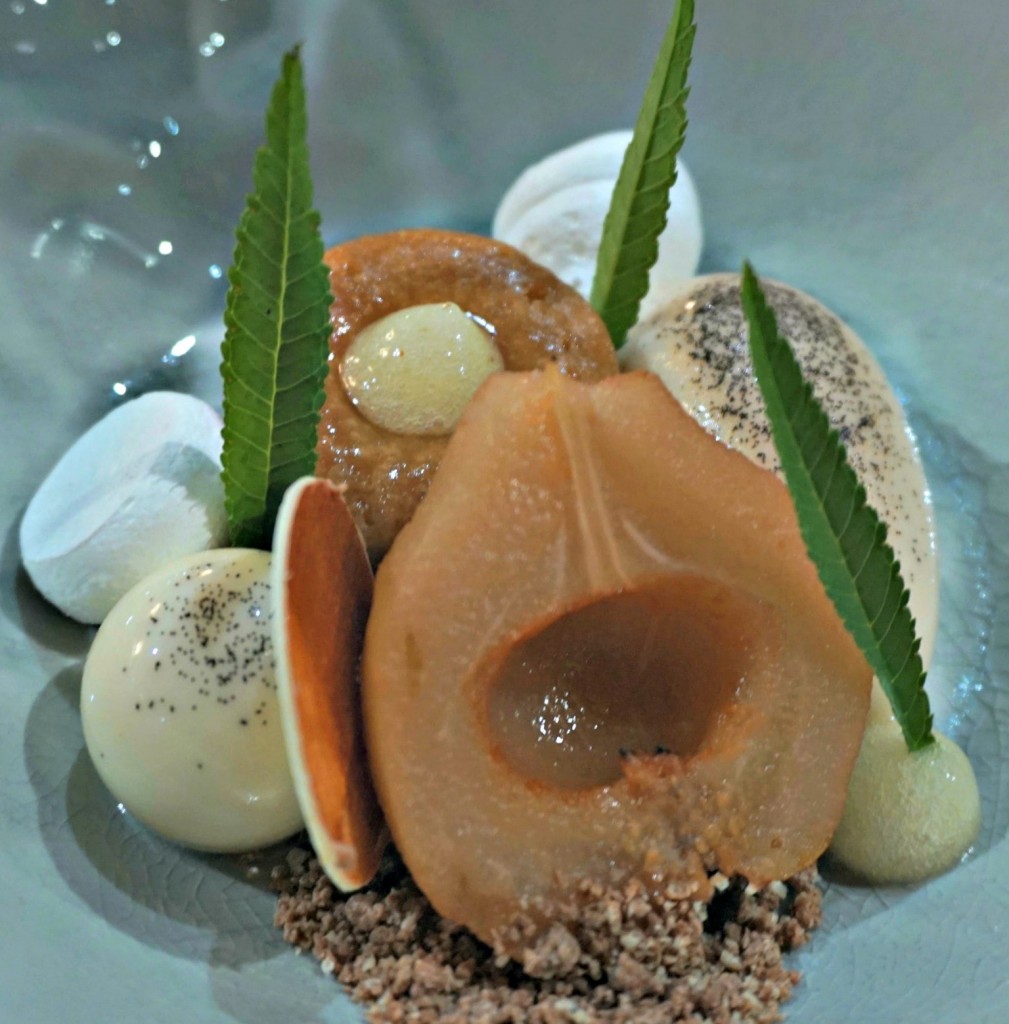 With our espresso coffees we received this yummy dish of mignardises presented on top of coffee beans ready to eat.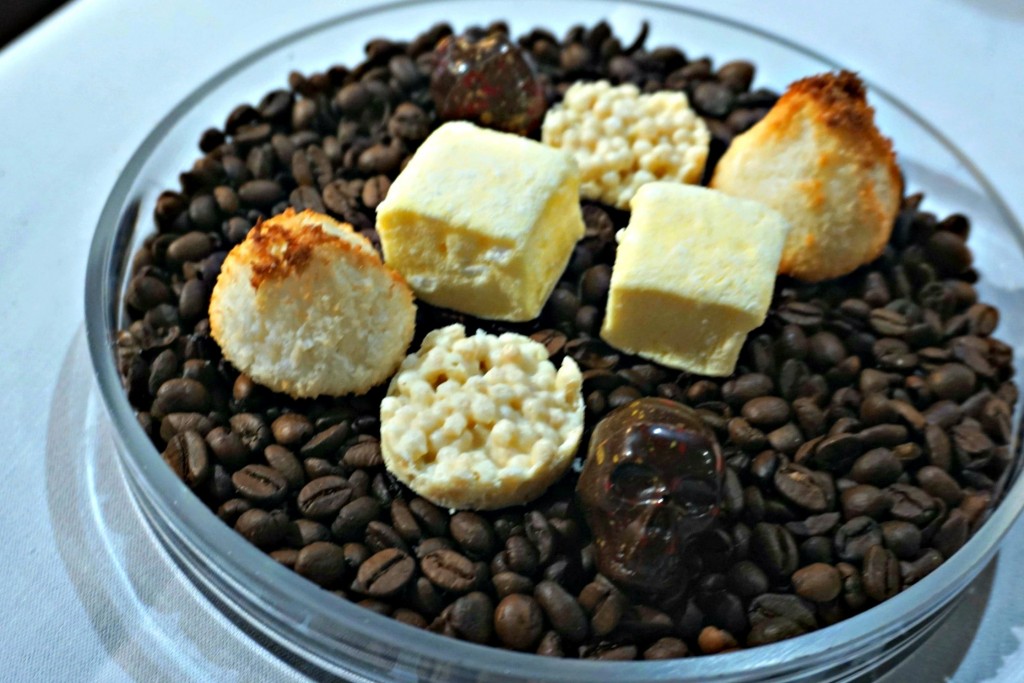 Review Summary of Le Homard et la Moule
With each plate, Donald demonstrated his passion and skills as a chef. Donald seems to pay attention to each detail on the plate, making sure it meets his standards of perfection. I usually do not seek out molecular cuisine, as the dishes seem to be a bit small and equally pretentious. At Le Homard et la Moule, however, I was not disappointed in the least. The atmosphere and food stimulated most of our senses. The portions were not gigantic, yet all the dishes together definitely satisfied our appetite. A selection of delicious homemade breads tempted us throughout the meal.
Although some customers might consider the prices to be somewhat high, I found them to be more or less in line with the quality of the ingredients, cozy atmosphere, fine service and tasty and creative food. Ok, you might be thinking that of course I found the prices to be reasonable since I was my friend's guest and did not have to pay. I was aware nevertheless of the prices for the menus and was not shocked after seeing what we received.
At the end we had the lovely opportunity to talk to Mieke and Donald to learn more about their story. Hearing about their passions, visions and dreams made me appreciate Le Homard et la Moule even more.
I would definitely recommend making a reservation at Le Homard et la Moule for your next special occasion or romantic dinner. Like us, you can come a bit earlier to enjoy the sea air to help you build up your appetite for a meal that will certainly satisfy your hunger! Please mention to them this restaurant review if you go there.
Smakkelijk eten, as the Flemish would say to wish each other an enjoyable meal.