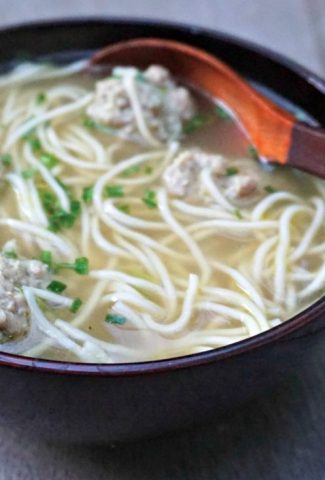 How to innovate Wonton Soup?
Sunday is my favorite day to cook. I usually start Sunday supper in the early afternoon before exercising and then finish it up afterwards. Last Sunday I was planning to make one of our favorite dishes: the Tastiest Carnitas North of the Border. However, since we were all feeling run down with a cold I decided to make wonton soup with homemade dumplings. At the last minute I changed my mind about the dumplings and chose to use the filling of the dumplings to prepare meatballs and to add egg noodles into the soup to replace the wonton wrappers. Not having to roll out 50 wonton dumplings would save a fair amount of time, especially since I like to make my own wonton wrappers.
Homemade chicken broth would be the best option for this Open Wonton Soup. If you don't have homemade broth, use either cans of chicken broth or chicken bouillon cubes. Even though I was using chicken bouillon cubes to prepare the broth, I improved it a bit by boiling 1 kilo (2.2 pounds) of skinless chicken breasts in water and later adding some bones from the pork shoulders I used to make the meatballs. I also added some extra garlic and some hatcho miso paste, keeping the flavors of my chicken broth fairly simple. I'd normally add some ginger and onions as well, but these were already in my meatballs, which I cooked in the chicken broth, thus adding even more flavor. You could add some chopped lemongrass, coriander (cilantro) and / or red chili peppers if you like.
A few minutes before serving the soup I prepared the Chinese egg noodles in a separate pot. In each bowl I placed some noodles and a few meatballs before adding the improved broth to fill the rest of the bowl.
We all enjoyed this Open Wonton Soup very much. It was simple, satisfying and sustaining. This soup warmed our bodies and our souls. Hopefully it will also help us get over our colds.
There are many ways to prepare this Open Wonton Soup. The quick way is with ground pork meat and bouillon cubes or canned broth. The long way is with homemade chicken broth, your own ground meat and if you want to exaggerate homemade noodles. I chose a modified quick way by grinding my own meat after trimming the fat off of the pork shoulders, but then using the chicken cubes and making small improvements as mentioned above. As this recipe is supposed to make it easier for you to prepare wonton soup (by avoiding actually preparing the wontons), I'd suggest following one of the quick ways. You will definitely enjoy this simple recipe.
Please share it with your friends and tell me how you like it in the comments below.
Open Wonton Soup
A simple quicker version of wonton soup. Use dumpling filling to make meatballs and add egg noodles to replace the wonton wrappers. Easy, tasty and satisfying!
Ingredients
Meatballs
1

kilo

ground pork

lean

200

g

green onions

chopped

1

tbsp

ginger

or 1/3 of this amount ground ginger

2

cloves

garlic

minced

5

tsp

sesame oil

5

tbsp

soy sauce

2.5

tbsp

Shaoxing rice wine

or dry Sherry

1

tbsp

sugar

2

tbsp

corn starch

salt

black pepper

125

g

dried shitake mushrooms

rehydrated (optional)
Chicken broth
4

liters

chicken broth

See notes

2

tbsp

hatcho miso paste

2

cloves

garlic

minced

2

tbsp

fish sauce
Egg Noodles
300

g

egg noodles

Chinese or other
Instructions
Meatballs
Mix all the ingredients listed above for the meatballs together in a bowl.

Roll about 50 meatballs using about 1 heaping tablespoon of prepared filling for each meatball.
Chciken Broth
Put the chicken broth in a large soup pot. Add the minced garlic.

Heat the broth on high until the broth is boiling. Reduce heat to low rolling boil.
Cooking Meatballs
Drop 6 to 8 meatballs at a time in the pot. Let them cook at least 5 minutes until the meatballs float to the top. Remove with a slotted spoon and place in a bowl. Continue batches until all meatballs are cooked.
Egg Noodles
Boil water in a separate pot. Add egg noodles and cook according to instructions. When noodles are cooked, drain them from pot and put aside until service. If the noodles are to sit for a while before service, add a little sesame or corn oil to them so they don't stick together.
Service
A few minutes before serving, add the hatcho miso paste and the fish sauce to the chicken broth. Stir until blended. Turn off heat and let sit a couple minutes before serving.

Place some noodles and a few meatballs in each bowl. Add chicken broth on top to fill remainder of bowl.
Notes
You can use chicken bouillon cubes or canned chicken broth to replace homemade broth. If you do, try to use low-sodium or adjust the amount of salt added to the broth. I even avoided adding any extra salt.
If you want to give a Thai spin on this soup, try adding some chopped lemongrass with the minced garlic at the start of heating soup or adding some fresh chopped coriander (cilantro) at time of service.
If you want a little spice, add a little diced red chili pepper or some chili flakes to the broth along with the garlic. You can also put your favorite sriracha or other hot sauce on the table for people to add as they like.
Nutrition
Nutrition Facts
Open Wonton Soup
Amount Per Serving
Calories 256
Calories from Fat 63
% Daily Value*
Fat 7g11%
Cholesterol 39mg13%
Sodium 576mg25%
Potassium 63mg2%
Carbohydrates 24g8%
Protein 23g46%
Vitamin A 0IU0%
Vitamin C 0mg0%
Calcium 0mg0%
Iron 0mg0%
* Percent Daily Values are based on a 2000 calorie diet.