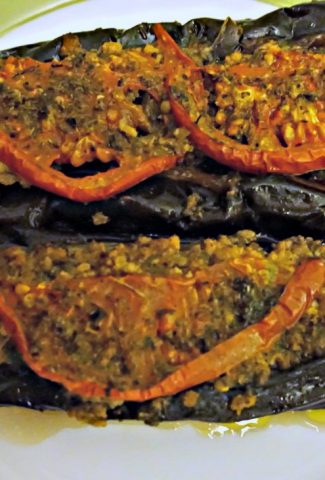 How do you Make Papoutsakia?
The Greek dish called Papoutsakia can be translated from Greek as the Little Shoes or the Little Slippers. As charming the name may be in Greek, Papoutsakia are eggplants stuffed with seasoned ground veal and tomatoes. Sounds simple, right? Well, they are!
My friend, Thomais, has kindly provided me with this recipe for Papoutsakia. As you may remember, she has also taught me how to make Authentic Greek Pasticcio and Greek Stuffed Peppers and Tomatoes. Click on the names of those dishes to find the corresponding recipe. I appreciate so much her sharing these recipes with me and letting me pass them on to all of you.
Greeks usually serve Papoutsakia as a main course, accompanied by a Greek Salad. Read A Greek Salad for the Gods to learn how to make this iconic Greek dish.
It's best to prepare Papoutsakia with fresh small long-shaped eggplants. You may also use medium-sized eggplants, yet they will create larger portions and therefore might need to be shared. Take advantage of summer's supply of eggplants in your garden or at your neighborhood farmers' market to wow your family with this tasty dish.
In four basic steps you can prepare this dish so it is ready to serve:
Drain excess liquid from eggplants;
Prepare the filling;
Stuff the eggplants with the filling; and
Bake and serve!
You too can make Papoutsakia for your family and friends by following the recipe found below. Bring a hint of Greece and the Mediterranean to your table with this recipe!
As this recipe has been passed to Thomais from her mother, then to me, and now to you, please continue the love by sharing it with all of your friends. Use the social media links below to pass this recipe forward.
I'd love to hear your feedback in the comments below.



Papoutsakia - Greek Stuffed Eggplants
Papoutsakia (Greek Stuffed Eggplants) is a family-friendly dish best served in the summer or fall with fresh eggplants. For some people 1 stuffed eggplant is enough for a meal, while for others 2 or even 3 may be wanted. It will depend on the size of eggplant and of each person's appetite.

Servings: 10 eggplants
Ingredients
10 eggplants long (small)
4 tbsp olive oil (part in filling, other part for cooking)
500 g ground veal or beef
500 ml tomatoes pureed fresh (or canned)
2 onions medium minced
2 green wax peppers chopped
2 cloves garlic (you can double this if you like)
1 tbsp tomato paste
3 handful flat leaf parsley chopped
3 pinches oregano dried
2 1/2 tsp salt (1 tsp to drain eggplants, 1 tsp for filling and 1/2 tsp for sprinkling on top)
pepper
2 tomatoes fresh (you may need more depending on tomato size) (see notes)
Instructions
Wash eggplants. Cut tops off of eggplants. Lightly slice vertically (about 2-4 times) the top 1/3 of the eggplants.

Add salt on the eggplants (see note above in ingredients). Place eggplants in a colander for about an hour to let the eggplants sweat (and lose their excess water).

While the eggplants sweat, prepare your filling.

Mince the onions. If you prefer, you can use about 3/4 of the onions indicated in the recipe.

Place a casserole over a medium-high heat on the stove. When it's hot, pour half of the olive oil indicated for the recipe.

Put the minced onions into the casserole. Stir regularly and cook until the onions become translucent (about 5 minutes).

Add chopped green wax peppers and the minced garlic cloves. If you prefer you can add double the garlic indicated. Stir and cook for about 1 to 2 minutes.

Add the ground veal (or beef). Stir and continue to cook until the meat is all brown and cooked.

Add the pureed tomatoes along with the tomato paste. If you use fresh tomatoes, add a sprinkle of sugar. If you use canned tomatoes, skip the sugar. Let cook a few minutes so the tomatoes break down and start mixing with the meat.

Add the chopped flat parsley, oregano, salt and pepper (see note re: salt above in ingredients). Mix and continue to cook a few minutes. Remove from heat.

Rinse the eggplants to remove the salt. Wring the eggplants to remove excess liquid. Dry them off with paper towels.

Add 2 tbsp of olive oil in a frying pan over medium-high heat. Fry the eggplants until they melt, about 5 to 10 minutes. Don't overcrowd the pan. Take turns until they are all fried. Place fried eggplants on a paper towel to absorb excess oil.

Put eggplants in a pan. With a little spoon lightly open the eggplants. Add filling inside and on top of each eggplant.

Place a slice of tomato on top of stuffed eggplants. The tops should be covered with tomato slices (even half slices if more appropriate). Add a drizzle of olive oil, salt and oregano (see note re: salt above in ingredients).

Place in an oven preheated to 200° C / 400° F and let bake 30 minutes or until the tomato on top is baked.

Remove from oven and serve with a Greek salad as a side dish. Enjoy!
Nutrition
Nutrition Facts

Papoutsakia - Greek Stuffed Eggplants

Amount Per Serving

Calories 187 Calories from Fat 81

% Daily Value*

Fat 9g14%

Saturated Fat 2g13%

Polyunsaturated Fat 1g

Monounsaturated Fat 5g

Cholesterol 41mg14%

Sodium 407mg18%

Potassium 759mg22%

Carbohydrates 16g5%

Fiber 7g29%

Sugar 7g8%

Protein 13g26%

Vitamin A 0IU0%

Vitamin C 0mg0%

Calcium 0mg0%

Iron 0mg0%

* Percent Daily Values are based on a 2000 calorie diet.