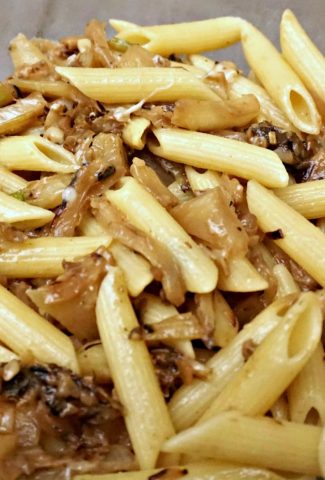 Pasta with Fennel and Fresh Garlic Makes a Quick Yummy Meal
Is Fennel an Acquired Taste?
Not everyone enjoys the strong-licorice flavor of fresh fennel. It can be a bit overwhelming if you eat a lot of it in one sitting.
However, when it's cooked, fennel's pronounced taste becomes more subdued and quite yummy. Cooked fennel is a good substitute for celery in many recipes. In Belgium, some people replace fennel for Belgian endives (chicons / witloof) in the traditional dish of Chicons au gratin.
Recipes with Fennel
Full of good intentions, I often buy fennel at the grocery store and farmers' market, hoping to find a way during the coming days to use it. Therefore, I'm always on the lookout for simple ways to use fennel in dishes, either mixed with other vegetables or on its own.
Here are a few quick and delicious ways to eat fennel:
Roasted or braised fennel as a side dish for meat is absolutely delicious!
An easy salad made with chopped fennel and some slices of orange, topped with a vinaigrette dressing.
A new favorite recipe: Roasted Beets and Fennel on Pasta. It's a modified version of this recipe. The roasted beets give the dish an earthy hint and add another level of flavor.
Discover your own ways to eat fennel. Come back to share your experiences in the comments below.
Seasonal Fresh Garlic
In March each year fresh garlic begins to hit the markets in Belgium. I look forward to the arrival of fresh garlic each spring, as its flavor is more subtle than its dried counterpart, making it ideal for sauces, soups and other dishes requiring a bit of discretion.
Mixing Braised Fennel and Fresh Garlic
Today I was looking for a quick yummy meal for lunch. I settled on braising some fresh fennel and fresh garlic as a topping for a bowl of cooked pasta. While the pasta cooks, you can braise the fennel and garlic. So from 15 to 20 minutes from start to finish, you have a tasty healthy lunch!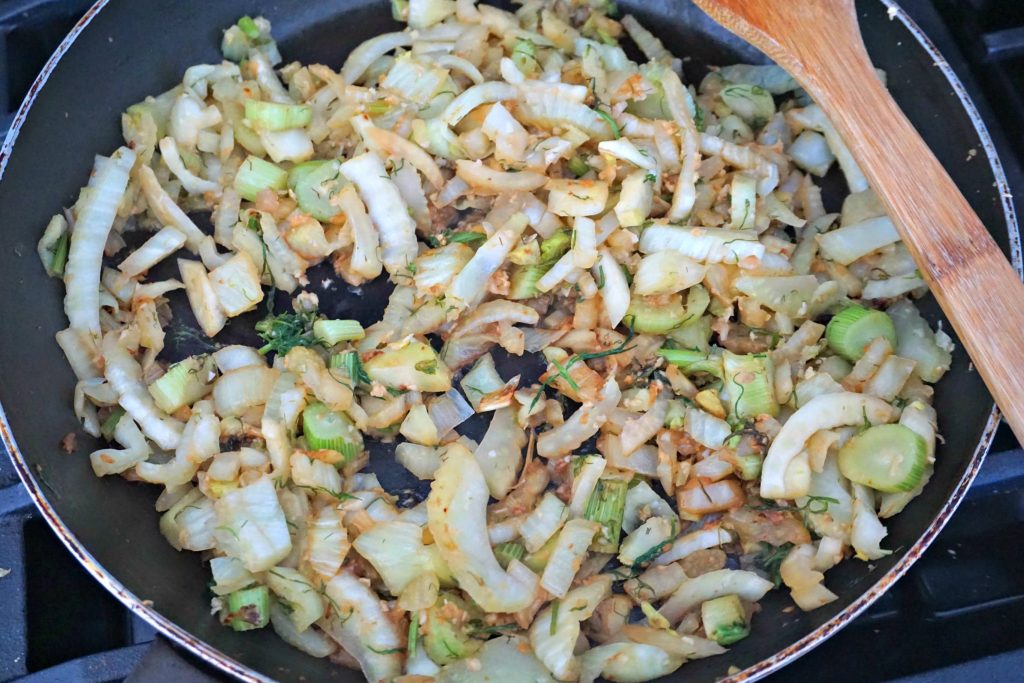 Health Benefits of Fennel and Fresh Garlic
Fennel offers many health benefits, making it worthwhile to find ways to include it in your diet. It contains a lot of fiber, which helps to lower the amount of cholesterol in your blood, decreasing the risk of heart disease. In addition, fennel is anti-inflammatory as well as a good source of vitamin C, which supports your immune system.
Fresh garlic is also anti-inflammatory and helps combat respiratory problems, hypertension, diabetes and other ailments.
You can therefore indulge in a bowl of Pasta with Fennel and Fresh Garlic without feeling guilty.
Click on the link to discover more than 100 new diabetes-friendly recipes.
Another Time, Another Pasta, Another Garlic
Another time I made this easy and delicious dish with linguine pasta instead of with penne. I chopped the fennel in larger pieces and then braised the fennel less time so it was not as caramelized. I also used garlic cloves instead of fresh garlic. My brother and I enjoyed it so much! Both ways are super!
Try this Pasta with Fennel and Fresh Garlic dish for a no-stress supper during the week. Or for lunch for those of us fortunate enough to work at home. Share this recipe with your friends and let me know via the comments section how you liked this dish.
Pasta with Fennel and Fresh Garlic
Pasta with Fennel and Fresh Garlic makes a quick yummy meal that offers loads of anti-inflammatory, fiber, Vitamin C and many other health benefits. Indulge yourself with this guilt-free dish.
Ingredients
300

g

dried pasta

ordinary or whole wheat (gluten-free alternatives also good)

2

tbsp

olive oil

500

g

fennel

fresh

125

g

fresh garlic

sliced and diced (see notes)

60

g

Parmesan cheese

grated

1/4

tsp

salt

1/8

tsp

pepper

100

ml

cooking water from pasta

1

tbsp

hazelnut or walnut oil

(optional)
Instructions
Prepare dried pasta according to instructions.

While the pasta is being prepared, wash, chop and braise the fennel and wild garlic.

While the water for pasta boils, remove the bottom of fennel. Like you would with cabbage, slice out the triangle in the bottom center of the fennel and discard. Slice the whole fennel (including the green tops) thinly (horizontally). Cut the slices into smaller pieces. No need however to dice the fennel too small.

Remove the outer skin of the fresh garlic. Chop the green tops of the fresh garlic in same way as you would green onions. Slice thinly the whole heads of garlic (horizontally). Cut the slices into smaller pieces.

Pour the olive oil into a pan over a medium-high heat. Add the fennel into the pan and let cook a few minutes until golden color.

Add the chopped fresh garlic into the pan. Continue cooking a few minutes. The aim is to caramelize the fennel and fresh garlic. If the pan becomes dry, add a little water from the cooking pasta. Continue cooking until the fennel and fresh garlic become a dark golden color. The entire cooking process should take about 10 minutes (about same time as cooking the pasta).

Add salt and pepper to the braised fennel and fresh garlic according to taste.

Before straining the pasta, use a ladle to remove some of the pasta water to add into the pan with the fennel and fresh garlic. This liquid will help create a sauce for the pasta. Add as much pasta water as you need.

Pour the fennel and fresh garlic mix on top of the strained pasta. Blend and adjust seasoning.

Grate the Parmesan cheese. Add most of it to the mixed pasta. If you choose, drizzle some hazelnut or walnut oil on top of the pasta and blend. The nut oil blends wonderfully with the braised fennel.

Put everything in a bowl and serve. Put remaining Parmesan cheese in a bowl on the table if someone wants more. I usually put the block of cheese and a grater on the table so people can add as much cheese as they like. Enjoy!
Notes
1.  Feel free to use whole wheat pasta if you prefer.  Other varieties, including gluten-free ones, are also delicious in this dish.
2.  If you prefer a vegan version of this dish, simply substitute a plant-based cheese or nutritional yeast flakes for the Parmesan cheese.
3.  You can use ordinary garlic cloves instead of the fresh garlic.  If you do, use about one-fifth of the weight of fresh garlic.
Nutrition
Nutrition Facts
Pasta with Fennel and Fresh Garlic
Amount Per Serving
Calories 300
Calories from Fat 108
% Daily Value*
Fat 12g18%
Cholesterol 10mg3%
Sodium 668mg29%
Potassium 499mg14%
Carbohydrates 38g13%
Protein 13g26%
Vitamin A 0IU0%
Vitamin C 0mg0%
Calcium 0mg0%
Iron 0mg0%
* Percent Daily Values are based on a 2000 calorie diet.