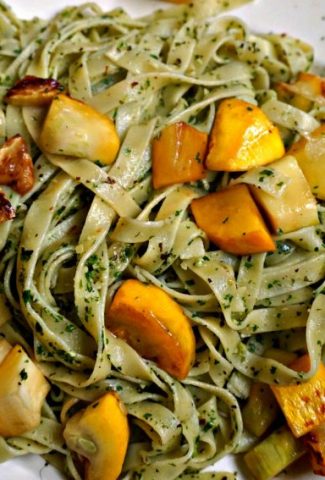 How can you use Arugula Pesto this summer?
Summertime is ideal for creating pesto sauces since herbs and greens are at their freshest. I love experimenting with new combinations to tease my palate with a change from the more customary pesto made with basil, Parmesan cheese, pine nuts and garlic. For instance, recently I enjoyed a Pesto with Arugula, Basil and Fennel. Follow this link for the recipe and for more tips about making pesto sauces.
I prepared this summer pasta dish by mixing the Arugula Pesto sauce with some fettuccine pasta and sauteed green and yellow zucchini. The zucchini came fresh from one of Belgian sisters who has a lovely vegetable garden in the summer.
You can of course use other fresh vegetables, such as eggplant or cucumber, for an easy variation. You might find it a strange suggestion to add cucumber, but it is actually quite good slightly sauteed. Grilling the vegetables instead of sauteing them will also bring out the vegetables' natural flavor.
This summer pasta dish is quick, tasty and vegan. However, for those wishing to add cheese to their pasta I presented some grated Parmesan cheese in a bowl on the table, along with another bowl with some extra pesto sauce as well as a bottle of olive oil. Everyone could add the other ingredients to their dish if they like.
Feel inspired to innovate with other pesto sauces and vegetables to make your own special creations this summer. Please share below your comments and your suggestions for new dishes.
Pasta with Arugula Pesto and Zucchini
A vegan summer pasta dish made with arugula pesto and fresh zucchini.
Ingredients
1000

g

fettuccine pasta

or other pasta

3

tbsp

olive oil

4

zucchini

medium (about 750 g / 1.5 lbs total)

1

recipe

Arugula Pesto

follow link

salt and pepper
Instructions
Start boiling water in a pot for the pasta. During this time peel and slice the zucchini in coin shapes or chop in cubes.

Heat olive oil in a pan over a medium flame. Add the zucchini and saute approximately 10 minutes until desired tenderness. The zucchini should remain firm, yet start showing some tenderness. As an alternative, you can mix the cut zucchini with the olive oil and grill or roast it in the oven. When the zucchini is cooked put it aside until needed.

While the zucchini is cooking, add the pasta to the boiling water and continue to cook over a low flame for the required time.

Pour about 1/4 cup of the pasta cooking water into a cup (more if desired). Strain the pasta in a colander.

Put the pasta back into the pot with the reserved cooking water and the Arugula Pesto sauce. Heat pesto pasta over low flame for a minute or two. Add the zucchini and mix with the pasta.

Serve and enjoy!
Notes
Add about 2/3 of the Arugula Pesto recipe and then continue adding more until you have enough sauce.
If you prefer a more liquidy pesto sauce, reserve more cooking water to add with the pesto or add a little more olive oil.
Nutrition
Nutrition Facts
Pasta with Arugula Pesto and Zucchini
Amount Per Serving
Calories 597
Calories from Fat 153
% Daily Value*
Fat 17g26%
Sodium 10mg0%
Potassium 254mg7%
Carbohydrates 99g33%
Protein 18g36%
Vitamin A 0IU0%
Vitamin C 0mg0%
Calcium 0mg0%
Iron 0mg0%
* Percent Daily Values are based on a 2000 calorie diet.