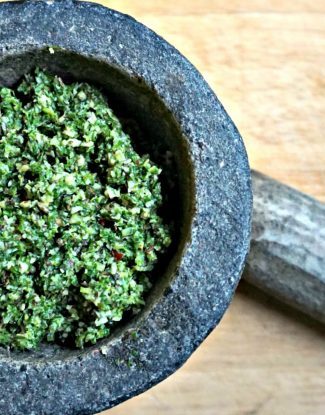 How to use fresh herbs to create your own Pesto
Food always tastes better with the right condiments (pesto, rubs, and sauces) to enhance the flavors of your dish. When entertaining friends, keeping the main dish fairly simple while offering a selection of homemade condiments is a sure key to success. Everyone can choose how they want their dish. Your guests can make it as spicy, flavorful or simple as they wish.
Summertime is ideal for making pesto sauces with fresh herbs. For most people the term pesto refers only to a mixture made from pounding together basil, garlic, olive oil, Parmesan cheese and pine nuts. While this pesto mixture, known as pesto Genovese, may be the most common, the term pesto also covers other mixtures of herbs and oil (with or without nuts) that are mixed together using either a mortar and pestle or a blender. The word pesto actually comes from the Italian verb pestare which means to pound something.
Growing up in California, pesto Genovese was a common sauce on pasta, pizza and other dishes. I have fond memories of living in Napa with fresh vegetables and herbs growing in our garden and tended to mostly by my housemate. In the summertime we definitely had more basil leaves than we could use and often made pesto Genovese. Writing this post, I can almost smell the basil from our garden…
Have you ever tried Pesto with Arugula, Basil and Fennel?
In Brussels, we often have fresh basil in gardens, grocery stores and farmers' markets during the summer months, yet not in the same abundance as in California or other warmer climates such as northern Italy and the Provence region in France. I've learned therefore to use the ingredients at hand and to come up with other variations. I've made many pesto combinations using various herbs and leaves, such as arugula, parsley, mint, coriander, ramson leaves (wild garlic) and of course basil, as well as with tomatoes, peppers, olives and spices. If you are interested in making Wild Garlic Pesto, click on this link. Click here if you want a recipe to make Dandelion Pesto (with dandelion greens, of course).
Last night I decided to use some fresh arugula in my refrigerator to make a pesto sauce mixing it with fennel greens, basil, Brazil nuts, olive oil, sherry vinegar and salt and pepper. The whole dish takes only minutes if you use a blender, and a little longer if you use a mortar and pestle. I have used this combination before to make this same pesto sauce, yet it can be adapted a bit if you do not have or like all the ingredients. Fennel may not be everyone's favorite vegetable but give it a try. The flavor from the fennel greens adds a freshness to the pesto sauce and does not overpower the other fresh flavors at all.
I mixed this pesto with arugula with some pasta and sautéed green and yellow zucchini. The sautéed zucchini came from one of Belgian sisters who has a lovely vegetable garden in the summer. This dish is quick, tasty and vegan. However, for those wishing to add cheese I presented some grated Parmesan cheese in a bowl on the table, along with another bowl with some extra pesto with arugula and olive oil on the side. Everyone could then prepare their dish as they like. Follow this link to learn how to make this quick, healthy vegan pasta dish.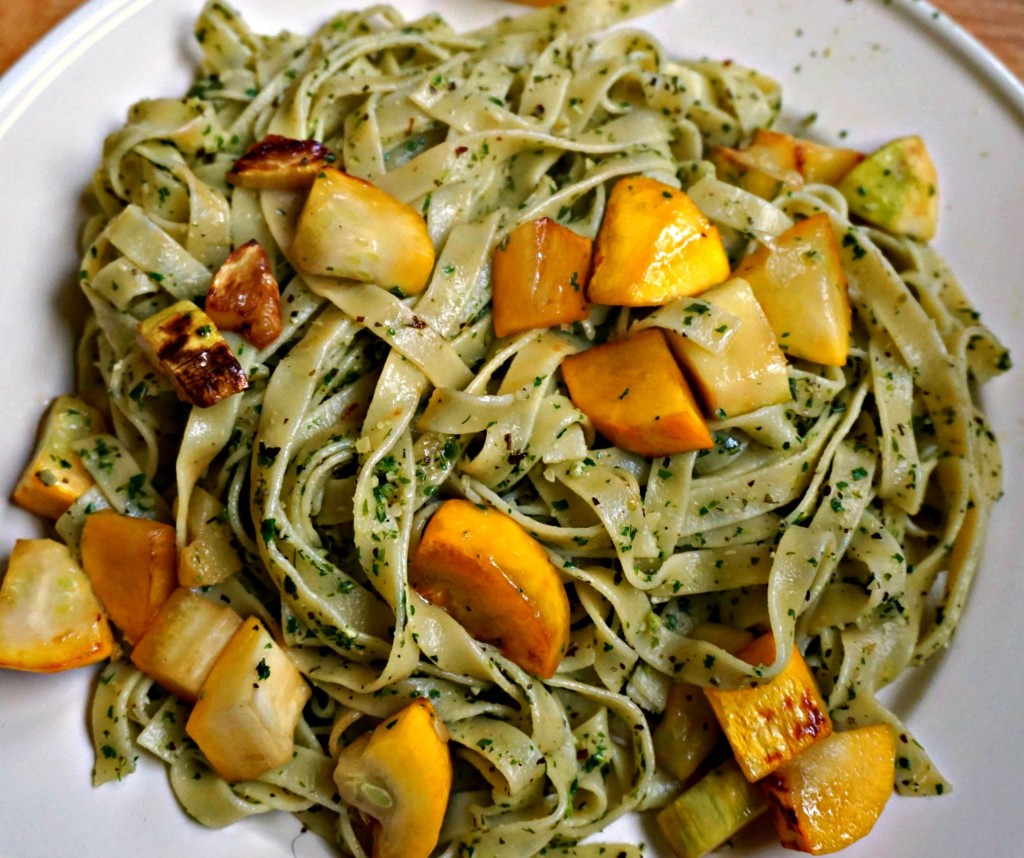 This pesto with Arugula, Basil and Fennel is also delicious on toasted bread bruschetta style, in a soup for extra flavor, on pizza or flatbread with other veggies, in a salad dressing, in a sauce for veggies or meat, or in rolls or bread. A few years ago for a family wedding I prepared bite-size rolls using my pastry crust dough. Follow this link for a trustworthy and tasty pastry crust dough (pâte brisée).
Try this recipe and share with me your comments below. Please also share any variations you make and your comments on how you liked them.
Pesto with Arugula, Basil and Fennel
Summertime is ideal for preparing pesto sauces with fresh herbs and ingredients.
Ingredients
100

g

arugula

Also referred to as rocket or rucula.

50

g

basil

greens tops from 2 fennel bulbs

or 2 tsp fennel seeds

60

g

Brazil nuts

2

tbsp

olive oil

or more if you like

2

tbsp

sherry vinegar

or red wine vinegar

salt and pepper
Instructions
Put all the ingredients in a blender and mix until you have a pesto consistency (about 30 seconds). If you are using a mortar and pestle, you may need to pound the mixture in portions until all ingredients are crushed and blended.

Serve as you like on pasta, toasts, pizza, veggies or meat, or even in bread. See the suggestions above in the post. Enjoy it!
Notes
I tend to use less oil than most people. Feel free to add more olive oil if you like a thinner consistency. You may need to add more vinegar as well. The olive oil will help to preserve the pesto sauce if you plan on keeping it for a few days. In this case, keep it covered on top with olive oil.
Nutrition
Nutrition Facts
Pesto with Arugula, Basil and Fennel
Amount Per Serving
Calories 87
Calories from Fat 72
% Daily Value*
Fat 8g12%
Sodium 6mg0%
Potassium 34mg1%
Carbohydrates 2g1%
Protein 1g2%
Vitamin A 0IU0%
Vitamin C 0mg0%
Calcium 0mg0%
Iron 0mg0%
* Percent Daily Values are based on a 2000 calorie diet.