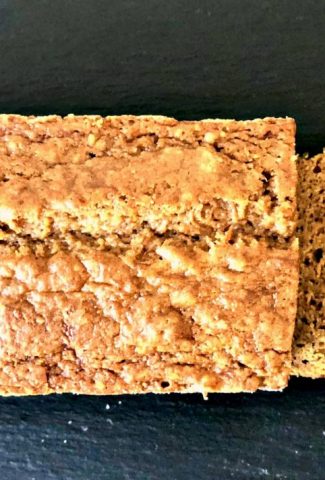 What recipe makes my Pumpkin Bread a Fall Favorite?
My Faithful Pumpkin Bread Recipe
By now you know that I love pumpkin. Making food with pumpkin is how I connect best with the season of autumn. Every year tradition calls me to make pumpkin bread at least once. My kids love it and are always asking me to make it.
I've been using the same faithful recipe for almost 30 years. Of course, I've tried other recipes, such as one calling for cream cheese to give the pumpkin bread more of a cheesecake finish. Another recipe suggested chopping up and dropping in some stem ginger to give a stronger spicy flavor.
I'm always looking for new pumpkin bread recipes. Yet I keep coming back to my trusted recipe inspired by a Very Tasty Pumpkin Nut Bread recipe offered by Karen Clark in the Napa County Legal Secretaries Association Cookbook (1987-88). Some of my favorite recipes come from recipe compilations like this one published to raise money for a non-profit organisation.
Why not make a Second Loaf of Pumpkin Bread?
I usually make two loaves of this tasty Pumpkin Bread so we can enjoy the extra loaf another time. If I don't trust our willpower, I might wrap the second loaf and freeze it for a later time. For picnics or snacks on the go, I pour the batter into muffin tins with paper lining so we have lots of individual portions.
This Pumpkin Bread is delicious as is or with walnuts or pecans added. I love it with walnuts but unfortunately am overruled most times by my kids. I therefore save the nut version for when I'm feeling especially rebellious.
Try this recipe soon and let me know what you think. Remember to share it with your friends and on social media. Hope you enjoy it!
To discover more of my recipes featuring pumpkin click on this link. All of them are tried and proven to be yummy!
Pumpkin Bread
This Pumpkin Bread has been made each year in my family for almost 30 years! It's a traditional favorite because it's yummy, nutritious and easy to make.
Ingredients
55

g

butter

110

g

raw cane sugar

110

g

brown sugar

2

eggs

360

g

pumpkin puree

(made from 600 g raw pumpkin)

250

g

all purpose flour

or 1/2 white flour, 1/2 whole-wheat flour

2

tsp

baking powder

1/2

tsp

baking soda

1/2

tsp

salt

1.5

tsp

cinnamon

1/2

tsp

nutmeg

ground

120

ml

milk

120

g

nuts (pecans or walnuts)

chopped (optional)

1

tsp

cinnamon sugar
Instructions
Prepare the pumpkin puree using raw pumpkin or an equivalent amount of canned pumpkin. If you are preparing your own pumpkin puree, be sure to leave the cooked pumpkin in a strainer over a bowl until it cools off. Press out the excess liquid with a wooden spoon. Better not to have this extra liquid in the bread. Be sure however to keep this pumpkin juice as it is delicious to drink as is, added in smoothies, soups or other preparations.

In a bowl, cream the butter and sugar together.

Add the eggs, one egg at a time, beating after each egg is added.

Add the pureed pumpkin into this wet mix. Stir.

In a separate bowl (I usually use a measuring cup), mix the flour, baking powder, baking soda, salt, cinnamon and nutmeg together.

Add 1/3 of the flour mixture to the wet mixture, mixing gently. Add 1/3 of the milk to the wet mixture and mix gently. Continue to add 1/3 of each flour mixture and milk in this manner until all flour and milk are used. No need to beat a long time or hard. Mix as you would for muffins or pancakes, just enough to mix together.

If you are using nuts, chop them and add them now. Fold in the nuts by mixing gently. (Roasting the nuts in the oven a few minutes or heating them in a pan on the stove a couple minutes will bring out their flavor if you prefer).

Grease (with butter) a 9 x 5 x 3 inch loaf pan (equivalent to about 2 liter pan). Add a little flour and shake around the sides until all butter is lightly covered with flour. This will help the bread come out at the end. If you want an extra treat, you can use raw cane sugar instead of the flour. This will give a nice crust all over.

Pour the batter into the pan and shake until spread equally in the pan. If you are using the cinnamon sugar, sprinkle this evenly on top of the filled pan to add extra flavor and sweetness to your finished pumpkin bread.

Bake in the middle of oven at 180°C / 350°F for about 45 minutes or until a toothpick comes out clean. If you are making two loaves and baking at same time, bake for 65 minutes or until toothpick comes out clean. If you are making pumpkin muffins, bake 25 minutes or until toothpick comes out clean.

Remove from oven and let cool about 15 minutes before removing them from the pan. Let cool completely on a cooling grill. Serve and enjoy!
Notes
The pumpkin bread may be used over a few days.  It will gain moisture each day if you leave it out at room temperature.  If you put it in the refrigerator it will remain less moist.
Pumpkin bread is delicious simply sliced as is or toasted.  Toasting helps with removing some of the moisture if you prefer.  Serve on its own or with butter, jam, cream cheese, or your favorite topping.
The pumpkin bread may be wrapped in foil and placed in a plastic bag to freeze.  Frozen pumpkin bread (or muffins) will stay good a couple of months.
Nutrition
Nutrition Facts
Pumpkin Bread
Amount Per Serving (100 g)
Calories 203
Calories from Fat 45
% Daily Value*
Fat 5g8%
Cholesterol 42mg14%
Sodium 291mg13%
Potassium 128mg4%
Carbohydrates 36g12%
Protein 4g8%
Vitamin A 0IU0%
Vitamin C 0mg0%
Calcium 0mg0%
Iron 0mg0%
* Percent Daily Values are based on a 2000 calorie diet.